Arctic Cooling Unveils Core i5 Compatible Alpine 11 Series
Arctic Cooling Unveils Core i5 Compatible Alpine 11 Series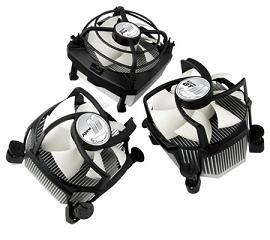 Switzerland based Arctic Cooling have taken the lead in coolers compatible with Intel's upcoming Core i5 – the manufacturer launched three CPU coolers today that support the Core i5 Socket LGA1156.
Intel's Core i5, a Nehalem based CPU is expected to be launched sometime later this year. While details about the CPU have already started making the rounds, cooler manufacturers have not taken the plunge to introduce compatible cooling options. The Alpine 11 series triple launch gives Arctic Cooling a major edge over competition.
Consisting of the Alpine 11 GT, Alpine 11 and Alpine 11 Pro, as shown in the picture from right to left, the new coolers are compatible with Intel's existing Socket LGA775 as well as the future LGA 1155 and LGA1156 sockets, which makes them future-proof.
The three coolers boast of maximum cooling capacity of 70 Watts, 90 Watts and 95 Watts respectively. This indicates that Core i5 parts might feature a TDP of less than 70 Watts, something that is as yet unheard of. While the Alpine 11 and Alpine 11 GT have been positioned as price competitive coolers, the Alpine 11 Pro is targeted at silent-enthusiasts and system builders.
The Alpine 11 and Alpine 11 GT come with 80mm and 92mm PWM fans respectively and operate at 0.3 / 0.4 Sone noise levels at full speeds. The Alpine 11 Pro on the other hand offers noise levels that are way below Intel's stock cooler on its 2,000rpm, 92mm PWM fan fitted with a larger heatsink and a patented vibration-absorption design. According to Arctic Cooling, this allows it to operate at sub-0.4 Sone noise levels.
The complete specifications of the Alpine 11 series trio are as under:
Cooler
Alpine 11 GT
Alpine 11
Alpine 11 Pro

Target Group
Mainstream
Mainstream
Power
Dimensions (mm)
89 L x 89 W x 75 H
100 L x 96 W x 87 H
105.3 L x 113.4 W x 85 H
Fan
80mm
92mm
92mm
Fan speed
500 – 2,000 RPM
(with PWM controller)
900 – 2,000 RPM
(with PWM controller)
500 – 2,000 RPM
(with PWM controller)
Air flow
28.6 CFM / 48.5 m3/h
36 CFM / 62 m3/h
36.7 CFM / 62.2 m3/h
Max cooling capacity
70 Watts
90 Watts
95 Watts
Noise level
0.3 Sone
0.4 Sone
0.4 Sone
Bearing
Fluid Dynamic
Fluid Dynamic
Fluid Dynamic
Weight
286g
370g
428g
Compatibility
Intel Socket 1156, 775
Intel Socket 1156, 775
Intel Socket 1156, 775
Prices (excl. VAT)
$8.00 / €5.60
$10.25 / €7.10
$14.35 / €9.90