H1 fire hazard – NZXT removes its H1 from sale as fix proves to be inadequate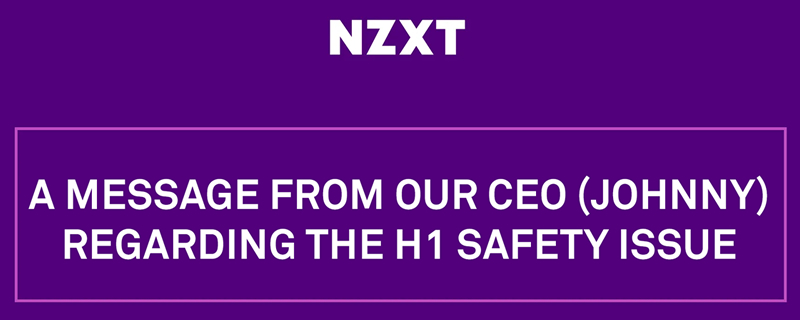 H1 fire hazard – NZXT removes its H1 from sale as fix proves to be inadequate 
NZXT has removed its H1 enclosure from sale once again on their NZXT Store and NZXT BLD websites, confirming that their "fix" for the so-called "H1 fire hazard" did not address the core of the problem. 
A summary of the issue is as follows. NZXT's H1 contains a PCIe riser card that features a design flaw that places its 12V too close to the screw mounts, allowing the PCIe riser card to short out in rare instances and create a fire hazard. NZXT tried to address this issue by replacing their metal screws with nylon screws, which has proven to be an inadequate fix. 
NZXT's nylon screw fix fails to pass the "foolproof test" of safe product design, as users of NZXT's H1 could easily replace NZXT's nylon screws with metal ones. Why would someone do this? The simple answer is that PC builders love to mod, and a lot of system modders love to finish their systems off with custom screws. Those who are unaware of the flaw in NZXT's riser card could easily create a fire hazard. NZXT's nylon screw plan may look good on paper, but it doesn't stand up to deeper scrutiny. 
While NZXT has removed the H1 from sales from its own website, it is worth noting that at the time of writing, NZXT's H1 chassis is still available to order from some UK retailers. At the time of writing, Scan UK still sells the H1, which means that NZXT needs to work harder to prevent potentially faulty cases from shipping to customers. 
A Message from NZXT's CEO
Below is an announcement from NZXT's CEO regarding the "H1 fire hazard" issue. NZXT has confirmed that they are designing a new riser card which will not feature this design flaw, allowing H1 users to utilise metal screws without any risk to their homes or hardware. NZXT expects its new PCIe Riser Assembly to ship by the end of March.
An FAQ for NZXT's "H1 fire hazard" issue is available to read here. 
    To our community,

We're sorry.

The nylon screws were not the complete solution for the H1 fire hazard; they didn't address the root cause of the issue. We didn't account for scenarios where someone could replace the nylon screws with metal ones unknowingly. Our execution did not live up to the quality that our community has come to expect from us.

We will be removing the H1 from the NZXT Store and NZXT BLD. We're going to send out redesigned PCIe Gen3 Riser Assemblies for current H1s and we're going to help with installation for those who need it.

Going forward, we're instituting more robust and thorough design processes. From the initial designs, QA, to additional testing, we're committed to quality in both our products and our response to your concerns.

We want to thank Steve from Gamers Nexus. He and his team brought the issue of someone replacing the nylon screws with metal screws to our attention and raised the urgency surrounding it.

Johnny Hou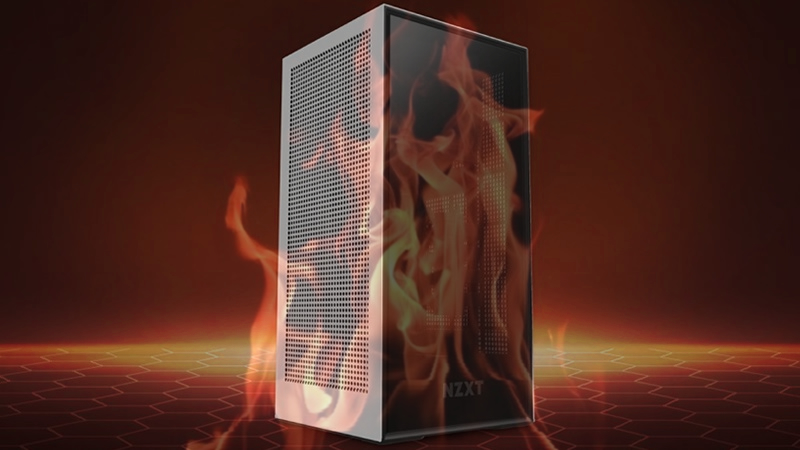 Why wasn't the Nylon Screw fix good enough? 
While NZXT's Nylon screw plan could prevent H1 systems from shorting, the plan left the core of the problem unaddressed. While replacing NZXT's nylon screws with metal screws may seem like a crazy move for anyone who knows about this design flaw, it must be remembered that most PC builders are not fully up to date on hardware news. 
As a writer with a background in mechanical engineering, the flaw of NZXT's plan is that it does not stand up to defensive design principles. In common terms, defensive design can sometimes be referred to as "foolproof" or "idiot-proof" design. Defensive Design required designers to plan for contingencies that anticipate what end-users could do to misuse their devices. An example of this is how many industrial machines require users to push two buttons simultaneously to operate them, thereby preventing an operators hand from getting caught in the machine while it is moving. 
In NZXT's case, they didn't anticipate H1 users replacing their nylon screws, and there are many reasons for users to do this. For starters, users could disassemble and reassemble their PCs while cleaning and re-attach the H1's riser card using the wrong screw, thereby creating a fire hazard. Users who are unaware of this issue could opt to replace their H1 screws with custom, matching screws for aesthetic reasons, creating a fire hazard. So long as NZXT doesn't address the underlying issues with their PCIe riser card, this risk will always exist. 
While some will say that NZXT's nylon screw fix is "good enough", it doesn't eliminate the H1's fire hazard risk. That can only be done with a redesigned PCIe riser card, and NZXT now knows that. 

(A video of NZXT's H1 shorting – Video provided by OC3D reader Tim house)
You can join the discussion on NZXT's latest H1 update on the OC3D Forums. 
You can read NZXT's FAQ regarding their H1 enclosure here.