Phanteks launches its LGA 1700 compatible Glacier One 360MPH AIO Liquid CPU cooler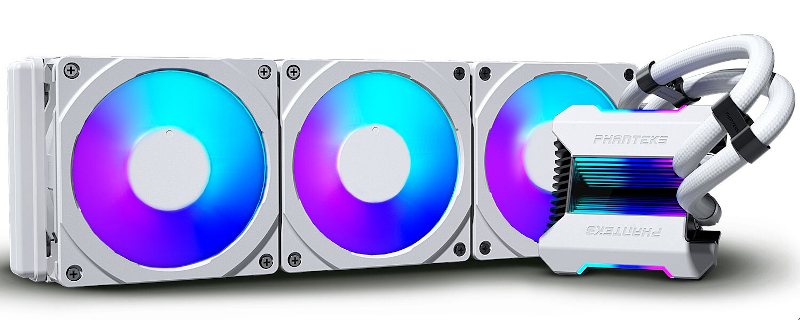 Phanteks launches its LGA 1700 compatible Glacier One 360MPH AIO Liquid CPU cooler
Phanteks have just revealed its new all-white Glacier One 360MPH all-in-one (AIO) liquid CPU cooler, one of the first CPU coolers to be marketed with socket LGA 1700 support. 
LGA 1700 is Intel's next-generation CPU socket, which is due to launch later this year with the company's Alder Lake processor lineup. Sadly, Phanteks has stated that the Glacier One 360MPH will support LGA 1700 "through Phanteks' customer support", which means that LGA 1700 mounts are unlikely to be available with this liquid cooler out of the box.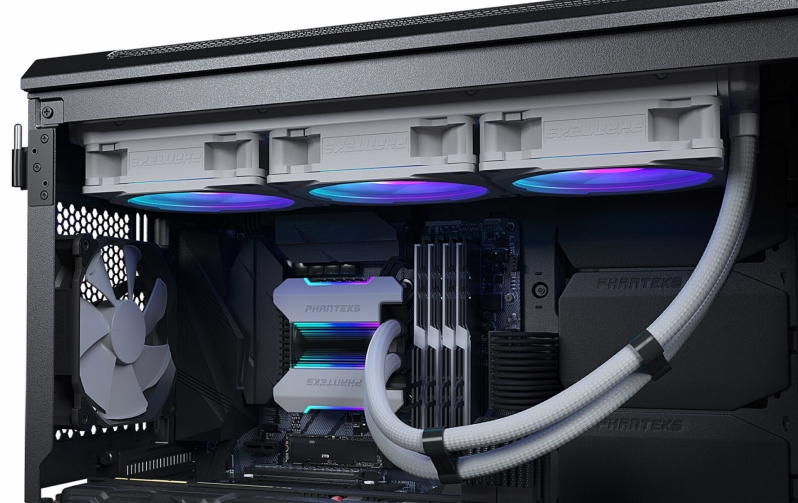 As the cooler's name suggests, the Glacier One 360MPH is a Closed-Loop Liquid Cooler (CLC) that features a 360mm radiator and three 120mm fan. The Glacier One utilises Asetek's Gen 7 pump design with an "infinity mirror" tempered glass pump cap with D-RGB lighting support. The unit's three 120mm fans also feature White Phanteks HALOS D-RGB fan frames, which allow this unit's fan blades to be illuminated. 
Phanteks' Glacier One 360MPH liquid cooler is due to become available this month with an MSRP of £176.90 in the UK and MSRPs of $199.99 and €199.00 in the US and Eu respectively. 
Below is Phantaks' press release for their Glacier 360MPH AIO liquid cooler. 
     Phanteks today announced the all-white Glacier One 360MPH all-in-one liquid CPU cooler to the Glacier One lineup. The Glacier One 360MPH is capable of cooling powerful CPUs while operating silently. The triple fan radiator is optimized to offer a noise-performance ratio that is best-in-class with the new silent Phanteks MP fans that now have a higher maximum RPM (2000-2200 RPM).

The Glacier One 360MPH features a tempered glass infinity mirror pump cap with smooth D-RGB lighting integration. The new white edition Glacier One 360MPH comes with additional white HALOS D-RGB fan frames to light up the MP fans. The full cover pump cap has a low-profile design that can be mounted magnetically to the pump module to cover all mounting parts, which creates a clean and integrated appearance with the motherboard. Installation is a breeze thanks to the pre-filled all-in-one solution, excellent RAM clearance, flexible braided tubing and Phanteks Tube Clips that help route the tubing and fan cables for a clean PC interior. Cooled by Asetek, the new Glacier One provides reliable operation and high cooling performance. With their technical expertise and many years of experience, the highly reliable Gen 7 pump from Asetek ensures the best stability and longevity.  
The Glacier One 360MPH will also support the upcoming LGA 1700 socket through Phanteks' customer support for users who purchase the Glacier
One 360MPH.

Availability: Early June 2021, MSRP: €199.90 / $199.99 / £176.90.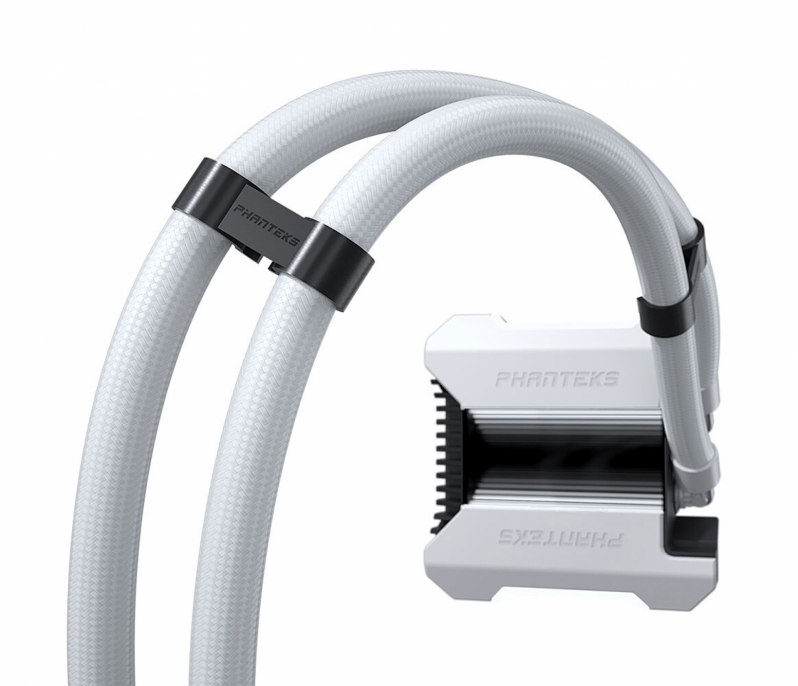 You can join the discussion on Phanteks' new Glacier One 360MPH AIO Liquid CPU cooler on the OC3D Forums.