Silent Power Solution – Fusion of Fanless Cooling System and Active Cooling System
News Posted 06/12/2006
Author: PV5150
Source: Thermaltake Technology

---

Official Press Release
The qualities of products demanded by the consumers are rising fast. Power supplies are no longer just boxes that output power for the system. Noise levels for quality environments are increasingly important. The previous generations of fanless power supplies can no longer deliver enough energy for the high performance systems. External heatpipes and heatsinks on power supplies are not a desired quality as they may look out of place.

For the sole reason of developing silent power supplies that deliver, Thermaltake Technology's new Dual Power 520W power supply unit is a product that can deliver enormous amount of power while being extremely quite. The power supply supports both AMD and Intel systems by utilizing an all-aluminum outer shell to quickly transfer the heat from the hotspots of the power supply to outside of the unit. When necessary, the built-in high-performance 80mm fan can turn on to help dissipate excess heat. When the fan is on, the power supply will raise from 380W output to an exciting 520W. Users can determine the performance of their power supplies simply by observing the fan on the power supply and their usage level.
The Dual Power 520W complies with the latest Intel ATX12V 2.0 specifications. As the first stage of transferring AC power to computer-usable DC power, the power supply is equipped with multiple protection features such as OVP, OCp, SCP, and OTP. The Dual Power 520W is also equipped with active PFC to heighten the efficiency of the power supply and a more stable operating system. Being the environmentally-conscious corporation Thermaltake is, the Dual Power 520W is efficient at an astounding 80%, as specified by the ATX12V 2.0 specifications.
In order to provide users with a silent power supply without sacrificing performance, Thermaltake is proud to present the world with the Dual Power 520W power supply unit.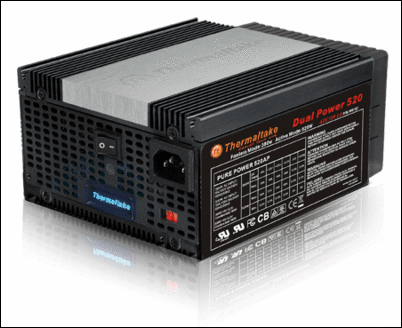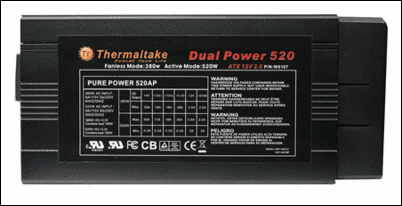 Feel free to discuss this product in our forum