Thermaltake reveals its Floe RC Ultra series of CPU/Memory AIO Coolers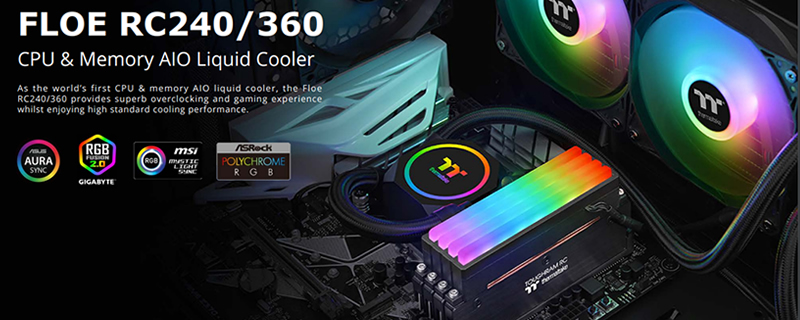 Thermaltake reveals its Floe RC Ultra series of CPU/Memory AIO Coolers
Thermaltake has revealed a successor to one of its most unique products, revealing an updated Floe RC CLC (Closed-Loop Liquid Cooler) that features two customisable LCD screens, updated fans and real-time monitoring features. 
Meet the Thermaltake Floe RC Ultra, the only CPU/memory All-In-One (AIO) Liquid cooler which includes dual LCD screens and RGB lighting for unparalleled customisation. Thermaltake plans to launch this new liquid cooler in Q2 2021 with 240mm and 360mm radiator options, and support for Thermaltake's ToughRAM RC memory modules. 
On the Floe RC Ultra's CPU water block is a 2.1-inch LCD screen and on the system's DRAM water block is a larger 3.9-inch screen, both of which can be customised to showcase personalised visual effects, gifs, jpegs, system information and more. These screens can be controlled using Thermaltake's TT RGP PLUS 2.0 software. 
Thermaltake has listed this liquid cooling kit as supporting "the latest Intel and AMD" CPU sockets, including Intel's recently released LGA 1200 socket. Thermaltake has also noted that its ToughRAM series of memory kits will release with 3200MHz, 3600MHz, 4000MHz and 4400MHz kits, each of which ships with 2x8GB DIMMs. This allows users to install up to 32GB of DRAM on mainstream motherboards with 4 DIMM slots. 
Note that we expect this kit to support AMD's mainstream CPU sockets, and likely doesn't include support for AMD's Threadripper TRX40 socket. Beyond that, Intel's X299 socket will not be fully supported, as that socket places DRAM modules on both sides of the user's processor. This liquid cooling kit only has one DRAM chilling plate. 
With DDR4 DRAM, memory doesn't typically require active cooling solutions, as the DDR4 memory standard doesn't consume much power compared to older DDR standards. That being said, memory overclockers could benefit from the increase in cooling performance, and other users could find Thermaltake's addition of a DRAM mounted LCD screen visually pleasing. 
     Thermaltake, the leading PC DIY premium brand for Cooling, Gaming Gear, and Enthusiast Memory solutions, today launched the new Floe RC Ultra CPU & Memory AIO Liquid Cooler Kit, followed by the world's first Floe RC CPU & Memory AIO Liquid Cooler Kit. The Floe RC Ultra comes in 240mm and 360mm, which incorporates a bright 2.1" LCD screen for the CPU water block, and another individual 3.9" LCD screen for its memory water block, giving users full customization options to create more personalized visual effects that includes uploading fun gifs or any pictures in jpg format you like.

Other than that, they are able to be controlled by the TT RGB Plus 2.0 software allowing fan speed adjustments, real-time temperature monitoring, and setting up light modes, the Floe RC Ultra can also be synchronized with TT RGB Plus software-enabled components for a stunning synced PC theme. Despite the new upgrade of the visual display, the Floe RC Ultra AIO coolers are equipped with powerful TOUGHFAN 12 Turbo PWM radiator fans at speeds ranging from 500 RPM to 2500 RPM providing superb cooling performance. The Floe RC Ultra AIO cooler is easy to install, requiring only a minimal amount of space in the chassis, and is compatible with the latest Intel and AMD sockets. In terms of memory compatibility, the Floe RC Ultra is designed for TOUGHRAM RC memory frequencies of 3,200MHz, 3,600MHz, 4,000MHz, and 4,400MHz in kits of 8GBx2 modules.

Thermaltake Floe RC Ultra CPU & Memory AIO Liquid Cooler Kit will be available on ttpremium.com in Q2 and is backed by a two-year warranty for the water block and a limited lifetime warranty for the RAMs, which are supported by the Thermaltake worldwide customer service and technical support network.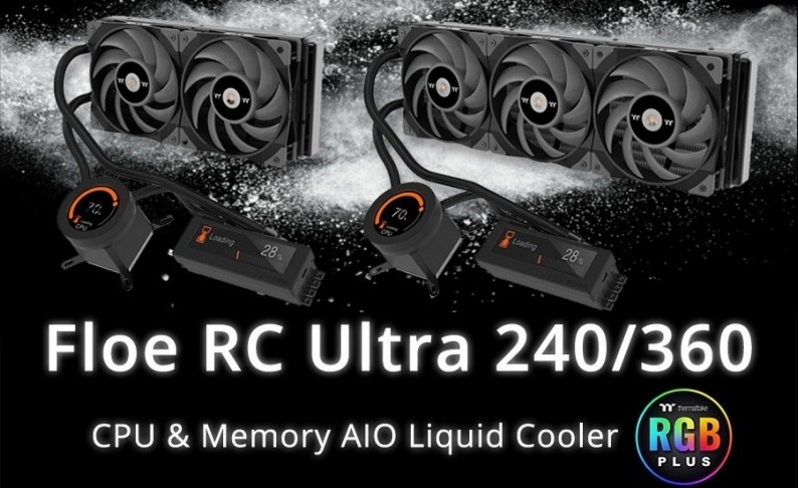 You can join the discussion on Thermaltake's Floe RC Ultra series of CPU and memory AIO liquid coolers on the OC3D Forums.