Thermaltake's iFlash+ Fan
News Posted 12/12/2006
Author: PV5150
Source: Thermaltake
---

Official Press Release
Thermaltake Technology officially presents you the iFlash+ (12cm) fan – the fan that is visually stunning. The fan itself is an 120mmx120mm fan, spinning at 1800RPM, and the noise level is only rated at 25dBA. The near-silent construction and operation featuring high-volume airflow enables any user to install the iFlash+ (12cm) onto either chassis.

Unlike the standard traditional fans, the iFlash+ (12cm) utilizes a streamline cover on top of the fan. When the fan is operating, the fan blades will be able to display the word "Thermaltake" and the current operating temperature. The fan will attract anyone that sees the computer system under its blue background glow. The iFlash+ (12cm) will be able to display the temperature.
Thermaltake Technology's iFlash+ (12cm) is greatly different from the standard LED fans on the market. As a result, there are no friction that would cause excess heat, wear, and tear of the traditional LED fans. The longevity of the iFlash+ (12cm) is another demonstration of the effort Thermaltake Technology puts in to provide the highest-quality product users will be able to use in the market today.
Features

120x120x28 Fan (1800RPM. 25dBA)
Eight Red LED shining fantastic LOGO words
Real-time environment temperature display
Rotating and dancing "Thermaltake" Logo
You may view the specifications and additional info here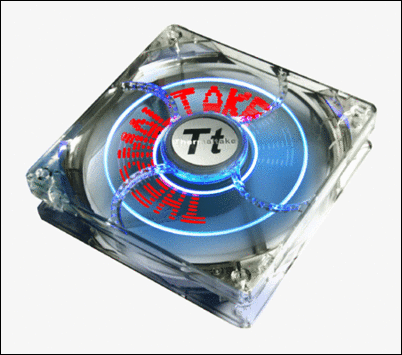 Feel free to discuss this product in our forum