AMD Prepares Phenom FX

AMD prepares its Phenom FX, Phenom X4 and Phenom X2 lineups for launch.
AMD is readying its K-10 family of single, dual and quad-core processors; soon to be known as 'Stars'. The next-generation Stars-family splits into three different brand names – Phenom, Athlon and Sempron. Ringing in the flagship is three Agena FX-based AMD Phenom FX processors. AMD has yet to confirm clock speeds for the three models; however, the latest roadmap reveals ballparks for the processors.
The top-end AMD Phenom FX processor clocks in the 2.4-2.6 GHz speed range. Slotting below the top-end Phenom FX is a 2.2-2.4 GHz model. These two models occupy AMD's upcoming Socket 1207+ and current Socket 1207 Quad FX platforms. AMD also has a Phenom FX for single-processor customers as well, clocked at 2.4-2.6 GHz….
Catering towards high-end user are two Socket AM2+ AMD Phenom X4 processors. AMD remains undecided on its model numbers; however, clock speeds on the Agena-based Phenom X4 processors are set. The two AMD Phenom X4 processors clock in at 2.4 GHz and 2.2 GHz. These models share the same 4x512KB L2 cache and 2MB L3 cache configuration as the Phenom FX processors….
AMD's dual-core Kuma processors will carry the Phenom X2 name and drop into Socket AM2+ and AM2 motherboards. There are three AMD Phenom X2 processors in the pipeline with 2.8 GHz, 2.6 GHz and 2.4 GHz clock speeds. HT 3.0 speeds vary on the AMD Phenom X2 processors. At the top with the AMD Phenom X2 2.8 GHz model, the HT 3.0 bus clocks in at 4.2 GHz – higher than the Phenom FX and Phenom X4 models. The two lower models have 3.8 GHz and 3.6 GHz HT 3.0 clock speeds, respectively….
In an interesting turn of events, it appears that the Athlon 64 X2 name will still be used, albeit for one processor -Rana.
There's one Rana model in the pipeline clocked at 2.2 GHz. The Rana-based Athlon 64 X2 does away with L3 cache and only has 2x512KB of L2 cache, differentiating it from the Kuma-based AMD Phenom X2.
Feel free to read more here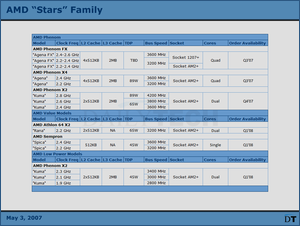 It'll certainly be worth the wait once these processors hit our shores.
Discuss in our forum