AMD Reports 2015 Third Quarter Results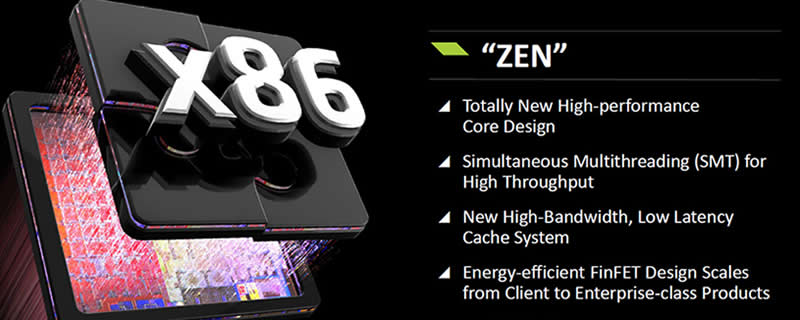 AMD Reports 2015 Third Quarter Results
AMD today announced revenue for the third quarter of 2015 of $1.06 billion, operating loss of $158 million, and net loss of $197 million, or $0.25 per share. Non-GAAP operating loss was $97 million and non-GAAP net loss was $136 million, or $0.17 per share. GAAP and non-GAAP results include a $65 million inventory write-down and the impact of this charge to loss per share was $0.08.
AMD delivered double-digit percentage sequential revenue growth in both of our segments in the third quarter," said Dr. Lisa Su, AMD president and CEO. "We continue to take targeted actions to improve long-term financial performance, build great products and simplify our business model. The formation of a joint venture of our back-end manufacturing assets is a significant step towards achieving these goals and strengthening our balance sheet."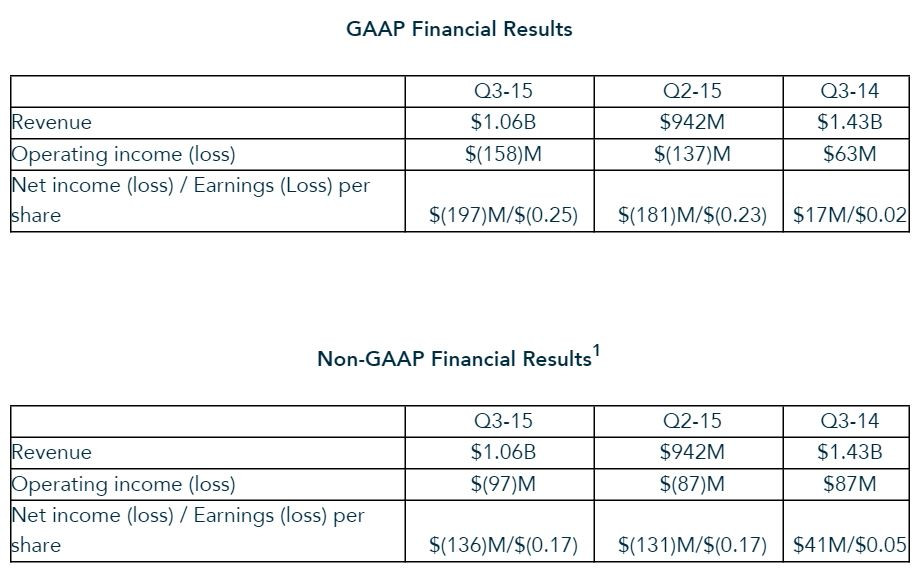 Q3 2015 Results
– Revenue of $1.06 billion, up 13 percent sequentially and down 26 percent year-over-year. The sequential increase was due to solid seasonal semi-custom and strong desktop processor and GPU sales. The year-over-year decline was primarily due to decreased sales in the Computing and Graphics segment.
– Gross margin of 23 percent, down 2 percentage points sequentially, due to an inventory write-down of $65 million. Non-GAAP(1) gross margin, including the impact of the inventory write-down was 23 percent, down 5 percentage points sequentially. The inventory write-down was due to lower anticipated future demand for older-generation APUs. The gross margin impact of the inventory write-down was 6 percentage points.
– Operating loss of $158 million, compared to an operating loss of $137 million for the prior quarter. Non-GAAP(1) operating loss of $97 million, compared to non-GAAP(1) operating loss of $87 million in Q2 2015, primarily due to lower gross margin.
Net loss of $197 million, loss per share of $0.25, and non-GAAP(1) net loss of $136 million, non-GAAP(1) loss per share of $0.17, compared to a net loss of $181 million, loss per share of $0.23 and non-GAAP(1) net loss of $131 million, non-GAAP(1) loss per share of $0.17 in Q2 2015. The impact of the inventory write-down to EPS was $0.08.
– Cash and cash equivalents were $755 million at the end of the quarter, down $74 million from the end of the prior quarter, due primarily to a $69 million debt interest payment.
– Total debt at the end of the quarter was $2.26 billion, flat from the prior quarter.
Financial Segment Summary
– Computing and Graphics segment revenue increased 12 percent sequentially and decreased 46 percent from Q3 2014. The sequential increase was primarily due to higher sales of desktop processors and GPUs and the annual decrease was driven primarily by lower client processor sales.
– Operating loss was $181 million, compared with an operating loss of $147 million in Q2 2015 and an operating loss of $17 million in Q3 2014. The sequential change was primarily driven by an inventory write-down of older-generation products partially offset by higher revenue. The year-over-year change was primarily driven by lower sales.
– Client processor average selling price (ASP) decreased sequentially and year-over-year primarily driven by lower notebook processor ASP.
– GPU ASP was flat sequentially and increased year-over-year. The year-over-year change was due to new GPU product offerings and improved AIB ASP.
– Enterprise, Embedded and Semi-Custom segment revenue increased 13 percent sequentially, primarily driven by seasonally higher sales of our semi-custom SoCs. The year-over-year decrease of 2 percent was primarily driven by lower embedded product and server processor sales.
– Operating income was $84 million compared with $27 million in Q2 2015 and $108 million in Q3 2014. The sequential increase was primarily due to the absence of the $33 million charge associated with a technology node transition in Q2 2015 and higher sales. The year-over-year decrease was primarily driven by a portion of the Q3 2015 inventory write-down and product mix.
– All Other category operating loss was $61 million compared with operating losses of $17 million in Q2 2015 and $28 million in Q3 2014. The sequential and year-over-year increases were due to restructuring charges recorded in Q3 2015.
ATMP Manufacturing Facilities Joint Venture

As a part of AMD's ongoing strategic plan to sharpen its focus on designing high-performance technologies and products that drive profitable growth, AMD today announced the signing of a definitive agreement to create a joint venture with Nantong Fujitsu Microelectronics (NFME) that combines AMD's high-volume ATMP facilities and experienced workforce in Penang, Malaysia and Suzhou, China with NFME's established outsourced semiconductor assembly and test (OSAT) expertise to offer differentiated capabilities and scale to service a broad range of customers. 
The value of the transaction is $436 million and NFME will take an 85 percent ownership of the joint venture. AMD will receive $371 million in cash and expects net proceeds of approximately $320 million, net of taxes and other charges at close. This transaction is expected to close in the first half of 2016, pending successful completion of regulatory approvals.
Recent Highlights
– AMD expanded its offerings for the commercial client market with new product announcements and security-focused technology partnerships that address the needs of business users and IT decision makers:
– For the first time, AMD was the exclusive launch processor partner for HP's newest EliteBook commercial client systems featuring the latest AMD PRO A-Series mobile and desktop processors (formerly codenamed "Carrizo PRO" and "Godavari PRO"). AMD's new commercial processors deliver exceptional performance and dependability to meet the evolving budget and IT needs of businesses today and tomorrow. AMD PRO mobile processors power some of the first-to-market commercial notebook systems running the Microsoft Windows 10 operating system and are the industry's first commercial processors designed to be compliant with the Heterogeneous Systems Architecture (HSA) 1.0 specification.
– AMD demonstrated innovation leadership with the introduction of the AMD Radeon R9 Nano, the fastest Mini ITX graphics card2 ever created and the world's smallest enthusiast GPU, featuring High-Bandwidth Memory (HBM) to deliver up to 30 percent more performance3 and up to 30 percent lower power4 than AMD's previous generation graphics cards.
– AMD announced the AMD A8-7670K APU delivering an excellent experience and value for today's mainstream workloads, eSports online gaming, and Microsoft Windows 10.
– AMD delivered seamless and intuitive support for Windows 10 and DirectX 12 across AMD APU and GPU solutions with its new AMD Catalyst 15.7 Driver update and continued to out-perform its competitors in DirectX 12 performance, including in the Ashes of the Singularity and Fable Legends benchmarks.
– AMD further solidified itself as a leader in the embedded market with new product introductions and design wins:
– Announced multiple new discrete AMD Embedded Radeon graphics options specifically designed to advance the visual and parallel processing capabilities of embedded applications.
– Bolstered its No. 1 position in the thin client space with the announcement that the new FUJITSU FUTRO S920, S720 and S520 are powered by AMD Embedded G-Series SOCs, which couple high-performance computing and graphics capability in a highly-integrated, low-power design.
– AMD released a carbon footprint analysis of the 6th Generation AMD A-Series APU, formerly codenamed "Carrizo", showing that using the new processor can result in up to a 50 percent reduction in greenhouse gas emissions compared to AMD's previous generation APU.
– AMD displayed the versatility of its FirePro professional graphics to address a variety of markets:
– Introduced the world's first server GPU with 32GB of memory for high performance compute (HPC).
– Announced new professional graphics design wins with the Dell Precision 3510, 7510, and 7710 mobile workstations powered by AMD FirePro mobile GPUs to address the mobile performance needs of engineers and design pros.
– Showcased the power of FirePro professional graphics technologies to create stunning visual effects for global film productions such as Baahubali: The Beginning and Golden Drops.
– Unveiled the world's first hardware-based virtualized GPU solution. With the AMD Multiuser GPU, IT pros can easily configure solutions to allow up to 15 users on a single AMD GPU.
– AMD formed the Radeon Technologies Group to bring a vertical focus on graphics and immersive computing development. With this strategic alignment, AMD is well-positioned to expand its role as the graphics industry leader, recapturing share across traditional graphics markets, and staking leadership positions in new markets such as virtual and augmented reality.
Current Outlook
AMD's outlook statements are based on current expectations. The following statements are forward-looking, and actual results could differ materially depending on market conditions and the factors set forth under "Cautionary Statement" below.
For Q4 2015, AMD expects revenue to decrease 10 percent, plus or minus 3 percent, sequentially.
For additional details regarding AMD's results and outlook please see the CFO commentary posted here.