AMD's EPYC CPUs are going 3D – Milan-X Stacked Processor Teased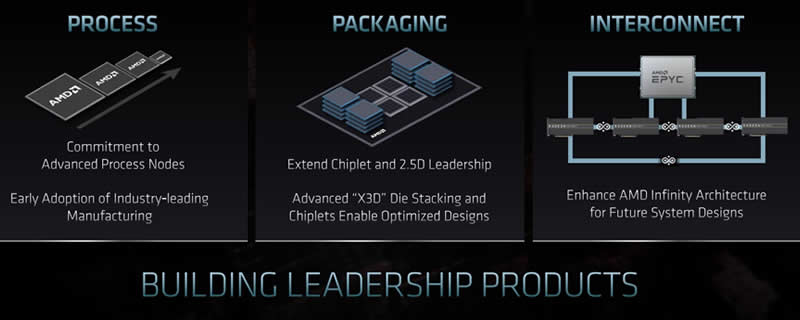 AMD's EPYC CPUs are going 3D – Milan-X Stacked Processor Teased
AMD has big plans for its EPYC lineup, and those plans include "Advanced X3D" die stacking and chiplets. Soon, AMD will be producing 3D processors, and rumour has it that AMD is working on a specialised 3D Milan series processor. 
@Patrick Schur on Twitter has revealed that AMD is working on a Milan-X processor which features "stacked dies", with another leaker @ExecuFix adding that the processor features a "Genesis (Milan) I/O die with stacked chiplets". 
AMD has been discussing their packaging plans since their 2020 Financial Analysts Day, where the company detailed its plans for specialised 3D stacked processors. As part of this announcement, AMD showcased a simplified diagram that highlighted 3D stacked dies being used in conjunction with AMD's existing 2.5D chiplet manufacturing techniques. 
At this time, it is unknown how AMD's stacked dies will function, though it seems likely that AMD will stack their future CPU/Core chiplets on top of their I/O die to enable higher bandwidth die-to-die connectivity. Chiplets beside AMD's hypothesised stacked IO/compute chiplets could include HBM memory, giving AMD's processors access to high-bandwidth, low-latency on-package DRAM.  
Milan-X aka Milan-X(3D). Genesis IO-die with stacked chiplets

I love lasagna ???? https://t.co/O2FrGxyd8P

— ExecutableFix (@ExecuFix) May 25, 2021
  
AMD's "X3D" packaging designs will significantly increase the bandwidth density of AMD's future CPU designs, allowing AMD's chips to communicate faster and with less latency. These changes address many of the downsides of AMD's existing chiplet-based processors and will allow AMD to create specialised processors in the future to deliver optimised designs to their customers. 
Last year, AMD called their "Chiplet and 3D" roadmap "aggressive", so we wouldn't be surprised if AMD has something interesting to show us in the near future. AMD has remained silent regarding its plans after Zen 3, a factor that will make AMD's Computex 2021 showcase an interesting watch for analysts. 
You can join the discussion on AMD's rumoured 3D Stacked EPYC processor on the OC3D Forums.