ASUS Announces H170 Pro Gaming and B150 Pro Gaming Motherboards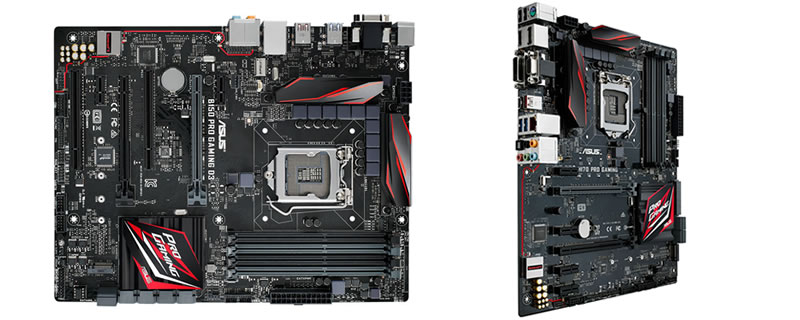 ASUS Announces H170 Pro Gaming and B150 Pro Gaming Motherboards
ASUS today announced H170 Pro Gaming and B150 Pro Gaming D3, two new ATX motherboards packed with multiple exclusive features for superior gaming experiences, including SupremeFX and Sonic Radar II technologies for flawless audio and Intel Gigabit Ethernet with ASUS LANGuard and GameFirst technology for fast, safe and lag-free networking.
Based respectively on the new Intel H170 Express and B150 Express chipsets, H170 Pro Gaming and B150 Pro Gaming D3 also benefit from Gamer's Guardian components for durability and easy DIY, and the latest connectivity with both 10Gbit/s SuperSpeed USB 3.1 and M.2 on board. Pro Gaming motherboards are designed for today's modern value-conscious consumers, who demand affordability and the very best technology. Every Pro Gaming motherboard features multiple ASUS-exclusive innovations to unleash the full gaming-performance potential.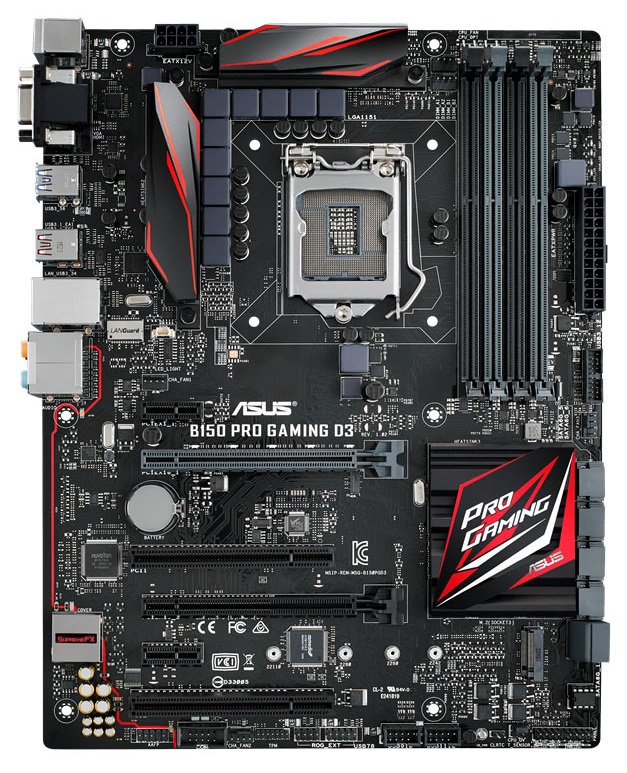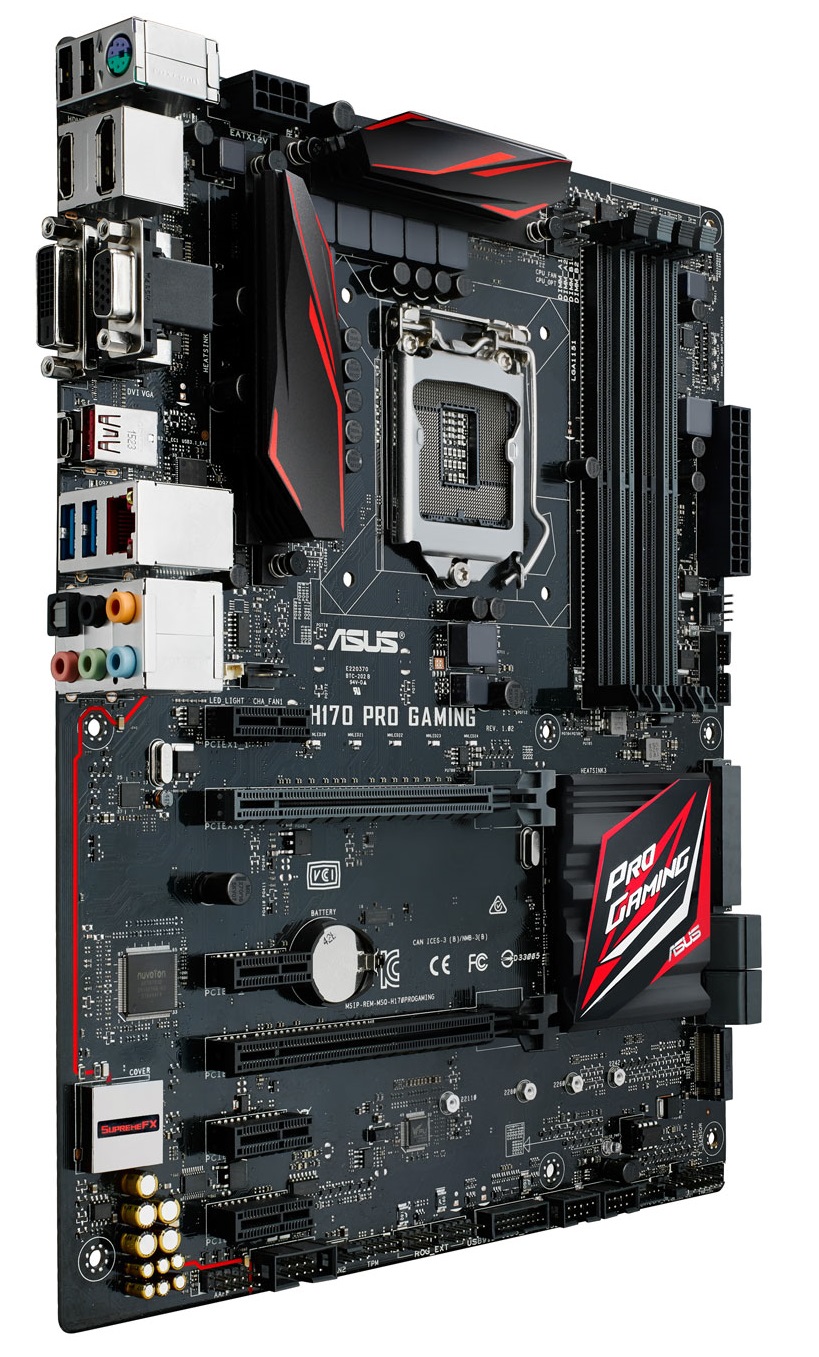 Gaming-grade audio: Exclusive SupremeFX technology, Sonic Radar II and LED illumination
H170 Pro Gaming and B150 Pro Gaming D3 are both engineered with ASUS-exclusive SupremeFX audio technology to deliver high-fidelity, near-lossless audio no matter how frantic the game becomes. The purity and stability of the remarkable 115dB signal-to-noise ratio (SNR) is assured, with a shielded design, electromagnetic-interference (EMI) cover and voltage-protected 5V power supply.

SupremeFX's superior components, including the trusted Realtek ALC1150 codec, maximize acoustic performance and eliminate interference – so only the very best audio is heard through gaming headsets and speakers. The red-line shielding is illuminated for beautiful aesthetics, and it's even customizable, allowing users to create eye-catching lighting effects.
The new Pro Gaming boards enable gamers to become hunters rather than the hunted with Sonic Radar II, a stealthy overlay that shows what opponents and teammates are up to on the battlefield – all managed via a simple control panel and customizable game list. Sonic Radar II shows both the direction and origin of key in-game sounds, enabling ASUS gamers to practice enemy-pinpointing skill. It even includes Audio Enhancement technology to clarify every sound detail – providing an audible heads-up to vital events.
Gaming-grade networking: Lag-banishing Gigabit Ethernet, LANGuard and GameFirst
H170 Pro Gaming and B150 Pro Gaming D3 are packed with multiple advanced technologies to ensure ASUS gamers are victorious, including tournament-level Intel Gigabit Ethernet, ASUS-exclusive LANGuard and GameFirst technology to keep the connection fast and free from lag.
Intel's LAN technology has the serious double advantage of reducing CPU overhead and offering exceptionally high TCP and UDP throughput, significantly reducing the processor's workload to free up power for the game.
ASUS LANGuard is hardware-level networking protection that employs signal-coupling technology and premium anti-EMI surface-mounted capacitors for rock-solid gaming connections and better throughout for online play, plus electrostatically-guarded and surge-protected components for greater tolerance to static electricity and improved protection against power surges.
Victory and defeat are separated by just milliseconds, so exclusive GameFirst technology prioritizes game-related packets and allocates more bandwidth to games, eliminating laggy gameplay, streaming stutters and file-sharing slowdown. Optimization, Game, Media Streaming or File Sharing presets ensure that setup is as fast as the network flies.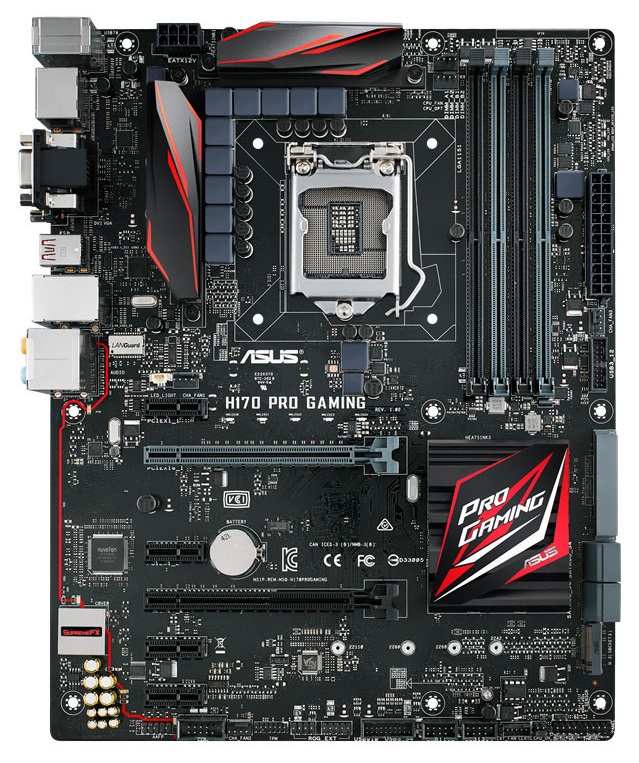 Gaming-grade protection: Gamer's Guardian components and smart DIY features
H170 Pro Gaming and B150 Pro Gaming D3 are protected by multiple self-defends called Gamer's Guardian, including the Digi+ voltage-regulator module (VRM) for ultra-smooth and ultra-clean power delivery to the CPU, DRAM Overcurrent Protection with resettable fuses to prevent overcurrent and short-circuit damage, and superior chokes.
It also has durable capacitors engineered to resist extreme temperature variations of between -55°C and 105°C – 110% better than the industry standard – and a corrosion-resistant stainless-steel input/output (I/O) panel that lasts three times (3X) longer than ordinary panels.
Smart DIY features include the one-clip Q-Slot graphics card installation and Q-DIMM memory slots with one-sided clips for super-simple, super-secure handling of memory modules. Q-Shield prevents nicks and cuts during building, while four Q-LED lamps indicate problems with the CPU, memory, graphics card or boot device for quick diagnosis.
ASUS ESD Guards actively protect against sudden electrostatic discharge (ESD), ensuring USB ports, audio and LAN port protection that's up to twice (2X) as resilient as industry standards.
Gaming-grade transfers: 10Gbit/s USB 3.1 Type-A and Type-C, M.2, plus RAMCache technology
H170 Pro Gaming and B150 Pro Gaming D3 also provide gamers with the latest and fastest connectivity, with both USB 3.1 and M.2 on board. To make the most of latest 10Gbit/s SuperSpeed USB 3.1 devices, the boards are equipped with both Gen 2 Type-A and reversible Type-C sockets. The M.2 socket also provides great storage-upgrade flexibility, with support for all M.2 devices between 42mm (2242) and full-length 110mm (22110).
Both boards also have uniquely-intelligent RAMCache technology. This effectively caches an entire storage device so that favorite games and apps launch at breakneck speeds, getting to work the moment it's activated. RAMCache minimizes risk of data loss and turns milliseconds into microseconds – boosting game-load times to stratospheric levels.
You can join the discussion on ASUS' H170 and B150 motherboards on the OC3D forums.