Asus Reveals ROG OC Station
Asus Reveals ROG OC Station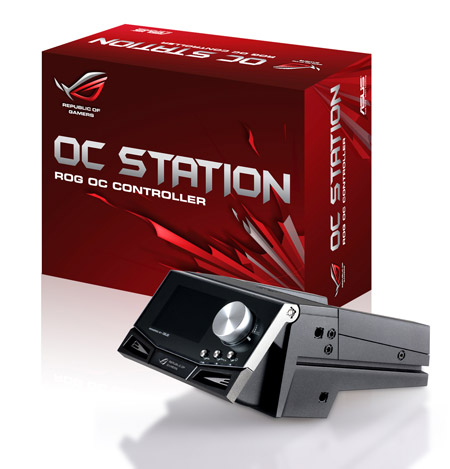 Making an appearance earlier in the year and then fading into the background, the new Asus Republic of Gamers Overclock Station has re-emerged and is set to bring on-the-fly hardware control of  the essential overclocking settings to ROG motherboard owners across the world. Not only can you fully control overclocking settings, the ROG OC Station also offers access to ROG-exclusive features, fan speeds, system information and even a photo slideshow function.
The large 3″ screen enables users to read system information and monitor the computer without having to launch separate programs on the computer itself. To extend the viewing angles to suit almost any desktop situation, the 3″ screen is tiltable by up to 30 degrees, allowing users to adjust as and when necessary. The device slides neatly into two 5.25″ drive bays and will add a touch of class to any system it's added to, with its stylish design inspired by sports cars to offer control, speed, precision and power.
The ROG OC Station operation is based around a large knob and clearly labelled buttons, offering an intuitive and easy to follow navigation system, even for those new to the realms of overclocking. Quick access to system voltages and frequencies are the press of a button away, even during those long benchmarking or gaming sessions when some extra juice is required. The OC Station also integrates with the iROG controller embedded on ROG motherboards to offer users access to ROG-exclusive features such as CPU Level Up and ASUS EPU-6 Engine at a hardware level. CPU level up allows the motherboard to overclock the CPU to the level of a superior CPU for extra speed and performance without compromising on stability and the Asus EPU-6 Engine allows energy saving features to be tweaked.
At this stage it's unknown when the ROG OC Station will make it to retail and how much it will cost, but it's likely to carry a hefty price tag due to the features it's packing. Rumours of a motherboard and ROG OC Station bundle are floating about, but Asus have yet to confirm this.
Is this ROG OC Station just what you've been waiting for, or does it fall at the first hurdle? Discuss in our
Forums
.