Details on AMD RV610 and RV630 Unveiled
News Posted 13/03/07
Author: MikeEnIke
Source: DailyTech
---

AMD is finally hoping to catch up to NVIDIA when it comes to DirectX 10 support. There new RV610 and RV630 come out swinging with second gen shader support and shader model 4.0 support. With their addition of AVIVO they hope to take over the video processing market. AVIVO has been updated with their newest feature "Universal Video Decoder" for HD hardware encoding of H.264 and VC-1 HD formats. AVIVO has been upgraded with all sorts of features/updates for hardware decoding integration and low power video processing.
These new graphics cards (if you can call it that anymore), now offer on board audio support. This removes the need for a separate sound card and the reliance on onboard sound. This new functionality feature Dolby Digital support directly from the card itself. For you high definition needs, the updated AVIVO supports HDCP compatibility.
The new offerings are also boasting PCIe2.0 compatibility and lower power consumption. The cores will integrate 65nm processing technology for cooler evermore efficient processing power. RV610 products will only require 25-35 watts while the RV630 offering will be higher with 75-120 watts depending on which product. All of the boards to be released will also support some form of CrossFire.

RV630 has three reference board configurations – Kohinoor, Orloff and Sefadu. Kohinoor is the high-performance RV630 variant and features 256MB or 512MB of GDDR4 memory. It also features VIVO and dual dual-link DVI outputs. [The RV310 has four reference boards: Antelope FH, Antelope LP, Falcon FH and Falcon LP] The Falcon FH reference board is the performance variant and designed for the RV610PRO ASIC with 256MB of GDDR3 video memory. AMD estimates board power consumption at approximately 35-watts, though it is unknown if Falcon FH boards will feature active or passive cooling. Falcon FH is the only RV610 reference board to support AMD's CrossFire bridge connector for hardware CrossFire support. Falcon FH also features VIVO capabilities.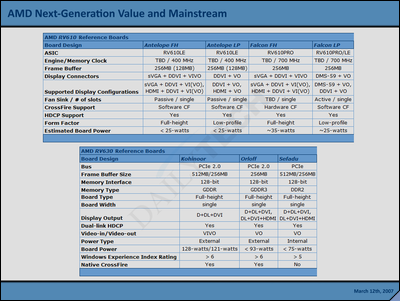 These new AMD GPUs may be a great contender for the current 8000 Series from Nvidia, we'll have to wait and see.
Feel free to comment on the forums.