Scan UK takes a stand against "unrealistic" RTX 30 series pricing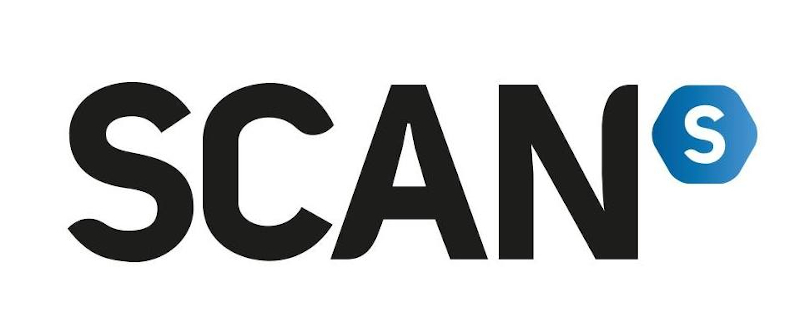 Scan UK takes a stand against "unrealistic" RTX 30 series pricing
The GPU market is a mess right now, GPU supply is scarce, and many retailers are pushing their prices through the roof as a result. Over the past year, we have heard some grim stories from our readers, from retailers cancelling pre-orders after forcing paying customers to wait for months on new stock to desperate gamers who eventually paid for GPUs at scalper pricing.Â
Things are so bad today that we feel the need to praise a retailer for doing something right. Scan UK does not know that we are writing this, but we feel the need to point towards them as an example of how retailers should be acting right now. They are treating their customers with respect, unlike many retailers that we could mention.Â
Rather than take pre-orders for unsecured stock, or inflating their prices to ludicrous degrees, Scan has made the bold decision to sell their RTX 3080 Ti graphics cards at MSRP. Yeah, that is what we have to consider a "bold" move these days… In a statement on their "Nvidia 30 Series status" page, Scan UK noted that "We feel it [is] unfair that people are selling the cards in marketplaces at unrealistic prices." and we agree wholeheartedly.Â
We have recently spoken to many graphics card vendors, and we have been asking them to reconsider the companies they are dealing with. While price-fixing is not legal, graphics card vendors can at least allocate their stocks to retailers that can be trusted to sell their products at reasonable prices. Retailers who price-gouge are a scourge on the PC market, and vendors should not be rewarding their bad behaviour by continuing to supply them with their limited GPU stock.Â
In today's market, every graphics card that a supplier processes will sell. What we want is for more stock to be allocated to retailers that can be trusted to sell them at reasonable prices, not to retailers who will mark up the price to ludicrous levels for the sake of increase profit margins and managerial bonuses. Some retailers need to learn that their customers are people, not a resource that should be milked dry.Â
Below is Scan's latest stock update for Nvidia's RTX 30 series. Their initial stock of RTX 3080 Ti graphics cards has already sold out, but more should be coming next week. Â
Â
  03/06/21 – The launch of the RTX 3080 Ti is at 2 pm today. Going off previous launches, we anticipate exceptional demand for stock and these will sell out extremely quickly (within seconds). We will not be in a position to take pre-orders due to the demand.

To avoid any ambiguity all products will be marked with "sold out" accordingly. We will not be getting additional supplies for the remainder of the week.

The website will be the ONLY way to place orders so we ask that customers please avoid stock related contact on any of our phone lines, chat, or social media.

We feel it unfair that people are selling the cards in marketplaces at unrealistic prices. Please be assured we have taken a balanced view of the market and have put provisions in place to uphold our policy of fair supply focusing on Gamers as stated on our FAQ page.
Â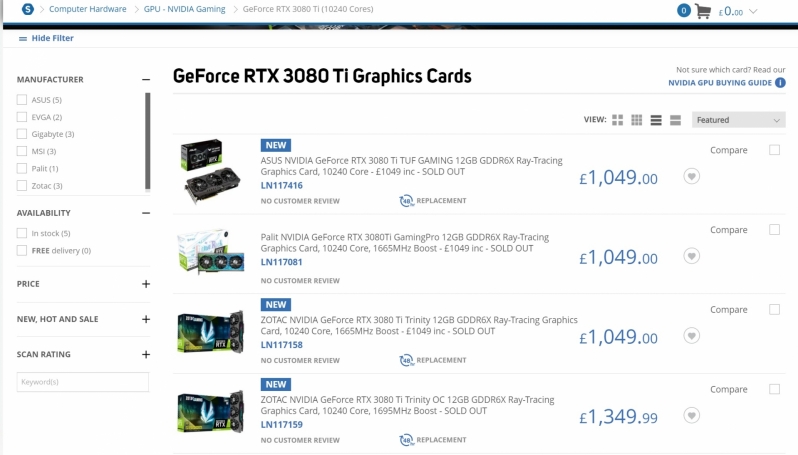 Â
(What? RTX 3080 Ti GPUs at MSRP?)
As it stands, some retailers are killing the PC market with inflated graphics card prices and false pre-orders. We have heard many PC gamers question their hobby and ask whether or not they should exit the PC space and forever move to consoles. While the GPU shortage is far from over, the industry must ensure that the enthusiasm within the PC market can survive until a level of normalcy can be reached again.Â

Please GPU vendors, allocate your stocks with retailers that can be trusted to sell your products at reasonable prices. You are only hurting your brand by supplying certain retailers. We hope that the GPU market can mend itself soon; and that PC gamers will finally be able to scratch their upgrade itch without overpaying for their graphics cards.Â
While their stock did sell out quickly, Scan sold their stock with a clear conscience. This action won't fix the shortage, but it will make PC gamers feel less scammed by the tech industry. Scan's action is a positive step, but broader action is necessary if we want the PC market to exit this spiral of cynicism and exploitation.
You can join the discussion on Scan's opposition to insane graphics card pricing on the OC3D Forums.Â