Alleged AMD Radeon RX 7800 XTX, RX 7800 XT, and RX 7700 XT specs leak online
AMD reportedly planned to release an RX 7800 XTX, but it has reportedly been cancelled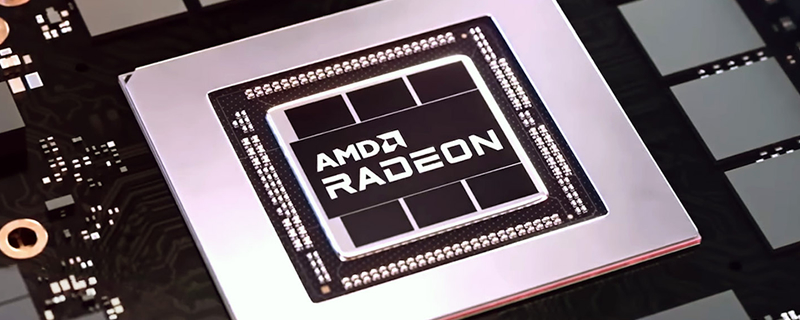 Specifications for three planned RDNA 3 graphics cards have leaked online
AMD released their RDNA 3 based Radeon RX 7900 XTX and RX 7900 XT in December 2022, and since then Radeon fans have been waiting to see what AMD will deliver with RDNA 3 at lower pricing levels. While AMD's flagship-level products were impressive, most of us cannot afford such an expensive product, which means that we have to wait for something more affordable to launch. 
Red Gaming Tech has released a new video that details three planned RDNA 3 graphics cards, the Radeon RX 7800 XTX, the Radeon RX 7800 XT, and the Radeon RX 7700 XT. While the YouTuber has claimed that AMD's RX 7800 XTX has likely been cancelled, it remains as an interesting product that AMD could launch should enough demand for it exist.

The Radeon RX 7800 XTX reportedly uses the same silicon as the RX 7900 XT and RX 7900 XTX, albeit in a more limited form. The GPU reportedly features a 300 TBP, a 256-bit memory bus, featured 16GB of memory and featured 70 compute units (CUs). This graphics card targeted Nvidia's RTX 4070 Ti, delivering similar performance levels in rasterised games at a lower price tag. Since AMD's RX 7900 XT is already similarly priced to Nvidia's RTX 4070 Ti, it makes sense why AMD may have cancelled this graphics card. 
AMD's Radeon RX 7800 XT utilises AMD's Navi 32 chip with a 256-bit memory bus with 16GB of GDDR6 memory. This GPU reportedly features 60 RDNA 3 CUs and reportedly achieves performance levels that are "close to an 6950XT", but "not quite as fast as a 4070 Ti". This GPU would likely launch with pricing that is similar, or slightly higher than an RTX 4070, offering gamers more VRAM and more rasterised performance.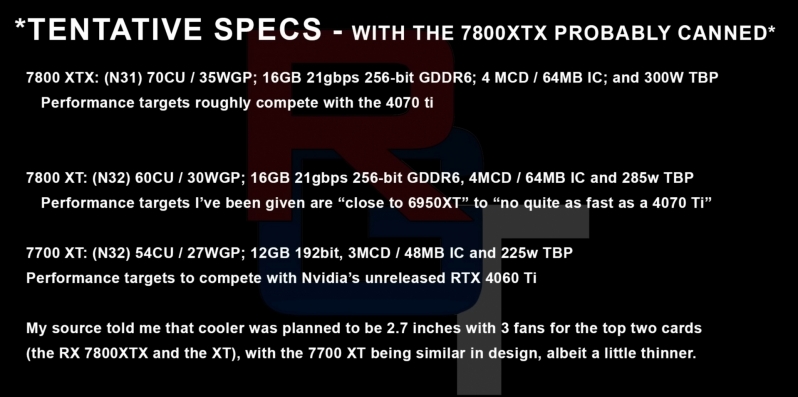 On the lower-end, AMD has their rumoured Radeon RX 7700 XT, a graphics card that used AMD's Navi 32 silicon with 54 compute units and 12GB of GDDR6 memory over a 192-bit memory bus. This GPU is said to be AMD's RTX 4060 Ti competitor, which should offer gamers more memory than its Nvidia counterpart and feature a TBP of 225W. With this GPU being an RTX 4050 competitor, it is likely that its price tag will be around $450.
AMD's strategy with RDNA 3 is clear. AMD plans to offer gamers more VRAM than Nvidia at every price point and exploit the growing memory requirements of games to market their graphics cards as better long-term purchases. This is especially true for the RX 7700 XT, which should have 50% more VRAM than the RTX 4060 Ti, which reportedly has 8GB of VRAM. At this time, it is unclear when AMD plans to launch their lower-end RDNA 3 products, though rumour has it that AMD partners plan to showcase RX 7600 designs at Computex.   
You can join the discussion on AMD's RDNA 3 rumours on the OC3D Forums.