Alleged RTX 4090 Ti/ Titan Ada image leaks – 4-slot Founders Edition design
Are Nvidia working on a higher-end Ada GPU?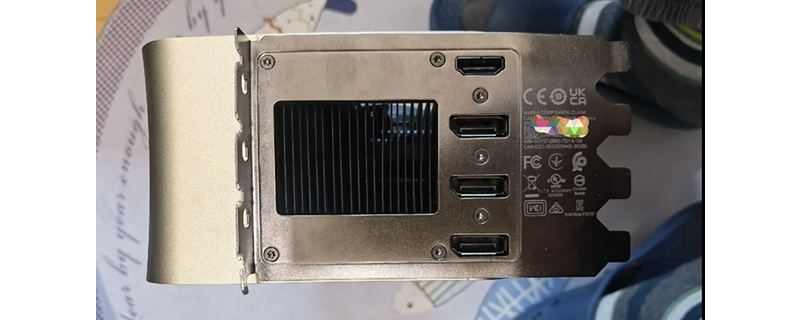 If this image is legit, Nvidia's RTX 4090 Ti is going to be huge
Rumour has it that Nvidia were working on an Ada-based graphics card that is more powerful than their RTX 4090, a graphics card that will utilise more of the company's AD102 silicon and unleash more of the potential of their Ada graphics architecture. This is lead to reports of a 600W graphics card from Nvidia, and a GPU that features a colossal heatsink design that dwarfs even Nvidia's already large RTX 4090 Founders Edition. 
Through MEGAsizeGPU on Twitter, images of an I/O plate for a four-slot RTX 40 series graphics card have appeared online, an alleged RTX 4090 Ti or "Titan Ada" graphics card that features a Founders Edition style heatsink. Oddly, the airflow cut-out at the rear of this I/O plate is not as large as it could be, and the GPU's display outputs are stacked in an unusual way. Simply put, it is unclear if these images are from an unreleased Nvidia prototype, or a fake leak. 

Nvidia left a lot of the silicon on their AD102 GPU core untapped, and that becomes clear when we look at Nvidia's RTX 6000 Ada GPU. The RTX 6000 Ada features 18176 CUDA cores, whereas the RTX 4090 only features 16384 CUDA cores. This means that Nvidia would easily create an RTX 4090 Ti with almost 11% more CUDA cores than their RTX 4090, and Nvidia's RTX 6000 Ada doesn't even use all of Nvidia's AD102 GPU core. An RTX 4090 Ti or RTX Titan Ada could easily be created by Nvidia if the company saw a need for it.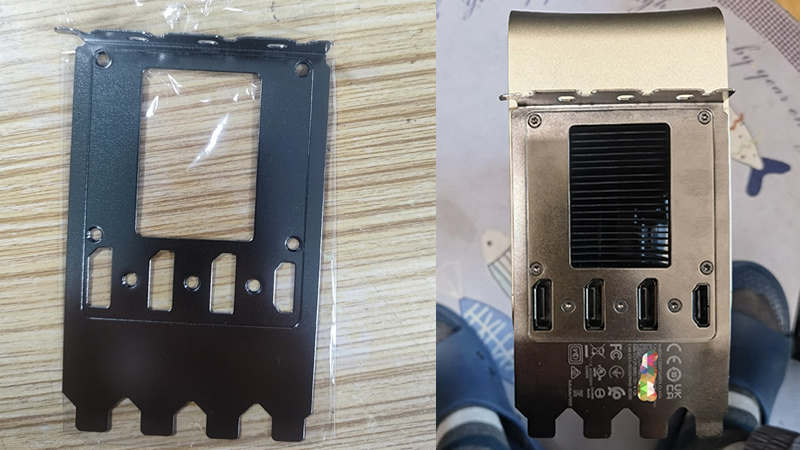 (Images from MEGAsizeGPU on Twitter)
Whether or not Nvidia plans to release an RTX 4090 Ti or an RTX Titan Ada remains to be seen. With AMD's RX 7900 XTX failing to surpass their RTX 4090, Nvidia has no need to release a higher-end RTX 40 series GPU to retain their position as the leader of the high performance gaming GPU market, which means that we won't likely see an RTX 4090 Ti or RTX Titan Ada in the near-term future. That said, Nvidia could surprise us.
You can join the discussion on Nvidia's alleged RTX 4090 Ti/RTX Titan Ada on the OC3D Forums.