AMD calls their RX 7900 XT the "Fastest GPU Under $900"
AMD claims that their RX 7900 XT is better value than Nvidia's new RTX 4070 Ti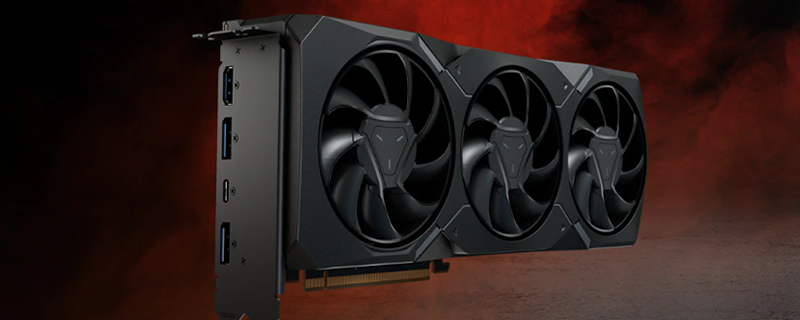 AMD says that their RX 7900 XT is the fastest graphics card in its price bracket
Following the release of Nvidia's RTX 4070 Ti graphics card, AMD has claimed that their RX 7900 XT is now the "fastest GPU under $900", claiming that their graphics card offers consumers better value than Nvidia's latest offering. 
Currently, AMD RX 7900 XT graphics cards are available for as little as £889 at Overclockers UK, and Nvidia's RTX 4070 Ti is available to buy today for £859.99, making both GPUs similarly priced in the UK. Below, AMD advertises DisplayPort 2.1 support, the RX 7900 XT's larger frame buffer, and their GPU's higher performance levels at 4K max settings (without ray tracing) as key areas where their GPU is ahead of Nvidia's RTX 4070 Ti. However, performance in ray traced games is not compared. 

While AMD markets their RX 7900 XT has a high value product, we stand by what we said when we reviewed their RX 7900 XT in late 2022. It's MSRP pricing is too close to AMD's RX 7900 XTX to be considered good value when compared to AMD's flagship GPU model. AMD's RX 7900 XTX (at MSRP pricing) offers more value for money (performance per £) than their RX 7900 XT, and that is not a good look for AMD's RX 7900 XT, even if it can beat Nvidia's RTX 4070 Ti.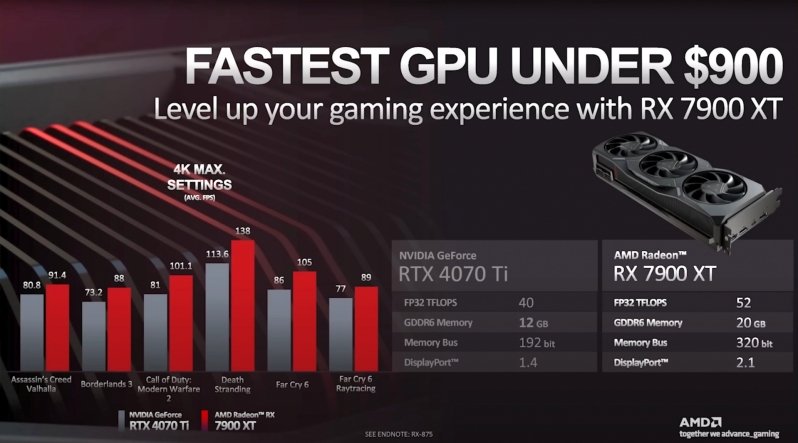 RTX 4080, RTX 4070 Ti, and RX 7900 XT are readily available in the UK
The GPU market is is in a strange position, with all most of the latest GPUs from AMD and Nvidia being readily available in the UK at prices at or close to their official MSRPs. The only exceptions to this are AMD's RX 7900 XTX and Nvidia's RTX 4090, each company's respective flagship GPUs. What this tells us is that many consumers are sick of paying huge prices for graphics cards, and that GPU prices may be forced downwards if demand continues to fall. 
With most of the world's nations facing economic downturns, consumers are becoming more value conscious. That means that consumers do not want to pay heavy premiums for products, and that graphics cards with prices that are far above their official MSRPs are not selling well. 
You can join the discussion on AMD's RX 7900 XT performance claims on the OC3D Forums.