AMD Fury Voltage unlocked in SAPPHIRE TriXX Utility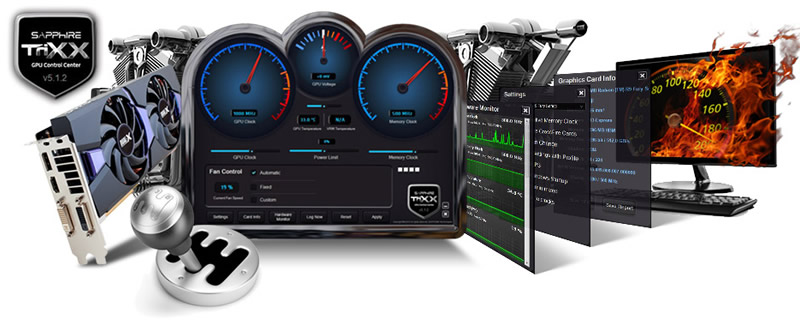 AMD Fury Voltage unlocked in SAPPHIRE TriXX Utility
AMD's Fury Voltages and HBM overclocking have been unlocked in SAPPHIRE's new TriXX Utility. Ready for some heavy overclocking on AMD's R9 Fury X?
AMD had promised that their R9 Fury X would be an overclockers dream, now we will see if that was ever the case. 
   Rev up the performance of your AMD Radeon or FURY based graphics card with the latest new-look version of SAPPHIRE TriXX. Change settings for the best performance of any compatible graphics card in different applications or games and save up to four sets and easily switch between them.

Enthusiasts can adjust fan speeds, core voltages and clock speeds to tune up performance to the max in your favourite games by overclocking, and save those settings for the next time you play the game. Safe recovery means you will never get stuck in settings you can't change!

Not gaming today? Then save another set of changes with low fan speeds to run super quiet while you are watching a video – or revert to default settings for general purpose computing. Whatever you want to do – TriXX makes it easy.

TriXX not only monitors basic parameters such as fan speed and GPU temperature but also GPU load, voltages and memory performance. TriXX can also create a log file for future analysis, and you can save the current VGA BIOS.

Check back for updates – TriXX is regularly updated to provide support for new releases of graphics cards and GPU families as well as enhancements to the tool.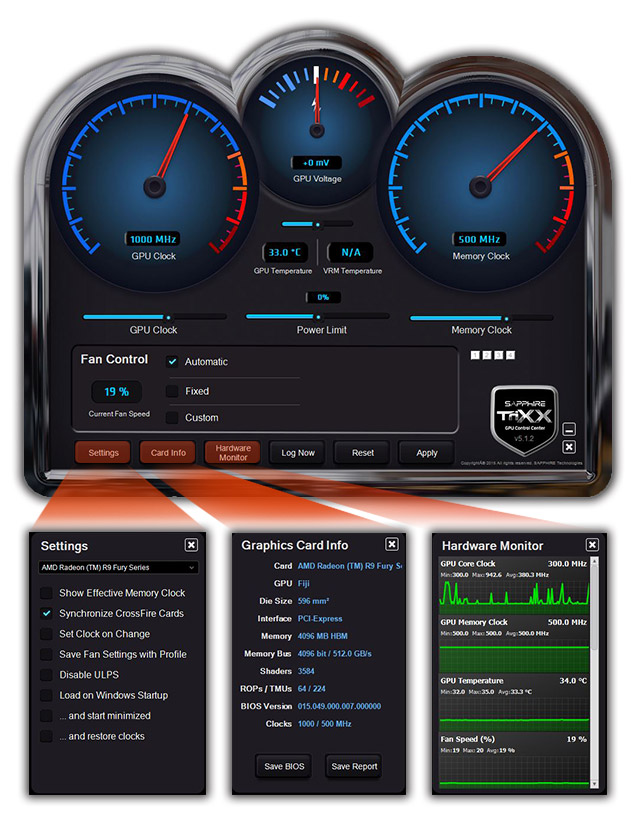 New features
New look and interface
Now supports over-volting on Radeon R300 series
Now supports HBM memory overclock on FURY cards
Now supports over-volt on FURY cards
Minimise TriXX to task bar
Main Features
Overclock your AMD RADEON™ or FURY based graphics card
GPU Core Clock
GPU Voltage
Video Card Memory Clock
Save your Favourite Settings with up to 4 Profiles.
Adjust your Graphic Card's Fan Settings with Automatic, Fixed or Custom Fan Speeds
Information Tab with all you need to know about your Graphic Card including GPU, Interface, Memory, Driver Version, BIOS Version, Clocks, Shaders and more…
Multi-GPU support (CrossFireX)
Windows Sidebar Gadget option
Sapphire's Trixx utility is available to download here. 
You can join the discussion on the Voltage and HBM overclocking being unlocked in Sapphire's Trixx Utility on the OC3D Forums. 

AMD's Fury Voltages and HBM overclocking have been unlocked in SAPPHIRE's TriXX Utility. https://t.co/OSkmGrCeGp pic.twitter.com/ukLFERyJlg

— OC3D (@OC3D) November 18, 2015