AMD reveals its RX 6600 XT graphics card for high refresh rate 1080p gaming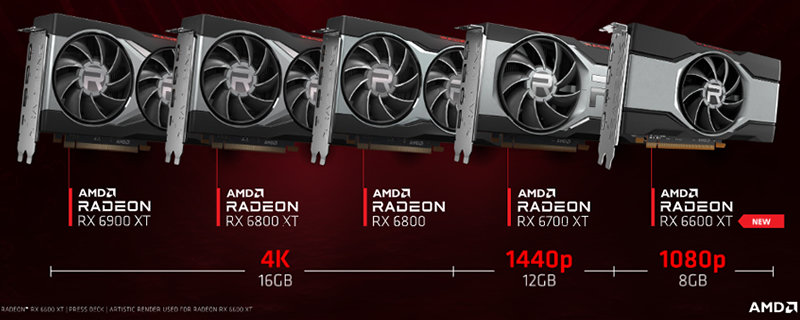 AMD reveals its RX 6600 XT graphics card for high refresh rate 1080p gaming
It's official, AMD has revealed its RX 6600 XT graphics card, an 8GB model that explicitly targets high refresh rate 1080p gaming and aims to deliver a strong 1440p experience through the use of features like FidelityFX Super Resolution.  
With a suggested retailer price of $379, which loosely converts to £330 including VAT, this graphics card delivers pricing levels that are similar to AMD's last-generation RX 5700, offers gamers the same VRAM capacity and the extended DirectX 12 Ultimate feature set offered by AMD's RDNA 2 GPU architecture. 
Like other RDNA 2 products from AMD, the RX 6600 XT supports hardware-accelerated ray tracing, Mesh Shaders, Smart Access Memory, Variable Rate Shading and other next-generation hardware features. With a TBP (Total Board Power) of 160W, this graphics card should also be easy to power and cool, which is great news for budget system builders and OEMs. You won't need an insane power supply to run an RX 6600 XT inside your system.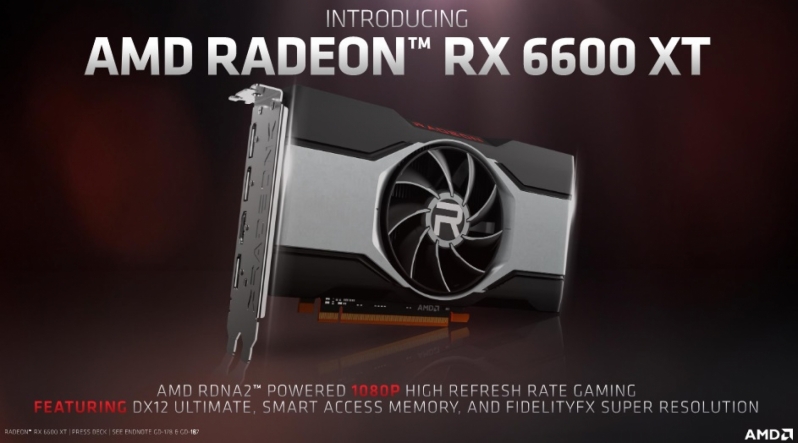 Specifications
With 32 Compute Units (2048 shaders), and a game clock of 2359MHz, it is clear that AMD's RDNA 2 architecture has delivered some staggering performance benefits to team Radeon. With RDNA, clock speeds of 2GHz weren't common, and now 2+ GHz clock speeds are the norm for the red team. 
While 8GB of RAM may not be an insane amount of VRAM, it is worth noting that Nvidia thinks 8GB is enough for much more powerful products. If 8GB of VRAM is enough for an RTX 3070, AMD's RX 6600 XT will be fine. Beyond that, Microsoft's Xbox Series S makes do with 10GB of CPU/GPU combined memory, which means that 8GB GPUs shouldn't become irrelevant anytime soon. 

With the RX 6600 XT, AMD has offered its 8GB of GDDR6 memory across a 128-bit memory bus with 32MB of Infinity Cache. This change gives AMD's RX 6600 XT a lot less memory bandwidth than the RX 6700 XT and RX 6800/6900 series. That said, given this GPU's 1080p resolution target, this GPU has ample bandwidth for its target market.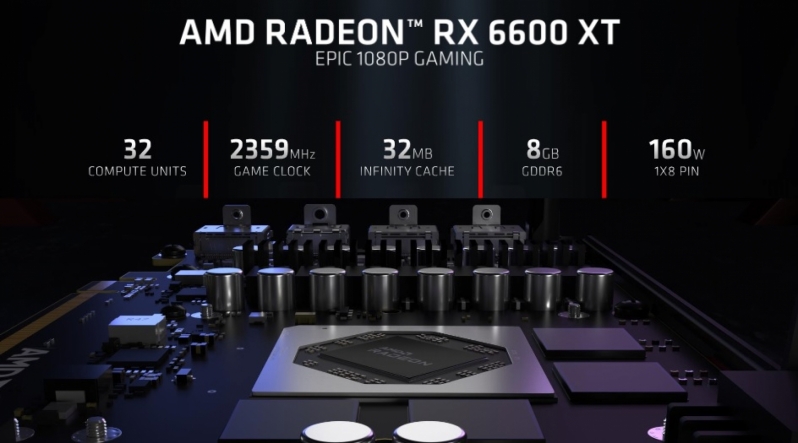 The New Standard for 1080p? 
While graphics cards like AMD's RX 580 and Nvidia's GTX 1060 remain popular, these graphics cards are getting a little too old and a little too slow for some modern titles. With AMD's RX 6600 XT, AMD claims that they can deliver gamers an up to 2.5x performance uplift over Nvidia's GTX 1060. This should be enough for a high refresh rate 1080p gaming in most modern titles.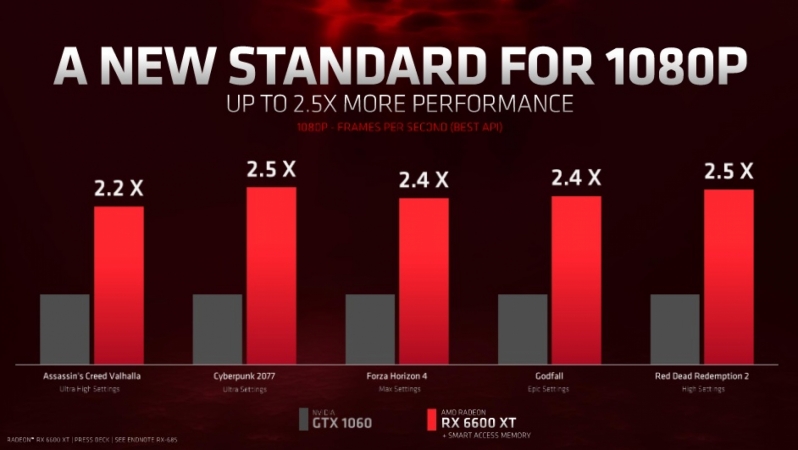 1080p Popularity
For high-end PC gamers, 1080p may be a little low-end for you, but it is worth remembering that 1080p is the most popular display resolution on the market. It accounts for two-thirds of 2020's shipped gaming displays, at least according to AMD's data. This is why AMD's building a GPU that targets 1080p resolutions.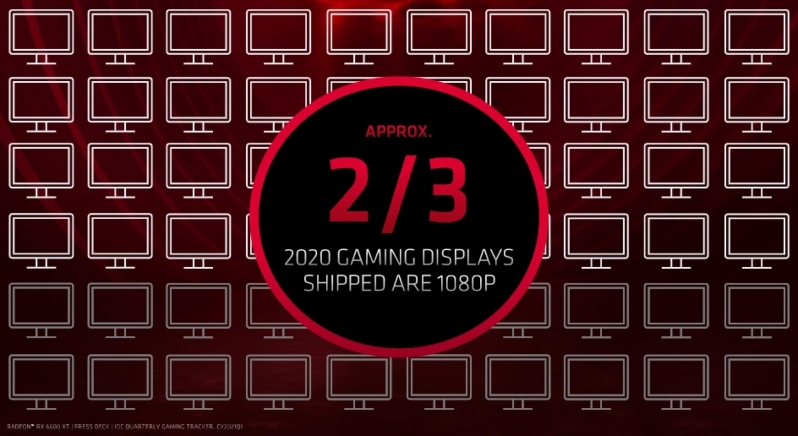 High Refresh Rates
If you are looking for a monitor to work on, you are unlikely to replace your screen anytime soon. For gamers, however, there is a push to upgrade. The display market has seen a lot of growth in recent years within the "gaming" segment, as high refresh rate monitors are growing in popularity. The growth of the gaming monitor market is 20x higher than the standard display market, highlighting the growing demand for high refresh rate screens. 
With features like Variable Refresh Rates (VRR) and high refresh rates becoming increasingly popular, the need for a high refresh rate 1080p graphics card has become clear. This is the RX 6600 XT's target market, and it is a big market.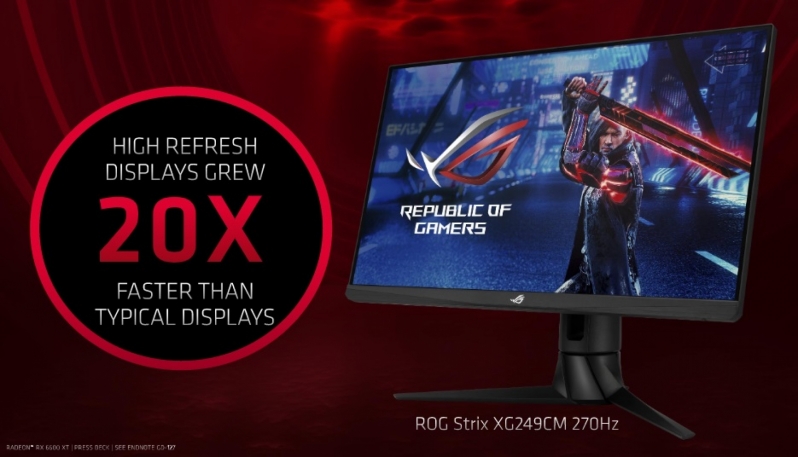 What about Nvidia's RTX 3060? 
AMD is targetting Nvidia's RTX 3060 with their RX 6600 XT. AMD has claimed that their RX 6600 XT delivers an up to 15% advantage over their rival, claiming 1080p gaming leadership. 
That said, the data below does not include many games with ray tracing, and we do not know if AMD's definition of "max settings" includes ray tracing in the games below. Is AMD using each game's Ultra/highest preset, or are they explicitly turning everything on?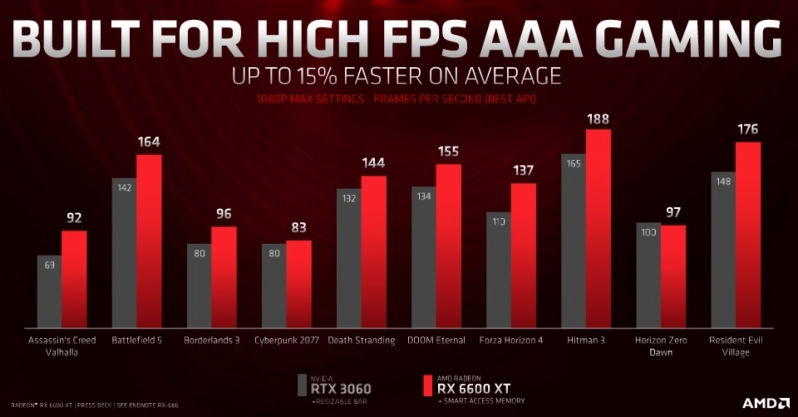 AMD does Resizable Bar Better? 
AMD was the first company to deliver Resizable BAR support with their Radeon RX 6000 series through Smart Access Memory. While Nvidia followed up with their own Resizable BAR firmware and driver updates, AMD has claimed that their implementation is stronger than their competition's. 
Below, AMD's data shows that Nvidia's Resizable BAR support gives smaller gains than AMD's equivalent GPU model. That said, AMD is highlighting two strong examples of Resizable BAR support, Assassin's Creed Valhalla and Forza Horizon 4.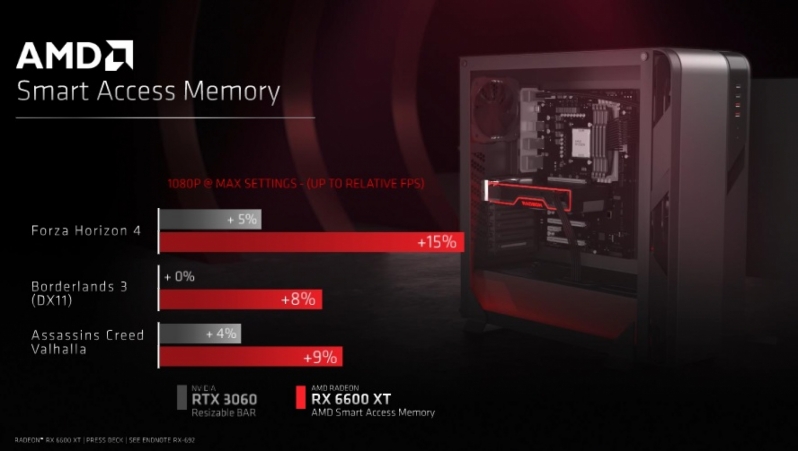 Targetting higher resolutions with FSR
With features like FSR, AMD's RX 6600 XT will be able to target higher resolutions like 1440p and 4K, depending on the hardware demands of specific games. That said, AMD is targetting this graphics card at 1080p gamers, even if 1440p screen users can still achieve a great experience.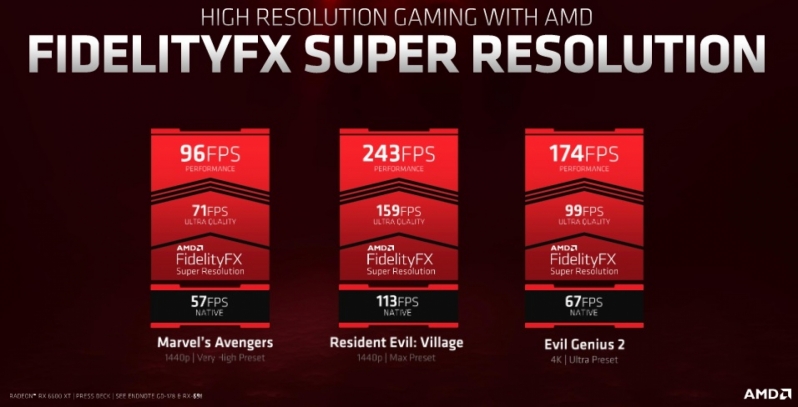 Launch Date 
AMD's RX 6600 XT will be launching on August 11th with a suggested retail price of $379. Given the state of today's GPU market, we do not know if we will see many graphics cards hit store shelves at these prices. 
Pricing-wise, AMD's RX 6600 XT will ship with an MSRP that is $100 more than AMD's RX 5600 XT, highlighting how the GPU market has changed since this time last year. If prices keep rising like this, a lot of PC gamers will be priced out of the market.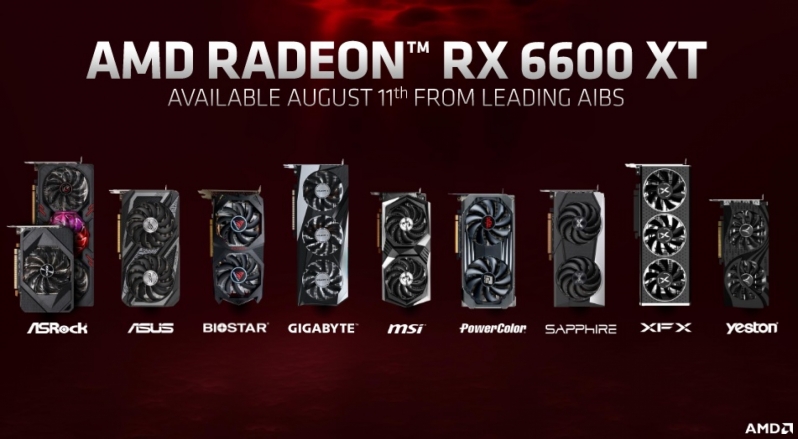 You can join the discussion on AMD's RX 6600 XT graphics card on the OC3D Forums.