AMD's Radeon RX 6700 XT teased with 12GB of memory and a Q1 launch date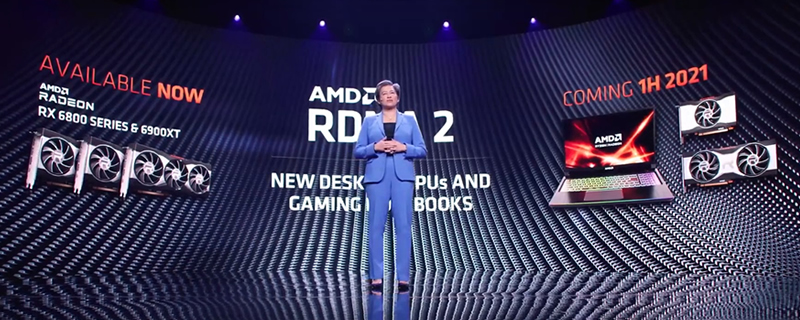 AMD's Radeon RX 6700 XT teased with 12GB of memory and a Q1 launch date
We already know that AMD has new RDNA 2 graphics cards launching in the first half of 2021, AMD confirmed this themselves at CES 2021, refusing to commit to a firmer, more precise release schedule. 
Today, Andreas Schilling, an Editor at HardwareLuxx, revealed brand markings for AMD's Radeon RX 6700 XT graphics card, a GPU which will reportedly feature 12GB of VRAM and target 1440p resolutions. Schilling also teased that this graphics card could launch in Q1, further solidifying the RX 6700 XT's already rumoured March 2021 launch date. 
With 12GB of GDDR6 VRAM, the Radeon RX 6700 XT will likely feature a 192-bit memory bus, placing the graphics card in direct competition with Nvidia's RTX 3060 GPU. AMD's card should feature a bandwidth advantage, assuming that AMD implements an Infinity Cache within the graphics card, giving the graphics card more effective memory bandwidth. 
Other recent rumours have suggested that AMD's Radeon RX 6700 XT will feature 40CUs, giving the GPU 2560 stream processors. This would give the GPU the same CU/stream processor count as AMD's Radeon RX 5700 XT. AMD's RDNA 2 architecture will allow AMD's RX 6700 XT to handily outperform its predecessor, even without a boosted CU count. Comparing the Radeon RX 5700 XT and Radeon RX 6700 XT will also prove to be a useful comparison point, as it will highlight the direct benefits of AMD's RDNA 2 architecture. 
Soon™ – sometime in H1 2021 or is it Q1? ????????‍??

Radeon RX 6700 XT

– 1440p Gaming
– 12 GB GDDR6 pic.twitter.com/0F0m2fOsoe

— Andreas Schilling (@aschilling) January 30, 2021
 
You can join the discussion on AMD's Radeon RX 6700 XT GPU on the OC3D Forums.