AMD's reportedly working on a multi-die RDNA 3 GPU – Navi 31 is MASSIVE!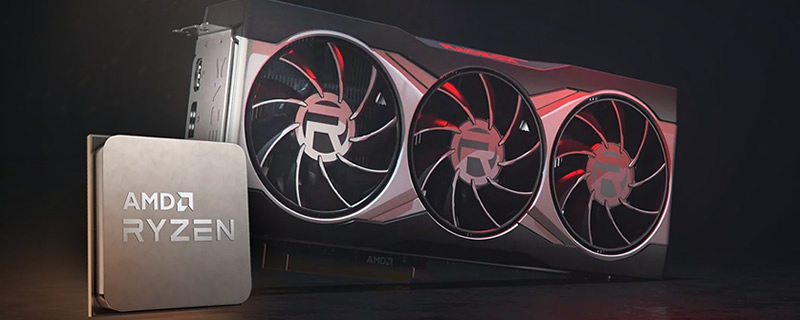 AMD's reportedly working on a multi-die RDNA 3 GPU – Navi 31 is MASSIVE!
AMD's RDNA 2 architecture represents a monumental technological leap for AMD, delivering gamers support for advanced features such as hardware-accelerated ray tracing, mesh shaders, Variable Rate Shading, Infinity Cache and high core clock speeds alongside considerable increases to performance-per-watt over their older Radeon products. For RDNA 3, AMD's going to be even more ambitious. 
Videocardz has recently compiled a long list of Radeon rumours, alleging that AMD's RDNA 3 flagship will be a multi-chip design that features 160 CUs and a total of 10,240 stream processors. That's two times as many GPU cores as AMD's Radeon RX 6900 XT, an insanity-tier graphics card that could deliver a greater than 2x performance gain over its predecessor. 
With RDNA 3, AMD is targeting increased hardware efficiency. Like RDNA 2, AMD is focusing on increased performance-per-watt with their future Radeon architectures. This focus will help AMD design stronger GPUs and APUs for the mobile market and deliver graphics cards that can deliver more performance without requiring over-the-top power circuitry and large cooling solutions. Higher GPU efficiency levels will help AMD gain mobile GPU market share and make their desktop products cheaper to produce, as stronger power circuits and larger heatsinks cost a lot of money.
Assuming that AMD can get a GPU MCM (Multi-Chip-Module) to function as a singular unit with no major downsides, this approach will allow AMD to deliver incredible performance levels at an affordable price. Like AMD's EPYC processors, using multiple smaller chips to create a larger, computational unit is cheaper than producing a singular die with the same features. Nvidia is reportedly working on the same thing with their Hopper architecture, and Intel has already shown multi-die graphics products for the data centre market.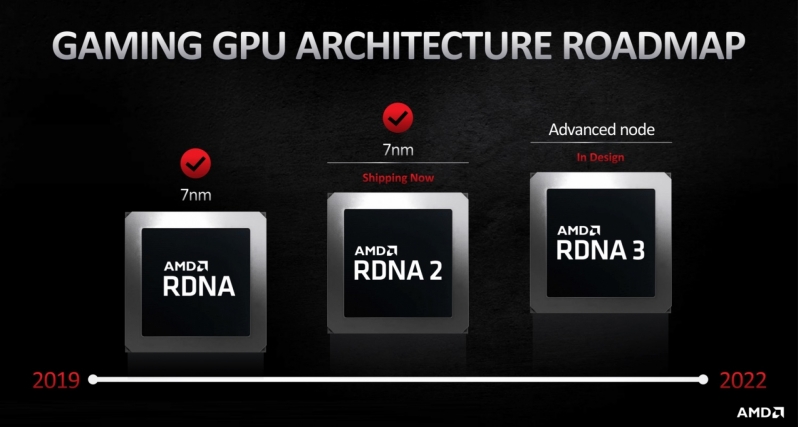 Next-gen AMD Ray Tracing
According to AMD's latest patents, via @Underfox3 on Twitter, AMD is working on a new command processor which will further accelerate AMD's ray-tracing capabilities. Ray-tracing performance will become an increasingly important factor in future games, making this change a vital one for AMD, especially given the performance advantage that Nvidia's GPUs currently exhibit in this area. 
With their future graphics cards, AMD will not just be relying on more stream processors to carry their performance levels to new heights, and they will also be working to accelerate more aspects of ray tracing and other workloads. AMD may also be planning to add AI acceleration to their Radeon graphics cards, delivering a counter to Nvidia's Tensor cores. 
Expectations for RDNA 3

RDNA 2 is AMD's Zen 2 for the GPU world, offering several innovative design changes that have plenty of room for further optimisation. AMD's Infinity Cache could be altered to deliver further performance benefits. AMD's Ray Tracing acceleration structure could be updated to deliver more performance. The structure of RDNA 3's CUs could also be modified to deliver gamers more performance per clock or the ability to operate at higher clock speeds. There is a lot of room for AMD to change its gaming architecture with RDNA 3. If Zen 3 has tough us anything, a series of small architectural changes can add up to deliver a larger generational performance improvement. 
MCM GPU architectures will be game-changing for the GPU market, just like how the launch of AMD's Zen 2 MCM designs fundamentally altered the CPU market. If AMD can make MCM GPUs work for gaming applications, they will be able to forever change the gaming landscape. That said, Nvidia appears to be working on a similar MCM GPU design, and it is impossible to tell who will be first to market with an MCM gaming graphics card.
You can join the discussion on AMD's rumoured Navi 31 MCM graphics card with 160 CUs on the OC3D Forums.