ASUS reveals the "world's first" Mini LED Gaming Monitor – The ROG Swift PG32UQX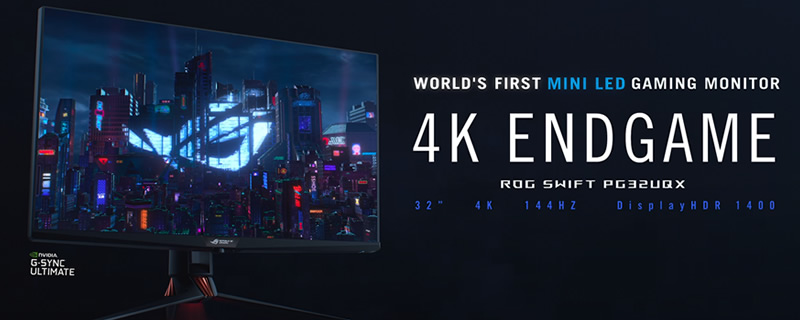 ASUS reveals the "world's first" Mini LED Gaming Monitor – The ROG Swift PG32UQX
ASUS has revealed that they claim to be the world's first Mini LED gaming monitor, a screen capable of 4K resolutions at 144Hz with high-quality HDR compatibility. Meet the ROG Swift PG32UQX, ASUS' premier 4K 144 Hz NVIDIA G-SYNC Ultimate gaming monitor. 
The ROG Swift PG32UQX features a 32-inch 4K Quantum Dot display panel that offers gamers true 10-bit colour depth, certified DisplayHDR 1400 support, 1152 independent mini LED backlight zones and, 98% coverage of the DCI-P3 colour space and factory calibrations that give this screen Delta E value of less than 2. This screen offers high refresh rates for gaming and excellent colour calibration for productivity, making this screen incredibly useful to gamers and creators. 
G-Sync Ultimate comes with a downside – Console Gamers Beware
As a G-Sync Ultimate monitor, the ROG Swift PG32UQX utilises Nvidia's G-Sync processor to deliver low-latency inputs and ultra-responsive gaming experiences. Sadly, this screen only supports 4K resolutions at high refresh rates using DisplayPort 1.4, making this screen a poor choice for high refresh rate console gaming on PlayStation 5 and Xbox Series X/S consoles. 
Nvidia's G-Sync module lacks support for HDMI 2.1, preventing this display from supporting 4K 120Hz outputs from the latest consoles. That said, this screen does support VRR with Xbox Series X, and ASUS advertises "support for 4K visuals at refresh rates of up to 120 Hz" on the ROG Swift PG32UQX's webpage. That said, we don't understand how this is achievable using HDMI 2.0. 
Either ASUS' Xbox Series X 120Hz 4K claims are incorrect, or ASUS has not revealed that this display supports HDMI 2.1. Our bet is on the former, as HDMI 2.1 support is a highly sought after feature that ASUS would be foolish not to advertise. 
An eye-watering price tag
On ASUS' US webstore, the ROG SWIFT PG32UQX has been listed with a US price of $2,999.99. This price tag makes sense given this screen's colour calibration, its use of an Nvidia G-Sync Ultimate module, and this monitor's other high-end specifications. This screen is not designed to be affordable. 
In addition to this screen's baseline specifications, ASUS has included a small 2-inch OLED display on this monitor's bottom bezel, which can be customised to showcase system details like CPU thermals and other useful data points. This monitor also ships with a VESA stand which supports height, tilt and swivel adjustment options, allowing the screen to be set up in a way that best suits its user. 

With a single DisplayPort 1.4 connection and three HDMI 2.0 connections, this screen can be used with a variety of devices. However, it is worth remembering that this monitor's full capabilities can only be seen using DisplayPort 1.4 with Display Stream Compression (DSC).
ASUS' ROG SWIFT PG32UQX will be available at the end of May 2021. At this time, the UK pricing of this monitor has not been confirmed.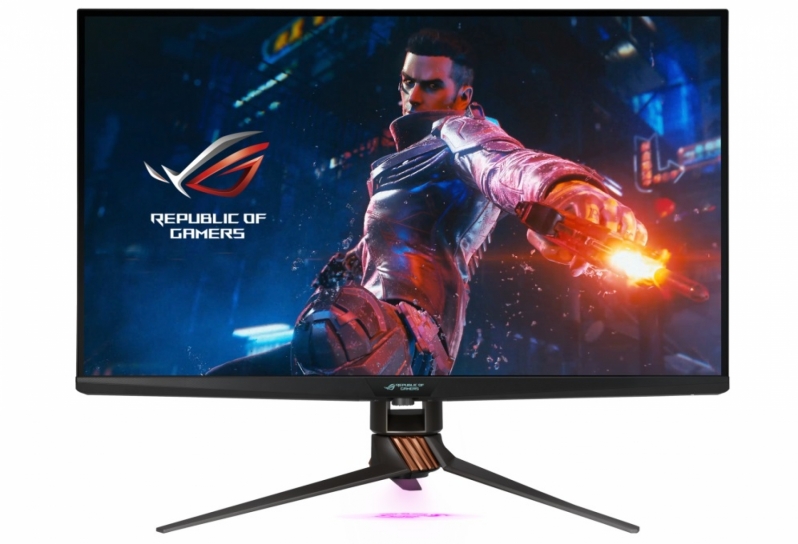 You can join the discussion on ASUS' ROG SWIFT PG32UQX, the "world's first mini LED gaming monitor" on the OC3D Forums.