ASUS reveals their upcoming RX Vega Strix 56 designs
ASUS reveals their upcoming RX Vega Strix 56 designs
At the time of writing, not much is known about the non-reference models of AMD's RX Vega GPUs, with most AIB partners saying nothing on the subject aside from the occasional teaser. So far, ASUS has been the only manufacturer to showcase their upcoming RX Vega 64 and 56 GPU designs, placing them far ahead of their competitors. 
ASUS has already revealed four aftermarket RX Vega GPUs, two RX Vega 64 models and two RX Vega 56 models, all of which will feature the same Strix cooler design. both the RX Vega 56 and 64 will release with Strix and Strix OC models, though at this time the company has not unveiled the official clock speeds of these GPUs. Early reviews of ASUS' RX Vega Strix 64 GPU were conducted in prototype hardware that was using final/retail BIOS files, which means that they are likely not running at the same final clock speeds as future retail samples. 
RX Vega Strix GPUs will be using an upgraded version of ASUS' Strix GPU design, coming with a thick 2.5-slot cooler design that offers 40% more heat dissipation area and promises 30% cooler operating temperatures. ASUS has also redesigned their GPU contact place to offer improved thermal transfer, with the company stating that this new design offers 2x the contact area of previous designs. 
Below we can see an exploded view of ASUS' RX Vega Strix GPU design, which comes with a lot of empty PCB space thanks to the space saving qualities of HBM memory. We can also see some beefy power circuitry on ASUS' PCB, which will no doubt be more than enough to power AMD's Vega 10 GPU design, even while overclocking.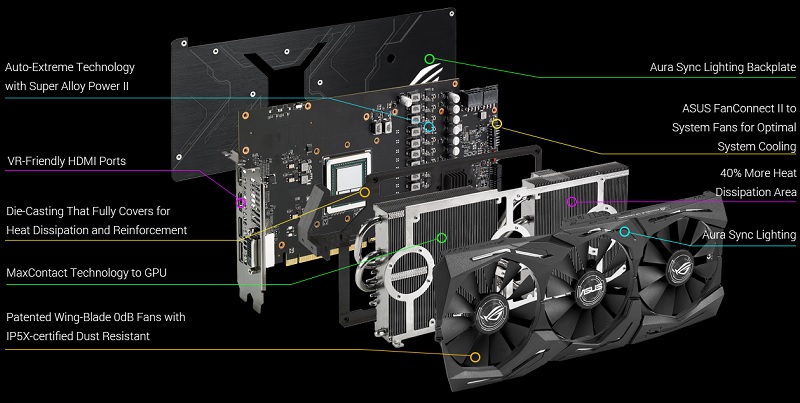 Like all modern Strix GPU designs from ASUS, the company's RX Vega Strix GPUs will offer support for RGB illumination, ASUS FanConnect II support and LED synchronisation when used with other ASUS Aura products. 
On the rear IO, this GPU will sport dual HDMI 2.0 ports and dual DisplayPort 1.4 ports, as well as a DVI-D port to support legacy displays. 
At this time the final clock speeds and pricing of ASUS' ROG Strix series RX Vega GPUs has not been confirmed. Expect more details on these GPUs as their release approaches, which is expected to be sometime this September. 
You can join the discussion on ASUS' RX Vega 56 GPU designs on the OC3D Forums.