GIGABYTE Introduces New Silent-Pipe II™ Graphics Accelerators with GeForce® 8600 GT
News Posted 17/04/07
Author: PV5150
Source: Gigabyte
---
Official Press Release
GIGABYTE UNITED INC., a leading manufacturer of motherboards and graphics cards, today announces a brand new thermal design, the Silent-Pipe II™ single-slot version and is featured on the GIGABYTE GV-NX86T256D. Equipped with the GeForce® 8600 GT GPU, the GIGABYTE GV-NX86T256D also includes the impressive Supreme Commander™ game bundle for hard-core RTS gamers.
As the industry's foremost heat pipe solution, the GIGABYTE Silent-Pipe II™ combined with the proprietary Screen-Cooling™, technologies utilize natural convection currents created from the front of case, with the system fans drawing cool air over the GPU for unequalled fanless cooling. During testing in the GIGABYTE labs, Silent-Pipe II™ outperformed standard, noisy fansink VGA coolers by allowing the GPU to run much cooler during normal activity. Even during heavy 3D rendering work loads, Silent-Pipe II™ continued to produce outstanding visual quality without creating distracting noise.
To provide end users with some hard-core HD gaming experience, the GIGABYTE GV-NX86T256D comes bundled with the immensely popular Supreme Commander™, awarded Best Strategy Game at E3 2006. Supreme Commander™ is the first real-time strategy (RTS) computer game to deliver a truly strategic and tactical experience. Developed by Chris Taylor, Supreme Commander™ raises the bar for its sheer scope and scale of game play. With an enhanced storyline based around three warring factions, each with their own view of the future path humanity should take, Supreme Commander™ promises to fully immerse gamers in this futuristic fight for survival. Game play is further propelled with breathtaking features such as the "Strategic zoom system", allowing players to zoom out far enough to view the entire map at a glance. Players can also zoom in close enough, so larger units such as battleships fill most of the screen.
Featuring the latest GeForce® 8600 GT with 256MB GDDR3 memory and DirectX® 10 and Shader Model 4.0 support, the GIGABYTE GV-NX86T256D delivers highly realistic gaming effects and enables full support for Microsoft® Windows Vista Premium. Differing from past GPU generations, the NVIDIA GeForce® 8600 GT features a dedicated "on-chip" video processor for superb picture quality and ultra smooth video playback. The GV-NX86T256D also features NVIDIA's latest advanced technologies including NVIDIA's GigaThread™ Technology, which, through the use of a massively multi-threaded architecture, is able to create thousands of independent, simultaneous threads, providing extreme processing efficiency for advanced, next generation shader programs. Additionally, the GIGABYTE GV-NX86T256D supports Quantum Effects™ Technology, enabling a new level of physics effects to be simulated and rendered on the GPU as well as support for NVIDIA's Lumenex™ engine, which introduces 16x Anti-aliasing and 128-bit floating point High-Dynamic-Range (HDR) rendering for the most realistic lighting effects.

The GIGABYTE GV-NX86T256D also supports HDCP (High-bandwidth Digital Content Protection) and features support for the latest video output interfaces, including Dual Dual-Link DVI, ensuring the highest quality, Hi-Def experience for the latest Blu-ray and HD DVD formats. Continuing GIGABYTE's leadership as the first VGA maker to implement an All-Solid capacitor design on a wide range of graphics accelerators, the GV-NX86T256D provides the enhanced stability, reliability and longevity necessary for today's PC gaming and entertainment systems.
For more details of the GIGABYTE GV-NX86T256D, please visit the GIGABYTE VGA website: http://www.gigabyte.com.tw/Products/VGA/Default.aspx
Or alternatively here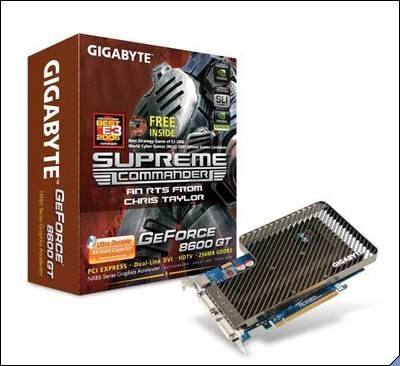 Discuss in our forum