HTC Vive Recommended PC Specifications announced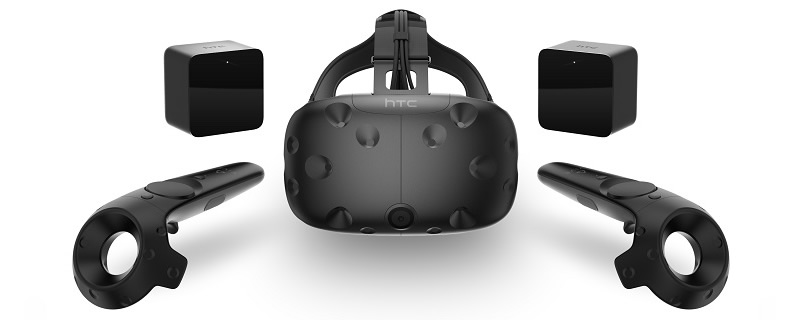 HTC Vive Recommended PC Specifications announced
The recommended PC specifications of the HTC Vive have been announced, requiring a PC which is weaker than what is required for the Oculus Rift. 
The HTC Vive will require GTX 970//R9 290 or higher, 4GB+ or RAM and an Intel i5 4590/ FX 8350 or higher, whereas the Oculus Rift recommends no AMD CPUs at this time and requires at least 8GB of system memory and USB 3.0 posts. 
       We are proud to announce, in partnership with Valve, the unveiling of the consumer edition of the Vive virtual reality system powered by SteamVR.

Taking Vive one step further, with refreshed branding and an updated head strap, the Vive consumer edition builds upon the innovative features that were introduced into the Vive Pre. The consumer edition of Vive also integrates phone functionality. Enabling you to stay connected to the real world, without exiting the virtual world, Vive Phone Services demonstrates the ability to combine both realities without losing touch of either. By allowing you to receive and respond to both incoming and missed calls, get text messages and send quick replies and check upcoming calendar invites directly through the headset, it opens up a whole new world of possibilities for both consumers and businesses.
RECOMMENDED PC SPECS
GPU: – NVIDIA GeForce GTX 970 / AMD Radeon R9 290 equivalent or greater
CPU: – Intel i5-4590 / AMD FX 8350 equivalent or greater   
RAM: – 4GB+
Video Output: – HDMI 1.4 or DisplayPort 1.2 or newer
USB Port: – 1x USB 2.0 or greater port
Operating System: – Windows 7 SP1 or newer
The HTC Vive will come with the headsets motion controllers, better head tracking and other unique features. One of the most recent additions to the HTC Vive has been the addition of it's front facing camera, which allows users to see real life objects inside the virtual environment, which not only greatly improves the safety of using the unit, but also allows the user to snack or drink while using the unit, which would be a lot easier than needing to take of the headset in order to eat or drink. 

The HTC Vive will be coming to market for $799.99 and will come bundles with Job Simulator and Fantastic Contraption at launch. 
Pre-order Information
The countdown has begun and is ticking away toward 10 a.m. Eastern time on Monday 2/29 at which time pre-orders will open worldwide with pre-order fulfillment and full commercial availability starting early April 2016.
Vive will be delivered as a complete kit allowing users to instantly jump into a fully immersive virtual environment using two wireless controllers, 360 degree tracking and room scale movement sensors. The integration of SteamVR into the bundle ensures that all Vive equipment is kept up-to-date with the latest features.
You can join the discussion on the HTC Vive's recommended PC specifications on the OC3D Forums.