Intel ARC Battlemage GPU Specifications Leak
Expect two times as many Xe cores and big architectural changes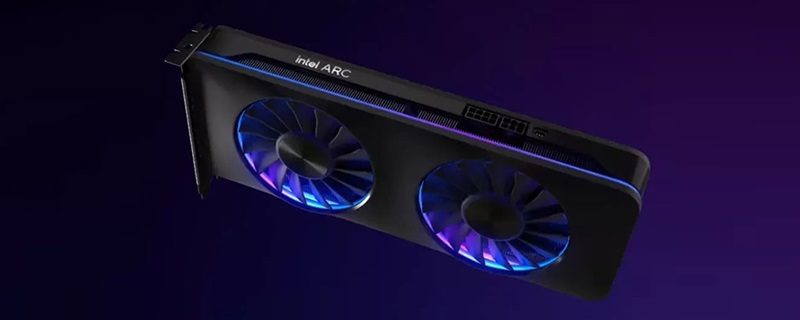 Big changes are expected with Intel's next-generation Battlemage GPU architecture
Thanks to Red Gaming Tech, we have received details about Intel's next-generation Battlemage graphic architecture and some of the specifications of their planned ARC Battlemage flagship.
Sadly, it looks like Intel plans to launch their Battlemage GPU architecture in Q1 or Q2 2024, which means that gamers will need to wait a while before we see the company's next major graphics card launch. That said, an updated version of their ARC Alchemist series is reportedly launching this year, giving buyers a refined version of Intel's existing ARC products. 

With their ARC Battlemage architecture, Intel appears to be moving to TSMC's 4nm lithography node and targets clock speeds of over 3 GHz. For context, Intel's ARC A770 has been listed with a graphics clock of 2100 MHz on Intel's website. Additionally, Intel's ARC Battlemage flagship is expected to have 64 Xe cores, which is two times as many as Intel's ARC A770, 48MB of L2 cache, and a 256-bit memory bus. 
With a 256-bit memory bus, Intel's ARC Battlemage flagship will likely feature 16GB of GDDR6 (or GDDR6X memory). Additional memory bandwidth for ARC Battlemage will come from increased memory clock speeds over their existing ARC models and Intel's larger GPU cache sizes. 
Red Gaming Tech has reported that Intel's ARC Battlemage flagship will have a similar die size to Intel's AD103 GPU core, which is the GPU core that powers their RTX 4080.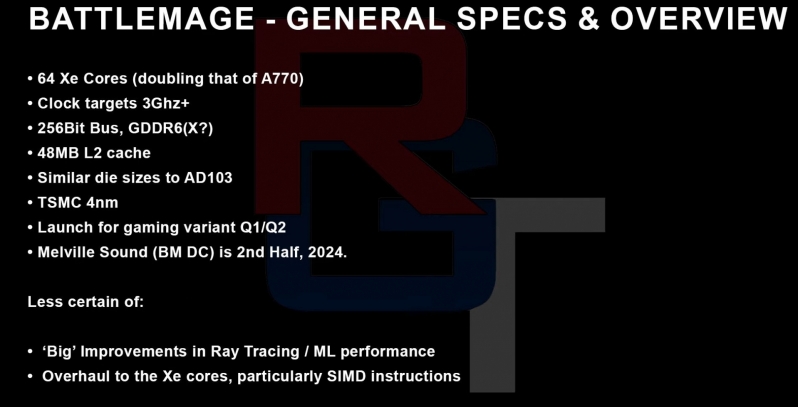 Rumour has it that Intel's ARC Battlemage graphics architecture will feature overhauled Xe cores and deliver large performance gains in ray tracing and machine learning workloads. When combined with the fact that Intel are also delivering a 2x increase in Xe core count and target higher GPU clock speeds, it is safe to say that Intel are aiming to deliver a huge generational leap in performance with their next-generation ARC graphics cards.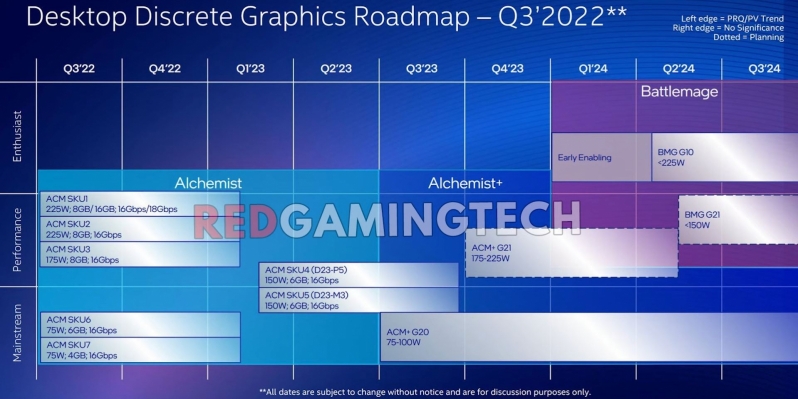 If today's specifications leaks are to be believed, it looks like Intel should be able to produce a graphics card that can compete with some of AMD/Nvidia's high-end GPU products. While we do not expect an RTX 4090 killer from Intel, it is likely that Intel will be able to deliver something on par with Nvidia's RTX 4070 Ti or perhaps AMD's RX 7900 XT. This is assuming that everything goes to plan at Intel, and that they can offer consumers great drivers at launch.
You can join the discussion on Intel's ARC Battlemage GPU leaks on the OC3D Forums.