Intel Commits to VESA Adaptive Sync Support – Piggybacks on AMD's FreeSync Ecosystem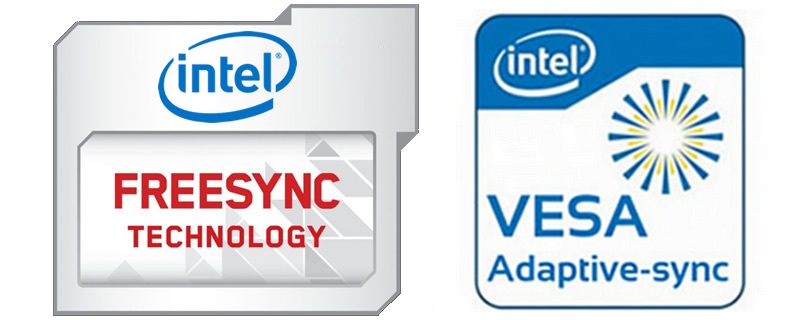 Intel Commits to VESA Adaptive Sync Support – Piggybacks on AMD's FreeSync Ecosystem 
Intel plans to march their way into the discrete graphics market in 2020, challenging the likes of AMD and Nvidia to inject an extra layer of competition within the market, potentially starting a new time of innovation for the gaming market. 
Back in August, Intel Chris Hook (a former AMD employee) confirmed that the company planned to support VESA Adaptive Sync, the industry standard that is based on AMD's FreeSync technology. This confirmation came as part of an informal conversation on Twitter, leaving some doubt that Intel could change their mind in the future. 
In a recent post from the @IntelGraphics Twitter account, the company made it clear that they want to support VESA ADaptive Sync on their future dedicated and integrated graphics products, taking advantage of the VESA Adaptive Sync ecosystem, which is mostly marketed under AMD's FreeSync brand. In the embedded post below, Intel Vice President Lisa Pearce confirmed these plans. 
With Intel being late to the variable refresh rate game, it would be silly of them to invest in the creation of a proprietary Variable Refresh Rate (VRR) standard like G-Sync, as it would leave them in a position where they would have to convince consumers to invest in both their dedicated graphics processors and their VRR technology. This would act as a major stumbling block for consumers, especially when there is already an industry standard for VRR that is already exploitable by the company. 

While Intel will not be using the FreeSync brand name, the image above is intended as a joke, they plan on piggybacking on the success of AMD/Radeon's efforts with the standard, granting them access to VRR capable displays that are available in numbers that are greater than what Nvidia has achieved with G-Sync.
The only downsides here is that Intel will need to develop an alternative to AMD's software-based Low Framerate Compensation (LFC) technology and the fact that they cannot utilise the full advantages of AMD's FreeSync 2 compliant displays. 
 
Yes. We are supporting Adaptive Sync. @gfxlisa explains more. pic.twitter.com/oWKcRurmbr

— Intel Graphics (@IntelGraphics) November 14, 2018
Intel has a long road ahead of them when it comes to computer graphics, as they will have to prove to customers that they can deliver stable drivers, strong hardware and compete favourably with both AMD and Nvidia in terms of price/performance. 
You can join the discussion on Intel's plans to support VESA Adaptive Sync on the OC3D Forums.