MSI Unwrap Energy Saving N9800GT Series
MSI Unwrap Energy Saving N9800GT Series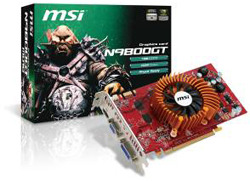 Responding to customers' demands for performance combined with energy-savings, MSI today took the wraps off two of their new graphics cards. Based on NVIDIA's new GeForce 9800GT GPU, MSI claim the new N9800GT-MD1G and N9800GT-MD512 graphics cards are environmentally friendly and save up to 25% energy compared to earlier cards.
The reference GeForce 9800GT from NVIDIA boasts of a new, advanced power control technology, which reportedly decreases power consumption by up to 25% without compromising on performance. MSI have added their latest generation of capacitors, Hi-c CAP and solid state chokes (SSC) to the package to improve the overall performance and energy savings. The addition also makes the new cards more stable and better prepped for overclocking.
The new Hi-c CAP tantalum solid capacitor that MSI have used for the GPU's power supply comes with a tantalum core, which gives it a 200 year lifespan at a constant operating temperature of 65o C. Being a highly stable material, tantalum also reduces power leakage risk and improves the overclocking stability of the GPU.
The solid state chokes take care of the noise emitted by GPUs when operating at high power or at extreme overclocking. The new power control module also removes the need for an extra 6-pin power cord required in traditional graphics cards, adding to the energy and money savings.
Additional features of the N9800GT-MD1G and N9800GT-MD512 include an HDMI port, DVI and D-Sub ports for direct connection with an LCD TV. These make the cards ready for direct PC to TV connection for transfer of high-definition audio and visual content.