Near-Universal Compatibility – Corsair's new iCUE Link XG3 breaks the rules of traditional GPU water block compatibility
This water block is compatible with a huge number of graphics cards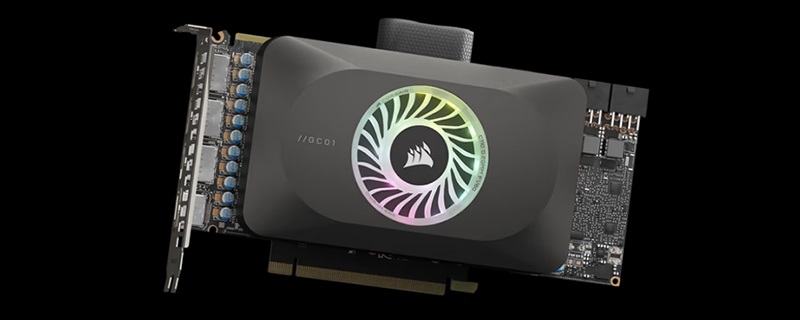 Corsair updates their Hydro X series of liquid cooling products with their "near-universal" XG3 GPU water block
Corsair has revealed a new range of iCUE Link compatible liquid cooling products, integrating the company's Hydro X series of custom liquid cooling products into the company's new iCUE Link smart component ecosystem. This system allows compatible products to be easily connected together to minimise cable clutter, simplify cable management, and unify what were multi-cable control solutions into something a lot easier to manage. You can read more about Corsair's new iCUE Link ecosystem here.
One of the most interesting new iCUE Link Hydro X series products that Corsair has launched is their new XG3 hybrid GPU water block, a new custom liquid cooling water block that promises users "near universal" GPU compatibility that allows these blocks to be used with an extensive range of graphics cards.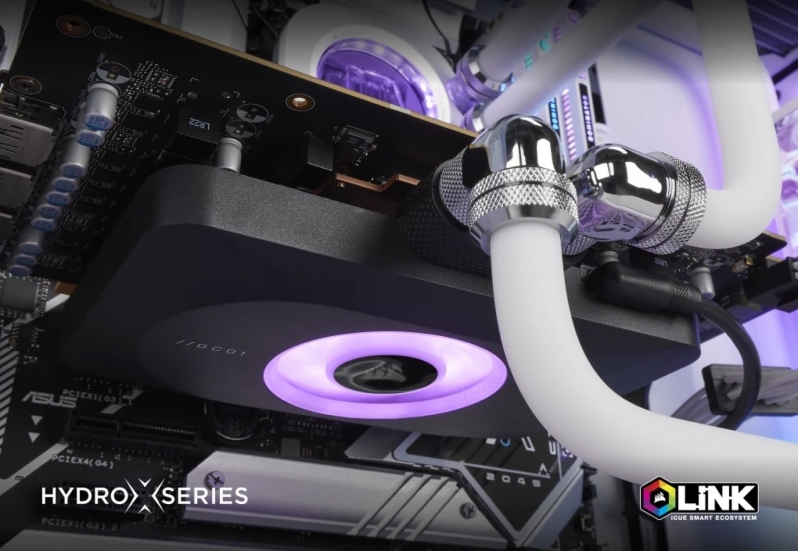 The idea behind this product is simple, instead of making custom water block designs for almost every potential PCB design, Corsair have created a water block that is designed to cool a broader range of graphics cards with direct liquid cooling for a GPU's core and VRAM and fan-based cooling for a graphics card's VRMs and PCB. The fan that's integrated into this water block design is an RGB fans that can be controlled using Corsair's iCUE software.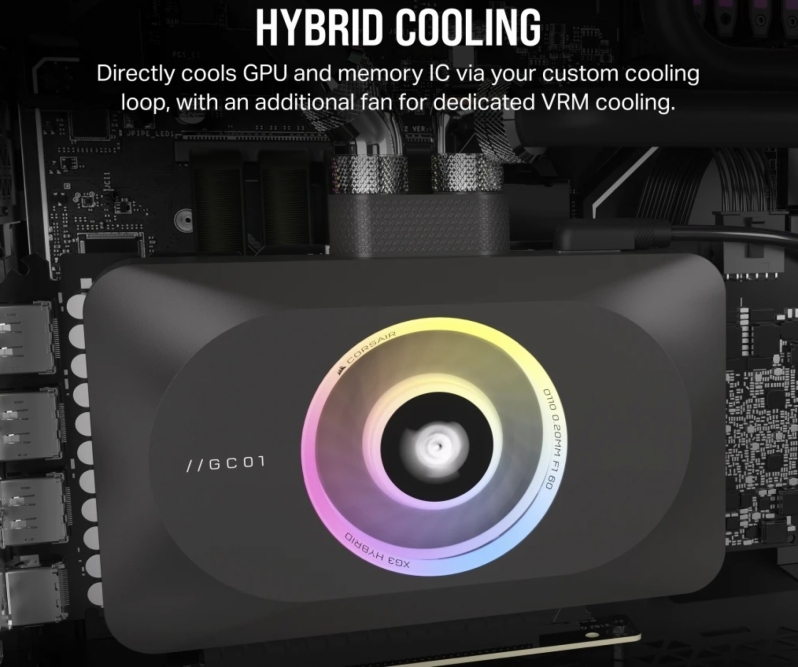 Corsair has not promised universal compatibility with this water block, but it can support a broad range of graphics cards. Currently, Corsair are selling models that support Nvidia's RTX 4090, 4080, 3090/3090 Ti, and 3080/3080 Ti, Nvidia's RTX 4070/ 4070 Ti and RTX 3070/3070 Ti, and a model that supports AMD's Radeon RX 7900 XT/7900 XTX. More information on specific GPU support can be found on Corsair's liquid cooling GPU compatibility checker. 
    Keep your graphics card in the loop with the iCUE LINK XG3 RGB HYBRID GPU Water Block, available in three models to ensure near-universal compatibility with a multitude of NVIDIA GeForce RTX 40 & 30-Series and AMD RX 7900 XT(X) cards. Its hybrid design directly cools your GPU and memory ICs with a split flow manifold ensuring even distribution of coolant over the copper cold plate, while a dedicated fan also cools the circuit board and VRMs. Lit by 18 RGB LEDs and featuring a built-in temperature sensor for precise control, the XG3 RGB HYBRID's robust nylon and copper construction make it a reliable and durable addition to your PC.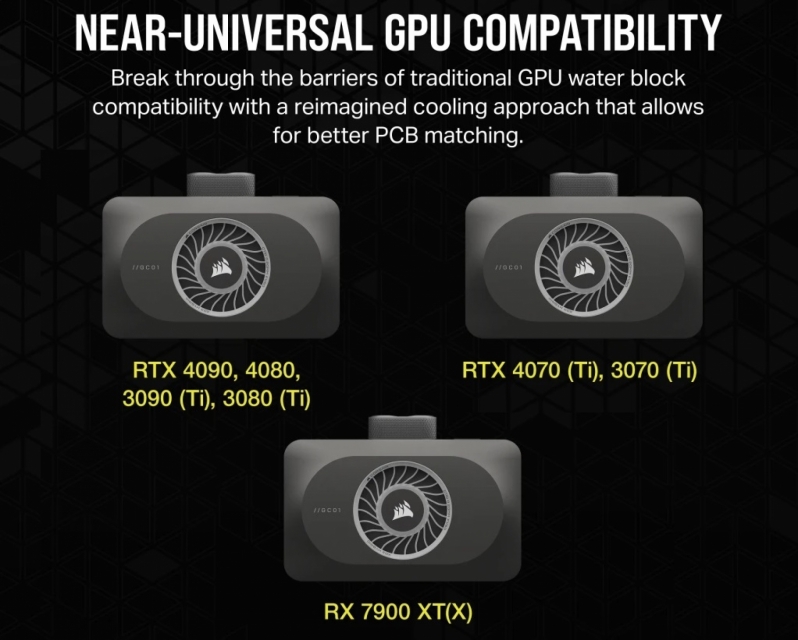 While there are benefits of having a fully custom water block that is designed for specific GPU PCBs, it is great that Corsair are giving enthusiasts a liquid cooling option for those who own a GPU that lacks a compatible full-cover water block design. While the "near-universal" design of this water block does force it to have a fan for PCB/VRM cooling, it supports a huge range of products, and potentially supports future, unreleased GPU designs.
This GPU water block is not for everyone, but it is an interesting new offering from Corsair, and one that caters to an audience that has not been supported by most liquid cooling manufacturers for a long time. 
You can join the discussion on Corsair's new iCUE Link XG3 GPU water block on the OC3D Forums.