Rise of the Tomb Raider PC Recommended Requirements Revealed

Nvidia Recommends GPUs for Tomb Raider 60FPS high Gameplay
The recommended PC requirements have been revealed for Rise of the Tomb Raider, recommending a GTX 970 or a R9 290X GPU and an Intel Ivy Bridge i7 3770K or an AMD FX 8350 CPU. 
Nvidia has recently recommended GPUs for Rise of the Tomb Raider for 60FPS high Gameplay at resolutions of 1080p and 1440p. At 1080p Nvidia recommends their GTX 970 and at 1440p Nvidia recommends their GTX 980Ti, we expect that there will be higher in game settings than high, given the fact that the last Tomb Raider title on PC also has Ultra and Ultimate presets.
With Nvidia recommending a GTX 970 for 1080p 60FPS gameplay at high settings we can guess that this is what Rise of the Tomb Raiders recommended requirements are aimed towards, meaning that an R9 290X should achieve similar framerates on the AMD side.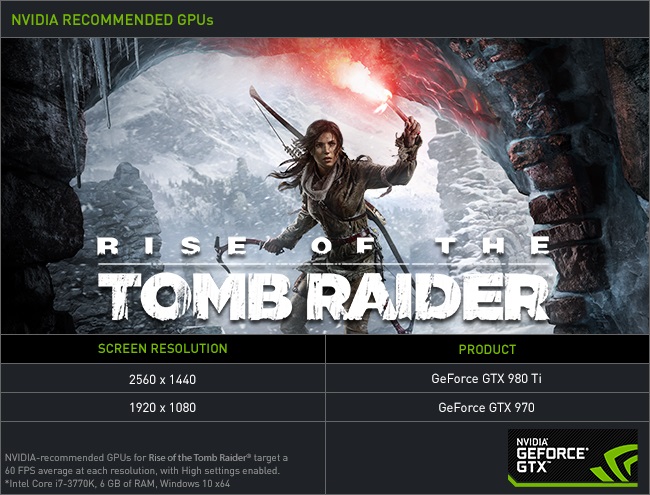 Below are the minimum requirements for the game, confirming that that game will not be locked to Windows 10 and will be fairly easy to run, especially for a game that looks this good. Let's hope that this game will not have any major issues on PC, as I am very much looking forward to playing this title. 

Moving the the recommended settings we see the RAM requirements move up to 8GB and the GPU requirements move up to a GTX 970 and an R9 290X, both of which have 4GB of VRAM. 
MINIMUM:
OS: Windows 7 64bit 
Processor: Intel Core i3-2100 or AMD equivalent 
Memory: 6 GB RAM 
Graphics: NVIDIA GTX 650 2GB or AMD HD7770 2GB 
DirectX: Version 11 
Storage: 30 GB available space
RECOMMENDED:
Processor: Intel Core i7-3770, 3.40GHz or AMD FX-8350, 4.0Ghz
Graphics card: NVIDIA GeForce GTX 970 or AMD Radeon R9 290x
RAM: 8 GB RAM
DirectX: Version 11
Hard Disk Space: 30GB
The game will be using the latest version of AMD's TressFX, giving the game more natural looking hair with a lesser performance hit when compared to the first iteration that was used in Tomb Raider.
Rise of the Tomb Raider reviewed very well when the game was originally release on the Xbox One last year, but had problems selling in large numbers due to launching on the same date as Fallout 4, one of the most popular releases or recent months. 
You can have a look at our Rise of the Tomb Raider 4K Screenshot Gallery here.
You can join the discussion on Square Enix's recommended requirements for Rise of the Tomb Raider on the OC3D Forums.  
The recommended PC requirements have been revealed for Rise of the Tomb Raider. https://t.co/KoPPjsTrIk pic.twitter.com/mvdoQDHqzC

— OC3D (@OC3D) January 26, 2016