RTX 4070 leak suggests RTX 3080 performance with lower pricing
More VRAM, DLSS 3, and cheaper pricing – the RTX 4070 is a great RTX 3080 replacement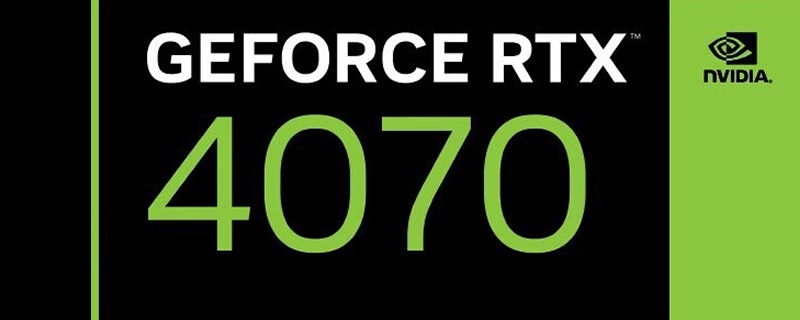 RTX 3080 performance with more VRAM and lower pricing – it looks like the RTX 4070 is a win for Nvidia 
Leaks are coming in thick and fast for Nvidia's RTX 4070, with WCCFTECH reporting that that graphics card will deliver RTX 3080 performance levels and power consumption levels that are similar to Nvidia's RTX 3060. Those are huge performance/watt gains, gains that become even more impressive once DLSS 3 support is factored in. 
With $599 pricing being leaked for the graphics card, Nvidia's RTX 4070 is arriving with pricing that is similar to the RTX 3070 Ti, but with more throughput, DLSS 3 support, and 12GB of GDDR6X memory (4GB more than the RTX 3070 Ti), Nvidia's next RTX 40 series release appears to be a great value product offering.

When compared to Nvidia's RTX 3070, the RTX 4070 is more expensive, more powerful, and more efficient. The graphics card consumes less power under load, making the GPU easier to cool, feature more memory bandwidth, larger internal caches (enabling more internal memory bandwidth), and features support for Nvidia's RTX 40 series features, like AV1 encoding, and DLSS 3 support.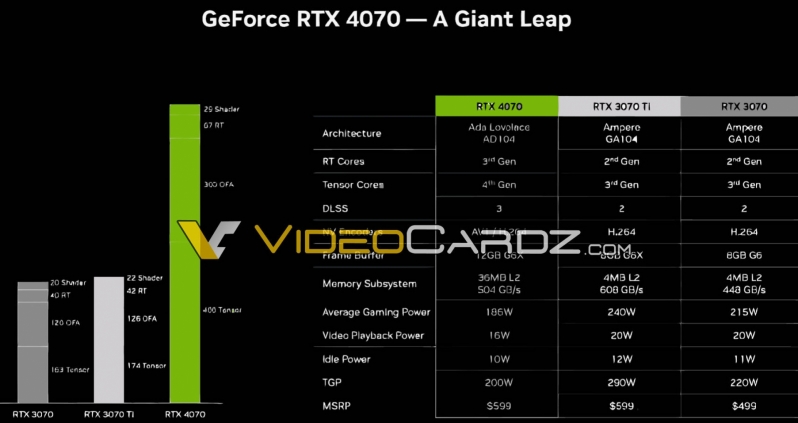 (Image from Videocardz)
The chart above showcases the specifications and pricing of Nvidia's RTX 4070, detailing the areas where Nvidia's Ada Lovelace architecture delivers performance and efficiency benefits over the company's older RTX 30 series graphics cards.
Rumour has it that Nvidia plans to launch their RTX 40 series graphics cards within the next few weeks, with Videocardz reporting a April 13th launch date.
You can join the discussion on Nvidia's RTX 4070 GPU on the OC3D Forums.