Sapphire's new RX 6900 XT NITRO+ SE delivers more than just a clock speed bump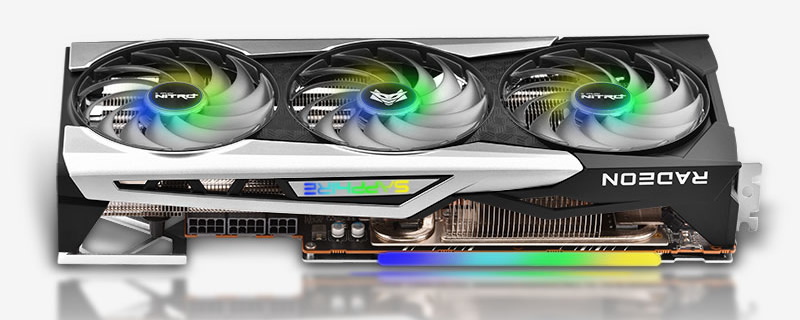 Sapphire's new RX 6900 XT NITRO+ SE delivers more than just a clock speed bump
Sapphire has just launched a new Radeon RX 6900 XT graphics card, a Special Edition of the company's existing Nitro+ model, offering gamers a new look, higher core clock speeds and a beefed-up power configuration. 
This Special Edition isn't a simple graphics card re-release with bumped clock speeds; this new model offers users a redesigned heatsink, a higher maximum power target (for overclocking), a lot more RGB lighting, and versions that include/exclude a USB Type-C Display connector.
With the RX 6900 XT NITRO+ Special Edition, Sapphire promises a moderate clock speed bump to deliver a Game Clock 2135 MHz and a Boost Clock of 2365 MHz. Like all other Sapphire RX 6900 XT graphics cards, the RX 6900 XT NITRO+ features 5120 stream processors, 80 Ray Tracing accelerators and 16GB of 16 Gbps GDDR6 memory.  
More Power, More RGB
One of the major upgrades to the Sapphire RX 6900 XT is the addition of a 6-pin PCIe power connector, which can allow Sapphire's RX 6900 XT t access up to 75 watts of additional power for overclocking. This supplements the dual 8-pin power configuration of Sapphire's existing RX 6900 XT NITRO+ graphics cards, enabling higher clock speeds should users choose to overclock their graphics card. 
Sapphire has also redesigned the heatsink and backplate of their Radeon RX 6900 XT NITRO+ to offer users more RGB lighting, adding RGB illuminated fans and more lighting areas to the graphics card as a whole. The heatsink remains the same size as before, giving the NITRO+ SE the same dimensions as Sapphire's standard NITRO+. The graphics card remains 2.7-slots thick. 

Display Configuration Options
Sapphire's RX 6900 XT ships with two variants, one of which comes with an HDMI 2.1 output and three DisplayPort 1.4 connections, while the other ships with HDMI 2.1, dual DisplayPort outputs and a single USB Type-C display connection. These options allow the RX 6900 XT to cater to the needs of a broader number of consumers. 
Model number 11308-0311308-07 features a Type-C connection, while model number 11308-03 features three DisplayPort outputs. 
 
Radeon
RX 6800 XT
(Reference)

Radeon
RX 6900 XT
(Reference)

Sapphire
RX 6900 XT
NITRO+
Sapphire
RX 6900 XT
NITRO+ SE
Compute Units
72
80
80
80
Game Frequency
2015 MHz
2015 MHz
2050 MHz 
2135 MHz 
Boost Frequency
2250 MHz
2250 MHz
2285 MHz 
2365 MHz 
VRAM Size
16GB
16GB
16GB
16GB
VRAM Speed
16 Gbps
16 Gbps
16 Gbps
16 Gbps
Infinity Cache
128MB
128MB
128MB
128MB
Power Inputs
2×8-pin
2×8-pin 
2×8-pin
2×8-pin &
1×6-pin
Sapphire has not revealed the pricing of their RX 6900 XT NITRO+ at this time, though the graphics card is due to be available at retailers soon. Sadly, like all graphics cards, Sapphire's initial stock of these graphics cards is not expected to last for very long. 
You can join the discussion on Sapphire's RX 6900 XT NITRO+ SE graphics card on the OC3D Forums.