Smach Z, the Handheld Steam Console Hits Kickstarter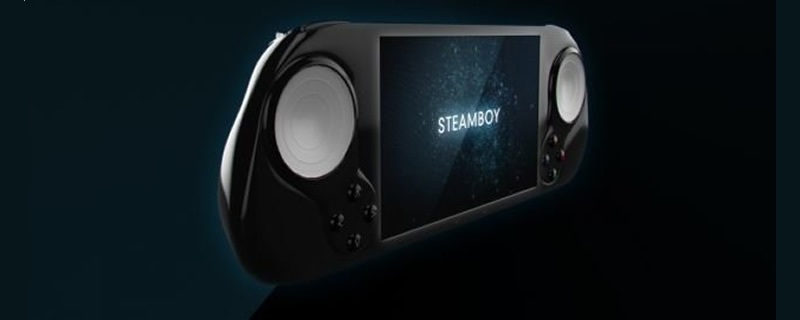 Smach Z, the Handheld Steam Console Hits Kickstarter
The Smach Z, formerly Smach Zero, formerly Steamboy has now hit kickstarter, giving PC gamers a dedicated PC gaming handheld with a great deal of horsepower for it's form factor. 
The Steam Boy will be coming in at €299 for the Standard version and €499 for the higher spec Pro version. Each of these version will have reduced prices if you are an "Early Bird on their Kickstarter page. 
What has been built here is a decent balance between performance, cost and power efficiency, giving this device a incredible amount of horsepower for a handheld device. The only problem I personally see here is that these specs may be a little mediocre when this device comes to market this time next year, especially given AMD's move to the Zen architecture and to a smaller 14 or 16nm FinFET processing node. 
– AMD embedded G-Series SoC (formerly codenamed "Steppe Eagle") with "Jaguar"-based CPU and GCN-based Radeon graphics with – 2 GB of dedicated GPU RAM.
– 4 GB RAM memory (8 GB on PRO model)
– 64 GB internal memory (128 GB on PRO model)  (Only if the Stretch Goal is achieved, otherwise: 32GB)
– MicroSD Card Slot.
– 5-inch Touch screen with 1080p resolution. (Only if the Stretch Goal is achieved, otherwise: 720p)
– USB 3.0 type C
– Configurable tactile gamepads.
– HDMI video output connection.
– Wi-Fi connectivity.
– Bluetooth connectivity.
– 4G mobile network connectivity (PRO model only).

This device comes with a feature set which is reminiscent of Nvidia's Sheild range of devices, being capable of playing a lot of games and emulators, playing media and being capable of In-Home Streaming.

Being Linux based there is a lot that can be done to or with this device, especially given it's PC grade x86 hardware.
Play on the TV with the HDMI, using SZ as a standard Steam Machine.  
Connect another gamepad and play on Multiplayer! 
Emulators: SMACH Z will be the best handheld device for emulation, and Retro Magic Z-Pads will bring your fingers back to the past. NES, SuperNintendo, Megadrive, Playstation 1 and 2, Nintendo 64, GameCube or even Wii will be in your hands.
Multimedia Center: We plan to integrate KODI (check Stretch Goals), an open source software for playing videos, music, podcasts, and other digital media files. 
SteamOS is based on Linux and allows users to develop their own features.
Open Platform: We want to keep SMACH Z an open console, if you prefer to install other OS (Windows, Android,…) you are free to do whatever you want with it (however we will give support on Steam OS). We will give to the community all the info a codes needed to support other OS or develop additional features.
Attachable extra battery: It ads +5h of gameplay outdoor. You can add a second battery in the back of SMACH Z.
Accelerometer & Gyroscope: A cool way to control racing or airships games.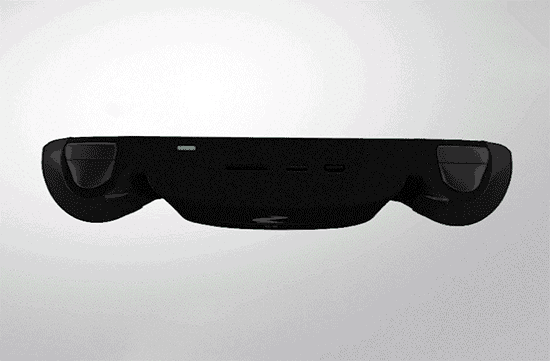 The controller on this device is customizable, allowing you to choose between the Steam Controllers Track pads with Haptic feedback, standard Xbox like controls or even controller similar to your favorite consoles of old, like the Gamecube and SNES.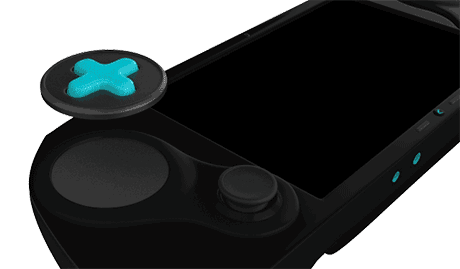 The largest problem with this product is that far too much of this devices development will be held behind stretch goals, with even the devices basic specifications like its 64GB of internal storage and 1080p being held behind them.
Without this devices Stretch goal features, like the KODL media player, support for Windows and integrated emulators this device is really nothing that is really that interesting apart from the gimmick that it is a handheld console/PC.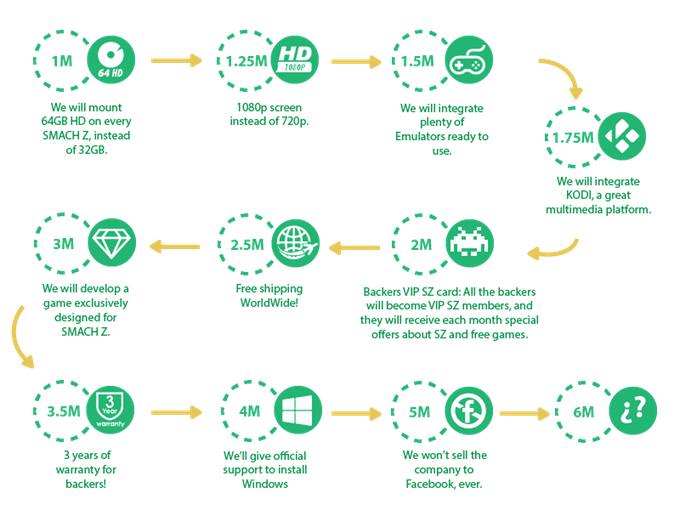 Apart from the fact that I find this to be a very interesting concept I really do not find this device to be worthy of backing, as without this Kickstarter reaching its 1.75 Million Euro Stretch goal, when both a selection of emulators an media player will be integrated into the device I really don't see this as worth purchasing, never mind backing. 
What is for sale here is a handheld Steam Machine which is expected to run 1080p SteamOS Games on low powered AMD SoC, which is a difficult ask for a lot of AAA games, especially given AMD's current Linux Drivers and the fact that most games currently play worse on Linux than on Windows.
You can find more information on the Smach Z's KickStarter here
You can join the discussion on the Smach Z, the handheld Steam Machine on the OC3D Forums.  
The AMD powered Smach Z Handheld Steam Machine has hit Kickstarter. https://t.co/32DrJOnkJA pic.twitter.com/udWdLRIv0T

— OC3D (@OC3D) December 9, 2015