XFX and Fatal1ty Debut Their First Collaborative Effort
News Posted 14/12/2006
Author: PV5150
Source: XFX
---

Official Press Release
The first collaborative effort by gaming industry leader XFX and the world's No. 1 ranked gamer, Johnathan "Fatal1ty" Wendel debuted today. The 7600 GT Fatal1ty Professional Series Video Card is touted as quite possibly the fastest 7600 GT card in the world.

The 7600 GT marks the first release in the XFX/Fatal1ty partnership announced earlier this year. "This card proves that teaming XFX technology with the hardcore gamer's demands results in performance that buyers literally haven't seen before," said Eddie Memon, Vice President of XFX. "With Fatal1ty doing his best to challenge our capabilities as a development team, and our efforts to impress and outperform his expectations, the card not only stuns visually, it delivers the goods in efficiency and state-of-the art performance. It is truly for gamers by gamers." The 7600 GT Fatal1ty Professional Series currently out-clocks Nvidia's default speed by 14%. Better still, this is a performance overclocked product that features an affordable price that will appeal to all players.
Best of all, with input from extreme gamer Fatal1ty, this card is a competition-ready piece of equipment that will satisfy the most serious gamer. "The graphics card you use in gaming can make or break your performance, which is why I decided to work with XFX to come up with a product that really meets what a professional gamer needs," explains Johnathan "Fatal1ty" Wendel, about making XFX his choice for a collaborative partner. "I work hard to be the best at what I do and continue to improve my game. XFX feels the same about developing and manufacturing top quality products. This card shows what happens when a company listens to the end-user of their product, which is exactly what I wanted and what the buyer deserves."
Unlike other cards on the market the 7600 GT utilizes XFX's proprietary stealth heatpipe cooling technology, dubbed Silent But Deadly™. It runs without a standard fan but cools with more efficiency due to the passive distribution of heat from the GPU to the aluminum fins that are behind the video card. This spreads the heat into a wider surface area where it is air cooled and because air and dust are not forced through the heatsink, there are also reduced concerns of clogged heatsinks that may cause overheating in time.
Sporting the signature Fatal1ty brand, the 7600 GT Fatal1ty Professional Series Video Card by XFX also features high-definition video playback with up to 1080i resolution, is Microsoft® Windows Vista™ ready and True High Dynamic-Range (HDR) Rendering supports incredibly life-like PCI-Express graphics for best visual sharpness and clarity by improving lighting effects, shading, filtering, texturing, and blending. It's SLI-ready, meaning users can double their performance by adding a second card. Enthusiasts also enjoy the Dual-Link Technology, which enables digital output up to 2560×1600 for the largest and highest resolution flat panel displays, with Dual DVI capabilities plus a DVI to analog adapter so players can convert VGA output to a DVI connector. Another XFX-only feature U.S. buyers have is the Double Lifetime Warranty, which guarantees product performance for both the original and second owner.
You can view the GeForce™ 7600 GT FATAL1TY here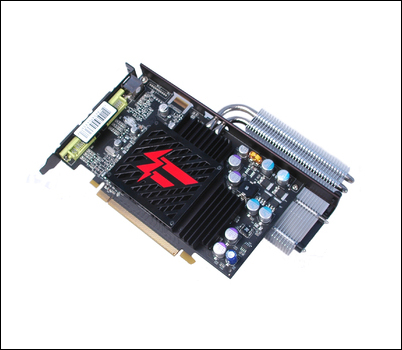 Feel free to discuss this article in our forum