SK Hynix Teases 665 GB/s HBM3 Memory Modules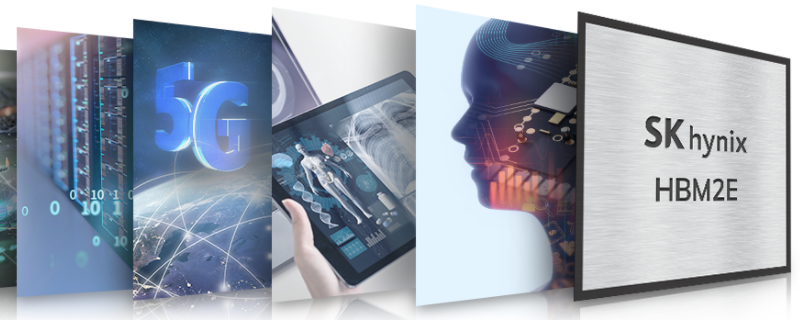 SK Hynix Teases 665 GB/s HBM3 Memory Modules
JEDEC has not officially launched their HBM3 standard, but that has not stopped SK Hynix from teasing their future High Bandwidth Memory (HBM) modules.
With HBM3, SK Hynix plans to bring its memory performance to a whole new level, promising I/O speeds of 5.2 Gbps per pin and per module bandwidth levels of 665 GB/s. This level of performance is insane, so much so that a single HBM3 module will deliver more memory bandwidth than Nvidia's RTX 3070 Ti, which offers 608.3 GB/s of memory bandwidth over eight GDDR6X modules on a 256-bit memory bus.
SK Hynix plans to push its HBM3 technology to greater heights moving forward, delivering monstrous levels of bandwidth to their customers. These performance levels will make HBM3 an instrumental technology for future FPGAs, graphics cards and processors, especially within the enterprise market.Â
With over 650GB/s of bandwidth per module, users of HBM3 will be able to create devices that have access to over 2.6TB/s of bandwidth with just four HBM3 modules.Â
  Â
  SK hynix leads the HBM market with ambitions for even faster HBM solutions: Our HBM3, under development, will be capable of processing more than 665GB of data per second at 5.2Gbps in I/O speed.

Products like Nvidia's Ampere A100 datacenter accelerator features six stacks of HBM2, though only five are utilised by the accelerator (possibly to increase yields). This product offers users 1,555 GB/s of memory bandwidth Using HBM2, but if this accelerator's HBM2 memory were switched out for 665GB/s HBM3, the Ampere A100 would deliver a staggering 3,325 GB/s of memory bandwidth (if 5 of the accelerators HBM modules are active). This change would deliver a 2.13x increase in memory bandwidth.  Â
Â
SK Hynix has not revealed when they plan to launch their first HBM3 modules. Compared to today's HBM2E modules, SK Hynix boasts a 44.5% increase in per module bandwidth with HBM3.Â
HBM's rapid development has quickly outpaced the progress made by the latest DDR and GDDR memory standards. That said, HBM memory remains difficult to utilise, which is why the technology is rarely seen outside of expensive enterprise-grade products. Â
You can join the discussion on SK Hynix's plans for HBM3 memory on the OC3D Forums.Â