AMD Amends Wafer Supply Agreement with GlobalFoundries to Achieve Greater Flexibility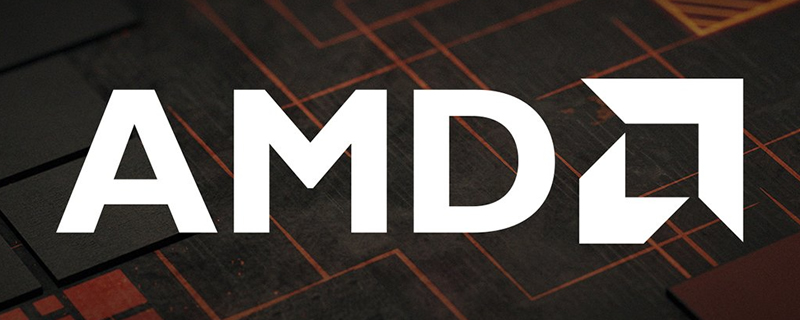 AMD Amends Wafer Supply Agreement with GlobalFoundries to Achieve Greater Flexibility
AMD has confirmed that they have amended their long-term Wafer Supply Agreement (WSA) with GlobalFoundries, securing the company more flexibility with 7nm nodes "and beyond".  
In August 2018, GlobalFounderies announced that they were halting the development of their 7nm process technology, deciding the refocus on high-growth markets instead of the leading-edge lithography market. This meant that AMD could no longer rely on GlobalFoundries for cutting edge lithography, creating a fundamental shift in the strategic partnership the companies possess. 
Under the terms of their existing WSA, AMD would have to play a penalty to GlobalFoundries is they purchased silicon wafers from a 3rd party, such as TSMC or Samsung. This clause makes little sense given GlobalFoundries lack of a 7nm process node, as they cannot compete with other 3rd party silicon foundries in this area, giving AMD little justification for paying royalties to them. 
AMD has now negotiated "full flexibility for wafer purchases from any foundry" for 7nm or smaller nodes, which means that the company is no longer obligated to pay Globalfoundries any fees for 7nm or lower products. Globalfoundries will remain a partner for AMD with 12nm or larger process nodes, with the same charges applying if they use similar nodes from 3rd party companies, with AMD committing to purchasing 12nm and above chips from the company in 2019 through to 2021.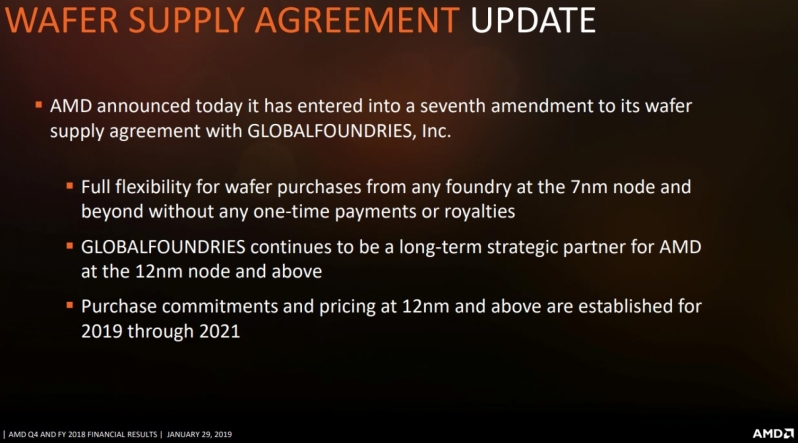 GlobalFoundries was formerly the production arm of AMD, linking both companies at the former's creation. GlobalFoundries was spun-off from AMD in 2008, with both companies creating their Wafer Supply Agreement (WSA) to ensure that AMD would become a long-term customer of the newly created GlobalFoundries. Today's amendment is the 7th major change to the agreement, with AMD committing to wafer purchases from GlobalFoundreis until 2021. 
You can join the discussion on AMD amending their Wafer Supply Agreement with GlobalFoundries on the OC3D Forums.