OCZ Technology Introduces New Line of Fatal1ty Power Supplies
OCZ Technology Introduces New Line of Fatal1ty Power Supplies to offer Stable and Reliable performance that addresses the unique needs of Gamers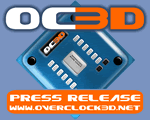 OCZ Technology Group, Inc., a worldwide leader in innovative, ultra high performance and high reliability memory and components, today revealed the first power supply models under the Fatal1ty series, offering gamers stable and efficient power for their mainstream or high-end rigs. OCZ is dedicated to delivering premium power solutions, and the Fatal1ty series options are the first step to creating an exceptional gaming system for the unique power and cabling requirements of today's gamer.
These high-performance power supplies were co-developed with the expertise of Johnathan "Fatal1ty" Wendel, 12-time World champion, to meet the specific needs of fellow gamers. OCZ Fatal1ty Professional Series PSUs feature incredible performance to power the latest graphics cards and hard drives. To meet the needs of a wide range of gamers, OCZ's Fatal1ty PSUs offer three configuration choices including a non-modular 400W, modular 550W, and a high-performance, +12V single-rail 700W edition.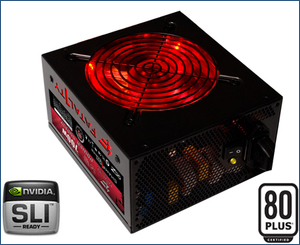 "OCZ and Fatal1ty are excited to introduce a complete series of new power supplies designed specifically for the entire spectrum of gamers," said Ryan Edwards, Director of Product Management for the OCZ Technology Group. "No matter what level of gamer you are, or what type of system configuration you are running, these new PSUs are designed to pair perfectly with the latest graphics cards and offer clean, stable power for both single and dual GPU setups. The 80+ design makes the PSUs green and more efficient, and premium high reliability, silent LED lit fans ensure that consumers can stay focused on their game."

"Having a powerful and consistent power supply is important to make sure all of my components run how they were built to run," said Johnathan "Fatal1ty" Wendel. "I am really excited about working with OCZ and their PC Power & Cooling unit which is known to employ some of the best PSU engineers in the business."
All the Fatal1ty gaming-grade power supplies have superior features such as an 80+ Certification for ultimate efficiency, highly reliable MTBF, and 120mm LED fans. All units feature glowing red LED lights to further personalize and add style to your gaming rig. The Fatal1ty Professional 550W Modular and 700W Single Rail PSU also boast an SLI-Certification to run the latest graphics cards. Fatal1ty power supply products are superior in make and are ideal upgrades for gamers who need a computer system able to take on hours of non-stop gaming.
For more information, please visit our product pages here:
OCZ Fatal1ty Series 700W +12V Single-Rail
OCZ Fatal1ty Series 550W Modular
OCZ Fatal1ty Series 400W

Discuss the OCZ Fatal1ty Series of PSU's in our forum