Battlefield V has been updated with support for DXR Ray Traced Reflections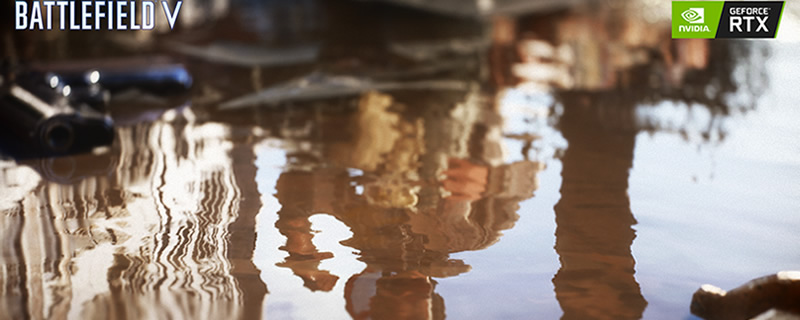 Battlefield V has been updated with support for DXR Ray Traced Reflections 
Earlier today, Battlefield V was updated with support for DXR Ray Traced Reflections, becoming the first game to make use of Ray Tracing acceleration using Nvidia's RT cores and Microsoft's DXR API, which was brought to Windows through the release of the Windows 10 October 2018 Update. 
Thanks to this update, all users of the game's DirectX 12 API will experience average frametimes than before, mostly thanks to DICE's bug squashing efforts. While our testing has proven that some hitches do persist, the game is now fully playable using DirectX 12, albeit less stable than the game's DirectX 11 version. 
To mitigate the severe hardware demands of Ray Tracing, DICE has opted to include several DXR options within the game, offering Low, Medium, High and Ultra options, with higher options casting more simulated light rays to generate higher levels of reflection detail. Even under the game's low settings, DXR will remove the artefacts and shortcomings of Screen Space Reflections, which are used extensively in some off Battlefield V's maps and game modes. 
  
Ray Tracing has long been heralded as the "holy grail" of graphics technology, offering unparalleled accuracy and fewer artefacts than rasterised graphics solutions. Today, ray tracing remains in its infancy, at least in the world of real-time graphics, which means that we can expect to see more powerful ray tracing hardware in the future, especially as more hardware manufacturers develop hardware solutions to ray tracing acceleration, like Nvidia's RT cores. 

Right now DXR-based Ray Tracing remains exclusive to Nvidia's Turing-based RTX series of graphics cards, with their RT cores acting as the only ray tracing acceleration hardware that is currently available on the market, with older graphics cards relying on expensive direct compute methods. 
For those who are interested in Battlefield V's performance outside of Ray Tracing, you can look at our performance review for the game here. 
You can join the discussion on Battlefield V's DXR Ray Traced Reflections on the OC3D Forums.