iolo to Release 64-bit Compatible System Mechanic
iolo to Release 64-bit Compatible System Mechanic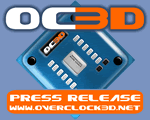 iolo technologies, maker of System Mechanic, the #1 best-selling PC tune-up utility, today announced its flagship product will now be 64-bit compatible. System Mechanic has thus become the first complete PC tune-up product compatible with 64-bit computers on the market.
"Earlier this year relatively few users were buying 64-bit systems. That situation has changed dramatically in the recent months, as our customers have started voicing demand for a 64-bit-compatible version of their favourite product," said JJ Schoch, iolo's VP of marketing. "iolo has a history of innovation and leadership in the PC tune-up space and once again, we wanted to be the first to offer our 21 million users around the world just what they need to keep their new 64-bit PCs functioning in top condition."
iolo technologies has been at the helm of the PC tune-up industry for 10 years now. During those 10 years and in eight versions, System Mechanic was repeatedly first-to-market with new features. In 2002 it was officially endorsed by the Microsoft Logo program.
In 2006 it became one of the very first software programs to have Windows Vista compatibility and in 2008 it leads the industry with its 64-bit compatibility. This popular program includes more than 40 different PC tune-up tools that fix computer problems, restore like-new performance, and maintain overall reliability. The software is suitable for both PC novices and experts alike.

The 64-bit compatibility will be offered in System Mechanic's upcoming 8.5 version, to be released this month. The remaining iolo products, including iolo's security software, DriveScrubber, the #1 best-selling secure data removal tool, and Search & Recover, the popular data recovery program, will all offer 64-bit compatibility in early 2009.