Nvidia delivers an update on DLSS – Unreal Engine 5 support is here, and Linux Support is coming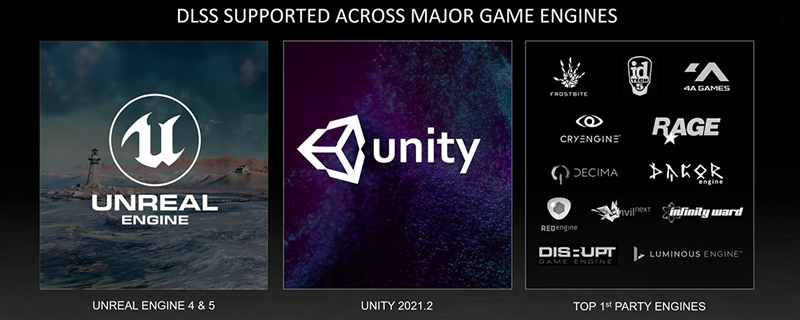 Nvidia delivers an update on DLSS – Unreal Engine 5 support is here, and Linux Support is coming
Pre-empting AMD's June 22nd launch of FidelityFX Super Resolution (FSR), Nvidia has decided to give their fanbase an update on its DLSS technology, stating that their technology has been integrated into over 55 games and that more supported titles are on the horizon.
Nvidia's DLSS technology is the company's AI-enhanced super-resolution algorithm that can be used to deliver higher framerates on RTX series graphics cards while delivering near-native or better than native levels of image quality. It is an Nvidia exclusive technology, and it acts as one of the primary reasons for consumers to buy Nvidia hardware over competing offerings. That said, Nvidia's competitors are hoping to supplant DLSS with their own super-resolution offerings. 
This month, DLSS arrived in Rainbow Six Siege, Necromunda: Hired Gun and Chernobylite; and later this month, DLSS will be coming to DOOM Eternal and Lego: Builder's Journey. 
Frankly, today's announcement from Nvidia contains very little in the way of new information, essentially repeating the company's announcements from Computex 2021. We have heard again that DLSS is coming to DOOM Eternal this month, that the technology is now available within Rainbow Six Siege, and that DLSS is coming to Red Dead Redemption 2. While today was a nice reminder of what Nvidia's offering with DLSS, we haven't heard anything that we didn't already know.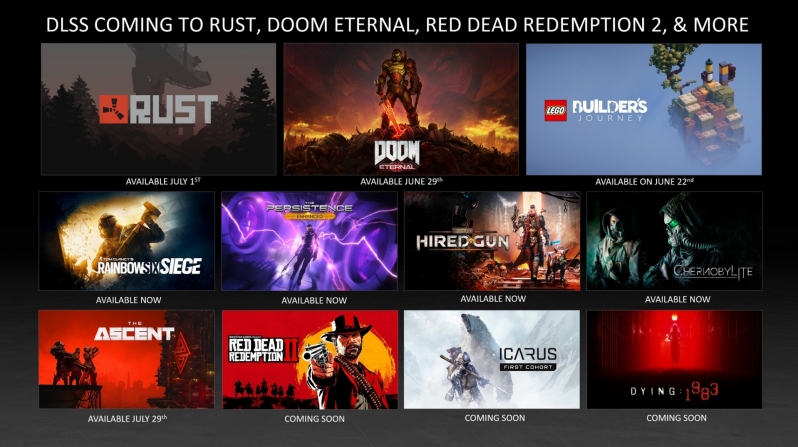 DLSS has arrived on Unreal Engine 5
The only thing that Nvidia announced today that we would categorise as "new" information is the fact that the company has launched a DLSS plugin for Unreal Engine 5, which was released on June 17th. This means that Unreal Engine 5 developers will have little trouble adding DLSS to their future games, should they believe that Nvidia's solution is worth utilising in addition to Unreal Engine 5's cross-platform Temporal Super Resolution feature. 
In their announcement, Nvidia has also reminded us that DLSS support is coming to Unity version 2021.2 later this year and that their technology has already been integrated into multiple first-party game engines.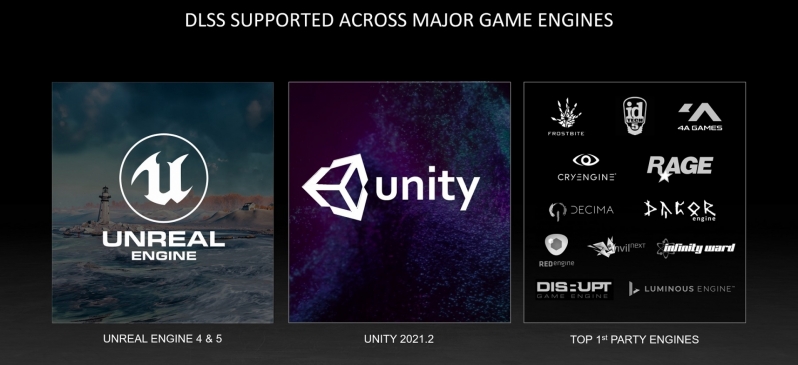 DLSS is coming to Linux (Through Proton)

Starting tomorrow, DLSS will be coming to Linux through Proton, arriving first with Vulkan titles including No Man's Sky, DOOM Eternal and Wolfenstein: Youngblood. Support for DirectX DLSS titles will be coming to Proton later this year. 
We reported on Nvidia bringing DLSS to Linux earlier this month. 
    NVIDIA DLSS support for Vulkan API games will be available from June 22nd on Proton, enabling Linux gamers to use the dedicated AI Tensor Cores of their GeForce RTX GPUs to accelerate frame rates in DOOM Eternal, No Man's Sky, and Wolfenstein: Youngblood. Support for DLSS-enhanced DirectX titles running via Proton will arrive this Fall.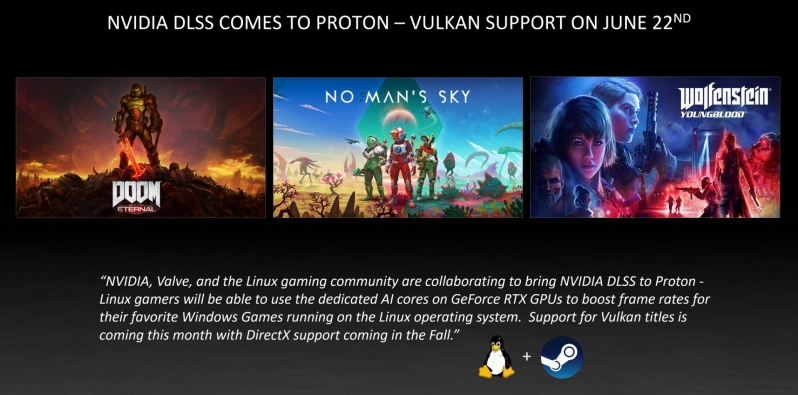 The timing of Nvidia's latest DLSS briefing is targeted. AMD's FidelityFX Super Resolution feature launches tomorrow, and Nvidia wants to remind the world of their DLSS technology and its benefits to gamers before AMD starts grabbing some headlines. 
A quick TLDR for Nvidia's DLSS announcements today is that practically nothing new was disclosed. So if you already knew what Nvidia revealed at Computex, you will likely hear nothing new today. 
You can join the discussion on Nvidia's update on DLSS on the OC3D Forums.