Nvidia showcases huge performance gains in The Lord of the Rings: Gollum with DLSS
This is DLSS at its best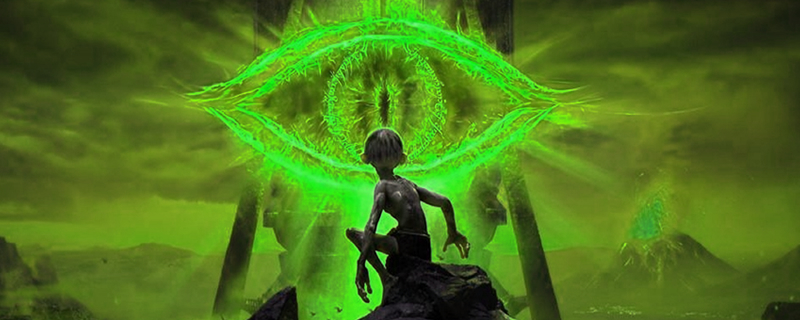 Nvidia showcases near 4x performance gains thanks to DLSS in The Lord of the Rings: Gollum
The Lord of the Rings Gollum is due to release later today, supporting Nvidia's DLSS 3 technology and ray tracing in the form of ray traced shadows and ray traced reflections. 
With support for DLSS 3, The Lord of the Rings Gollum supports Nvidia's DLSS Super Resolution, DLSS Frame Generation, and Reflex technologies, enabling higher framerate, lower latency gameplay for users of compatible GeForce graphics cards. In The Lord of the Rings: Gollum, Nvidia has claimed performance gains of up to 3.9x with their RTX 4070 Ti graphics card when playing the game at 4K Max settings with DLSS enabled and set to performance mode. 

The Performance Magic of DLSS 3
By enabling DLSS 3, users of Nvidia's RTX 40 series graphics cards have two avenues that deliver huge performance gains in The Lord of The Rings: Gollum. DLSS Super Resolution uses the AI performance of RTX GPUs to upscale lower resolution images to higher resolutions (1080p to 4K when DLSS is set to performance mode at 4K), enabling increased performance levels by lowering the number of traditional pixels that need to be rendered. Adding on DLSS Frame Generation, Nvidia uses a separate AI technology to generate AI intermediate frames between traditionally rendered frames, effectively doubling a game's framerate using AI frames in ideal scenarios.
With DLSS 3 (DLSS Super Resolution and DLSS Frame Generation), Nvidia can deliver incredible performance gains to PC gamers in The Lord of The Rings Gollum, as can be seen in the video below.  
Below, you can see that data that Nvidia has provided us to showcase The Lord of The Rings Gollum's performance gains when using DLSS Super Resolution (in performance mode) and DLSS Frame Generation. With this combination of technologies, Nvidia uses AI to upscale a 1080p render to 4K through AI temporal upscaling and then generates intermediate AI frames to deliver further framerate enhancements.  
     In The Lord of the Rings: Gollum™, GeForce RTX 40 Series gamers can multiply performance with DLSS 3. At 4K, performance on the GeForce RTX 4090 increases by 3.5X, enabling 169 frames per second with every setting maxed out, and all ray tracing options enabled. The GeForce RTX 4080 can hit 123 FPS, a 3.8X increase; the GeForce RTX 4070 Ti sees a 3.9X speedup, for 100 FPS gameplay; the GeForce RTX 4070 receives a 3.8X boost, giving it a 79 FPS result in our benchmark.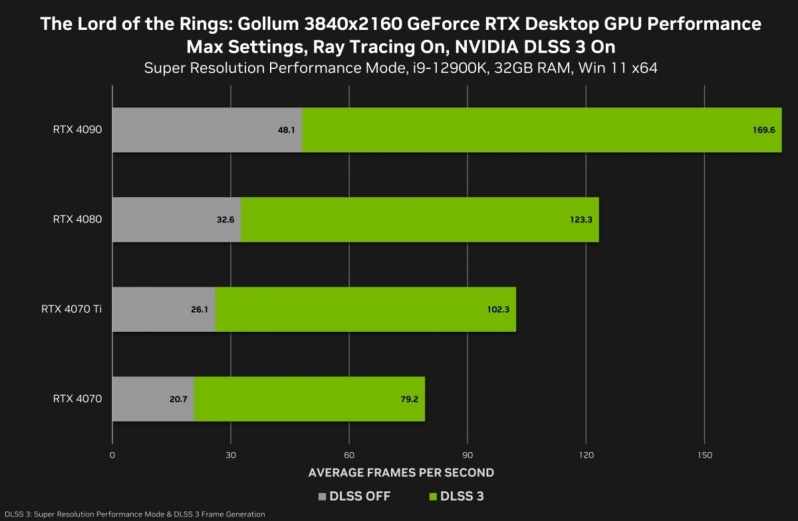 The Lord of The Rings Gollum showcases Nvidia's DLSS technology at its best, at least in performance terms. Greater than 3x performance gains in games is an impressive feat, and highlights why DLSS has become such an attractive technology for both gamers and game developers.  
You can join the discussion on Nvidia's DLSS delivering huge performance gains in The Lord of the Rings Gollum on the OC3D Forums.