Portal with RTX now has a December 8th release date
Don't expect this game to run well on non-RTX graphics cards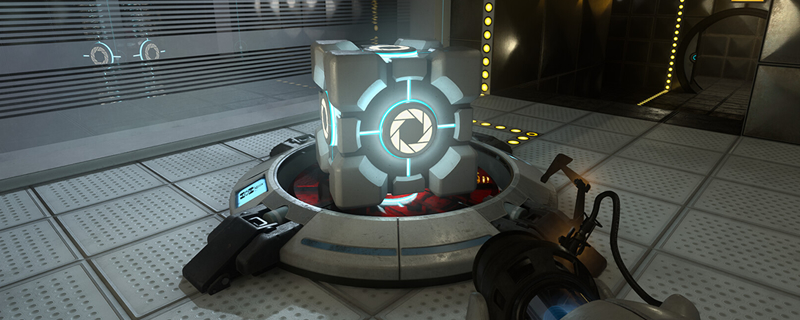 Nvidia's giving Portal a free RTX upgrade with Ray Tracing, high res textures, and DLSS 3
Nvidia has revealed that Portal with RTX will be launching on Steam on December 8th, reimagining the Valve classic with high resolution physically based textures, high polygon models, and full ray tracing. Portal with RTX is a showcase of the power of Nvidia's latest GPUs, though the free DLC shoudl work with all GPUs that are compatible with DXR and Vulkan ray tracing.
Portal with RTX is designed to be a showcase of Nvidia's ray tracing performance and the benefits of Nvidia's DLSS Super Resolution technology and their DLSS Frame Insertion technology. With DLSS Super Resolution and DLSS frame insertion, Nvidia has claimed that they can offer gamers a 2.8x performance boost in Portal with RTX. That said, the video below can showcase performance increases of greater than 4x in some instances.
   Portal with RTX is a free DLC for all Portal owners developed by NVIDIA Lightspeed Studios. Experience the critically acclaimed and award-winning Portal™ reimagined with ray tracing. Every frame of gameplay is upgraded with stunning full ray tracing, new, hand-crafted hi-res physically based textures, and new, enhanced high-poly models evocative of the originals, all in stunning 4K. In Portal with RTX, full ray tracing transforms each level, enabling light to bounce and be affected by the scene's geometry and materials. Every light is ray-traced and casts shadows, global illumination indirect lighting naturally illuminates and darkens rooms, volumetric ray-traced lighting scatters through fog and smoke, and shadows are pixel perfect.

With Portal with RTX being an Nvidia made DLC with DLSS 3 support, it is likely that the free addition to Portal will run horrendously on non-Nvidia gaming hardware. With support for neither DLSS Super Resolution or DLSS Frame Insertion, AMD and Intel graphics cards (that feature DXR support) are unlikely to run Portal with RTX with high framerates, as we don't expect this Nvidia branded add-on to support either FSR 2 or XeSS. 
Portal with RTX is a cutting-edge Portal remaster that delivers stunning visuals, and it is expected to bring most modern graphics cards to their knees, especially if they aren't made by Nvidia.
Portal with RTX will be free to all owners of Portal on Steam.
You can join the discussion on Portal with RTX launching on December 8th on the OC3D Forums.