Techland promises a big Dying Light 2 announcement this Thursday
Techland promises a big Dying Light 2 announcement this Thursday
At 9 PM (CEST) on May 27th, Techland plans to give its fans a long-awaited update on Dying Light 2, the studio's open-world zombie-smashing parkour game.Â
Right now, Dying Light 2 is expected to release in 2021 with the title Dying Light 2: Stay Human, arriving on last-generation consoles, current generation consoles and PC.Â
Techland has confirmed that Dying Light 2 will be targeting a resolution of 4K and 60 FPS framerates on PlayStation 5 and Xbox Series X, which will come as great news for owners of either next-generation system.Â
It has been several years since Dying Light 2 has had a lengthy gameplay showcase, and it looks like tomorrow's event will finally showcase the game in its full glory. With an expected release date later this year, Dying Light 2 gameplay is the minimum that we should expect during tomorrow's stream.Â
Â
Â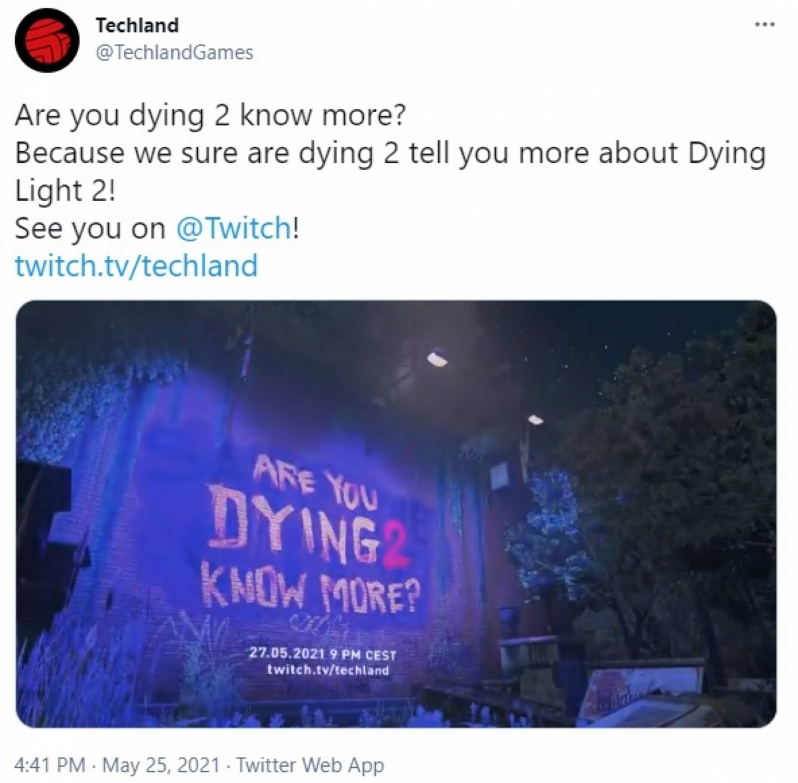 Â

Dying Light 2 is a large open-world title based 15 years after humanity lost the world to a zombie virus. Previously, Dying Light 2 was due to release in 2020, but now the game has no firm release date. Like the original, Dying Light 2's gameplay will be made up of parkour and both melee and ranged combat. Unlike the original, the sequel will allow players to have a larger impact on the game world through a series of decisions that will impact the world and its factions.Â

Dying Light 2 is due to launch on PlayStation 4, Xbox One, PC, Xbox Series X/S and PlayStation 5. Right now, it looks like Techland are targeting a 2021 release date.Â



  It's been 15 years since humanity lost to the virus.

The last great human settlement exists within an unforgiving, infected world, plunged into a modern dark age. During the day, bandits, factions and starving survivors roam the streets scavenging for scraps – or someone to take them from, by violence if necessary. At night the infected roam free, evacuating their dark hideouts to prey on the living.

You are Aiden Caldwell, an infected survivor. Your exceptional agility and brutal combat skills make you a powerful ally and a valuable commodity in this dangerous world. You can achieve things no one else can. Enter places no one else dares. With your unique abilities you have the power to be an agent of change within this decaying metropolis.

The fate of the city is in your hands.
Â
 Â
You can join the discussion on Techland's promised Dying Light 2 update on the OC3D Forums.Â