be quiet! calls their MC1 M.2 SSD heatsink a "perfect match" for PlayStation 5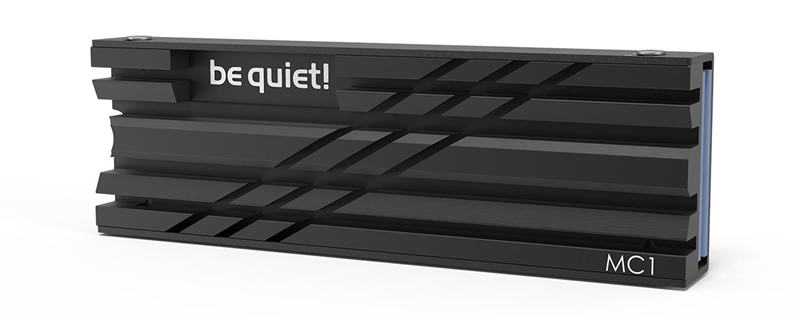 be quiet! confirms that their MC1 heatsink is a perfect fit for PlayStation 5
Let us start by making things clear. There are many terrible M.2 heatsink designs on the market, many of which likely market themselves as being PlayStation 5 compatible. These solutions will have poor retention mechanisms, little pressure between your heatsink, and deliver sub-optimal results.Â
We have seen M.2 SSD heatsink kits that rely on rubber bands and cable ties to attach heatsinks to SSDs, and consumers should know that much better solutions are available. One such solution is be quiet's MC1 M.2 heatsink.Â
be quiet! confirmed to us today that their MC1 heatsink met Sony's size limitations for PlayStation 5 SSD compatibility. Their solution provided cooling on both sides of an M.2 SSD's surface and is designed to deliver strong enough mounting pressure to ensure optimal thermal transfer between SSDs and their heatsink. If your M.2 SSD lacks a heatsink, and you want to use it in a PlayStation 5 console, the be quiet! MC1 is a heatsink that is worth considering.Â
Below is what be quiet! had to say in their press release regarding the MC1's PlayStation 5 compatibility.Â
Â
  be quiet!, the German manufacturer for premium PC components, is proud to announce that its MC1 M.2 SSD cooler is a perfect match for the brand-new PlayStation®5 SSD expansion capabilities.

  Increasing storage without throttling

For those running out of storage space on the built-in solid-state drive of the PlayStation®5, Sony has recently released a firmware update that unlocks the M.2 SSD expansion slot, allowing users to add an additional solid-state drive to the console. These drives can run very hot, which could cause SSD throttling, prompting Sony to recommend only using M.2 SSDs with a heatsink. be quiet! offers gamers the ideal solution with its MC1 cooler, which is compatible with any single-sided or double-sided 2280 M.2 SSD that does not feature a built-in heatsink. It is also one of the only M.2 SSD coolers on the market compact enough to perfectly fit inside the expansion slot of the PlayStation®5 and able to cool double-sided SSDs, protecting the memory modules on both sides of the PCB from overheating. The result is much lower and safer SSD temperatures, which translates into trouble-free gaming sessions and an increased lifespan of the drive.

  SSD and cooler installation specifics

The PlayStation®5 supports 22mm PCIe Gen4 x4 M.2 NVMe SSDs with a capacity between 250 GB and 4 TB. be quiet! has prepared a handy video tutorial on how to install an M.2 SSD in the console. Please note that only the be quiet! MC1 SSD cooler is recommended for use in a PlayStation®5; the MC1 Pro with an additional built-in heat sink has a higher cooling capacity, but is taller than the dimensions specified by Sony. Please take into account that you need the PlayStation®5 system software update from 15.09.2021 to enable expansion with an M.2 SSD.
Â
Some SSDs ship with pre-applied heatsinks, but the best value can be seen with heatsink-less SSDs
Currently, the cheapest 1TB PlayStation 5 compatible heatsink that we have found to be available in the UK is Western Digital's heatsink-less WD_Black SN850 SSD, which is currently available for around £145. The version of this SSD with a heatsink is currently unavailable to purchase at most UK retailers, and when it is available it typically costs over £185.Â
If you use be quiet's £14.77 MC1 heatsink with Western Digital's heatsink-less SN850, you will be able to assemble yourself a PlayStation 5 compatible SSD for less than £160.Â

– be quiet! MC1 M.2 SSD Heatsink – £14.77
– Western Digital SN850 1TB (Heatsinkless version) – £144.96
Below is be quiet's PlayStation 5 SSD installation guide with their MC1 M.2 heatsink.Â
You can join the discussion on be quiet's MC1 M.2 SSD heatsink being PlayStation 5 compatible on the OC3D Forums.Â
Â