NEC Announces World's First USB 3.0 Host Controller!
NEC Announces World's First USB 3.0 Host Controller!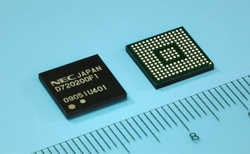 Speed and more speed, we can't seem to get enough of it. No, I'm not talking about cars but the rate at which we can transfer large amounts of data on our computers. High Definition films, games and many other forms of media are often slow to transfer between systems and devices, even on today's super fast machines, leaving users frustrated while they wait for the process to finish.
USB 3.0 is set to change all this, and NEC are leading the way with the first host controller for the Super-Speed USB 3.0 standard. The µPD720200 device is a host controller for PCs and other digital devices, delivering transfer speeds of up to 5 gigabits per second, ten times faster than our current USB 2.0 standard. Backwards compatibility with the USB 2.0, 1.1 and 1.0 versions of the USB standard ensures users can continue using their peripherals and devices until they replace them with native USB 3.0 products in the future.
NEC expect to steam ahead with the controller in areas such as solid state drives and external hard drives, where current speeds limit the data throughput available to the devices. Samples should be readily available in June 2009 at $15 each, along with free Windows drivers.