WD Introduces 4TB External Storage for Macs
WD Introduces 4TB External Storage for Macs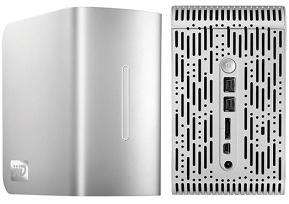 High-performance memory manufacturer Western Digital (WD) today took the wraps off its new 4TB My Book Studio Edition II storage system (quite a mouthful, isn't it?). Designed specifically for Mac computers, WD claims the systems are a perfect combination of high performance and power savings.
Targeted at creative professionals, workgroups, small offices and other Mac users, the My Book Studio Edition II external storage system is fully compatible with Apple Time Machine automatic backup feature. The system comes formatted for Macs, features dual-drive RAID 0 configuration and provides a whopping 4TB of storage space.
Lightning fast data exchange has been made possible through the four high-speed interfaces that include eSATA, FireWire 800, FireWire 400 and USB 2.0. These interfaces greatly cut down the time taken for video editing or 3D rendering and special effects on data stored on the drive. Transferring huge blocks of data to and from the system is just as quick and less time consuming.
Based on WD's innovative GreenPower Technology and housed within an elegant, small form casing, the My Book Studio II drive delivers ultra-quiet operations with minimal use of power. This makes the overall package a highly eco-friendly one.
"The new My Book Studio Edition II is the best choice for creative professionals who require massive capacity and extra-fast performance," said Dale Pistilli, vice president of marketing for WD's branded products group. "With 4 terabytes of capacity, photographers, graphic artists, videographers, and home video enthusiasts alike will have the space they need to store hours of high definition videos as well as the performance they need for demanding video editing applications." 
Already available at select retailers in the US and WD's online store, the My Book Studio Edition II is priced at $649.99 and is backed by a five-year limited warranty.