OC3D helps Greg Salazar create a Lamborghini Aventador inspired gaming PC with Fractal Design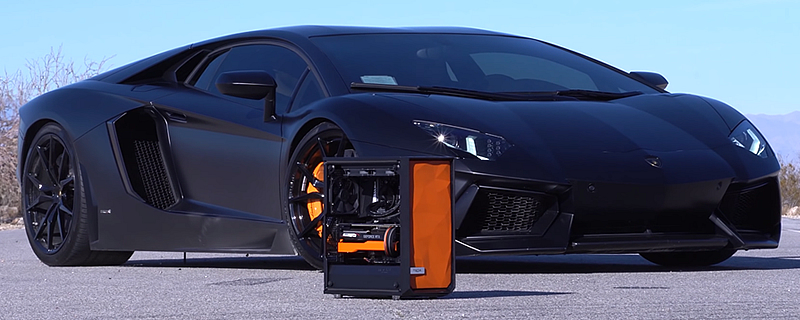 OC3D helps Greg Salazar create a Lamborghini inspired gaming PC with Fractal Design
While OC3D's TinyTomLogan was at Las Vegas for CES 2020, he received the opportunity to work with Fractal Design and Greg Salazar on an exciting PC project; a Lamborghini inspired gaming build.
As a car enthusiast and an experienced PC modder, Tom couldn't pass up on this offer, providing his painting expertise to add some custom flair to Greg's PC project. In exchange for a ride in the Aventador, Tom painted the PC's GPU support bracket and the front panel of Fractal Design's Meshify C chassis to match the car's orange brake callipers closely.Â
Whoever's thinking "I want that case", should know that Fractal Design and Greg Salazar are currently running a giveaway for the PC shown in the video below. This competition is a worldwide giveaway, which means that literally anyone can enter, assuming local laws don't get in the way.
This system will combine an AMD Ryzen 3rd Generation processor and Geforce RTX graphics within a Fractal enclosure, with Fractal providing the system with power and cooling with their Ion 860W Platinum power supply and their Celcius S24 all-in-one liquid cooler.Â
Below is a short spec list for Greg Salazar's Lamborghini/Fractal PC build, which is showcased in the video below.Â
Case – Fractal Design Meshify C
Power Supply – Fractal Design Ion 860W PlatinumÂ
CPU – AMD Ryzen 9 3900XÂ
Cooling – Fractal Design Celcius S24
Motherboard – MSI MPG X570 Gaming Pro Carbon WiFi
Graphics Card – MSI Geforce RTX 2070 Super Gaming X
Memory – G-Skill Ripjaws V 2x8GB @ 3200MHz
Storage – Samsung 860 Evo 500GB
Custom Cables – Custom ensourced.net Braided Cables
To enter the competition to win this PC, please follow the link in the description of Greg Salazar's YouTube video, which is embedded below and linked here.Â
You can join the discussion on OC3D helping Greg Salazar create a Lamborghini Aventador inspired PC on the OC3D Forums.Â