Samsung launches two Project Athena-verified notebooks with QLED displays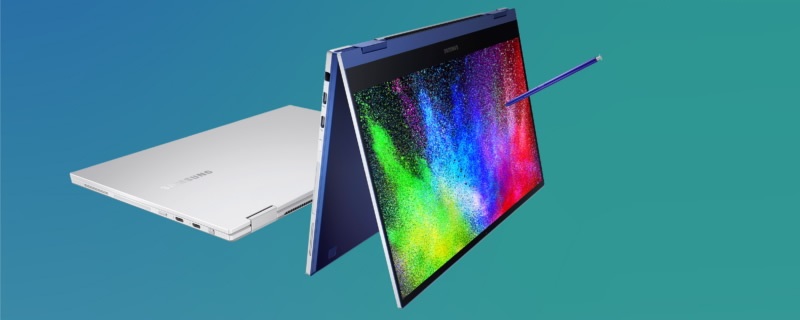 Samsung launches two Project Athena-verified notebooks with QLED displays
Samsung has officially revealed their Galaxy Book Flex and Galaxy Book Ion notebooks, both of which will feature QLED displays and meet the requirements for Intel's Project Athena.Â
Both notebooks will ship with 13.3-inch and 15.6-inch variants, and release with Thunderbolt 3 charging, WiFi 6 support and 1TB of NVMe storage. The Galaxy Book Flex will ship with Intel's 10nm Ice Lake series processors, while the Galaxy Book Ion will ship with 10th Generation Comet Lake processors. Both models will ship with up to 16GB of LPDDR4X or DDR4 memory respectively.Â
These notebooks will release with "First-of-its-kind QLED displays", offering maximum brightness levels of 600 nits. This makes these notebooks ideal for outdoor viewing. The 15.6-inch versions of these notebooks will also feature Nvidia M250 series graphics chips.Â
  From cafes to the subway, today's workplace is now a flexible location for many people, creating a need for productivity devices that are portable, flexible, and connected across devices.

Unveiled at SDC19, Galaxy Book Flex and Galaxy Book Ion deliver new computing experiences for enhanced productivity on-the-go. As the world's first laptops with QLED displays, the devices offer unrivaled picture quality and a true-to-life viewing experience. Thanks to 10th Generation Intel Core™ Processor, their superior performance can help you get things done when you do need a boost. With innovative Wireless PowerShare, Galaxy Book Flex and Galaxy Book Ion can power compatible devices without extra cables or chargers.Â

Galaxy Book Flex and Galaxy Book Ion provide unique designs for different needs. Galaxy Book Flex's 360-degree hinge and S Pen allow users to transform the device from a laptop into a tablet instantly, while Galaxy Book Ion's sleek magnesium body combines style with portability in mind.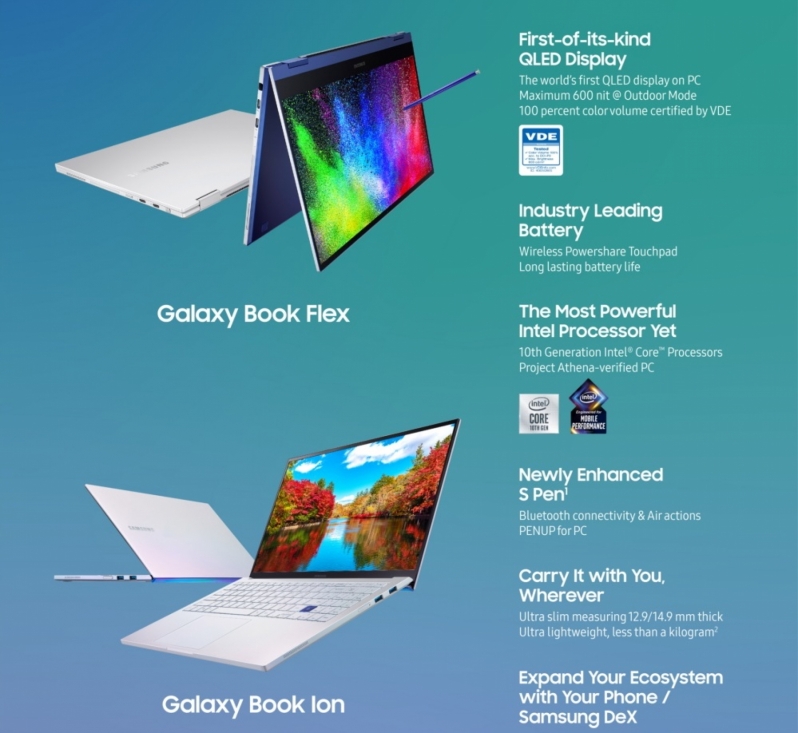 Â
Storage-wise, both notebooks will feature up to 1TB of onboard NVMe SSD storage, with the Galaxy Book Ion offering users an additional "SSD expandable slot" for additional storage.Â
Below are the full specifications of Samsung's Intel-powered Galaxy Book series notebooks. Both notebooks support Wireless Powershare functionality, which allows both notebooks to charge Qi-compatible smartphones, Galaxy Buds, or other Qi-compliant wearables.Â
 Â
In addition to the Galaxy Book Ion and Galaxy Book Flex, Samsung has also announced their Galaxy Book S, a notebook that's powered by Intel's upcoming Lakefield processor. This will allow Galaxy Book S buyers to purchase a notebook with an Intel/x86 processor instead of a Qualcomm/ARM variant.Â

Lakefield is powered by Intel's Sunny Cove and Tremont CPU architectures, offering a unique balance between power consumption and compute performance. Intel describes their Tremont architecture in the video below.Â
You can join the discussion on Samsung's Project Athena notebooks and Lakefield-powered Galaxy Book S on the OC3D Forums.Â