be quiet! launches their Pure Loop 2 series of silent CPU coolers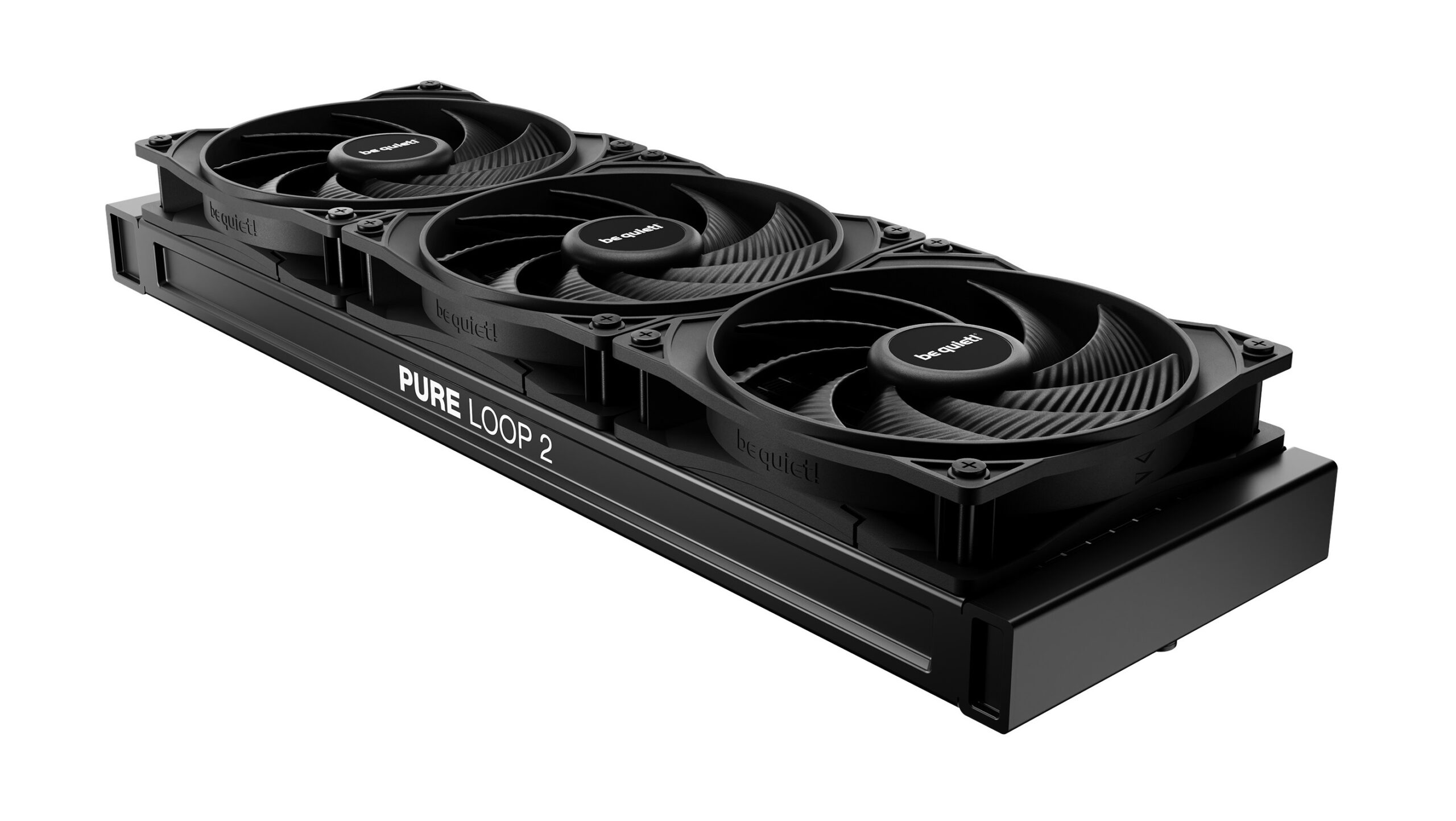 be quiet promises silence and exceptional cooling performance with their new Pure Loop 2 CPU liquid coolers
be quiet has just revealed their new Pure Loop 2 series of CPU liquid coolers. These new heatsinks promise high performance cooling with silent noise levels thanks the company's use of new Pure Wings 3 fans and a "doubly decoupled" pump design.
At launch, be quiet's Pure Loop 2 CPU cooler will ship in 120mm, 240mm, 280mm, and 360mm forms. All of these models will feature a CPU block design that features ARGB lighting, and black Pure Wings 3 fans. These fans are PWM controlled and are designed to deliver high static pressure and quiet operation.
Recently, be quiet gave us a glimpse at how they manufacture their high performance fans. Detailing the techniques that they use to ensure minimal fan vibration and noise levels.
Be quiet's Pure Loop 2 CPU coolers feature a "double decoupled" pump, which is not connect directly connected to either the cooler's radiator or CPU block. With the Pure Loop 2, be quiet has attached their pump to the liquid cooler's tubing, preventing vibrations from being transferred to other areas of the heatsink. Rubber padding inside the pump housing adds an extra level of decoupling, helping to further lower noise levels.

At maximum speeds, be quiet's Pure Loop 2 CPU cooler operates at noise levels of 36.8 dB(A), which is extremely quiet. If users lower fan or pump speeds, even lower noise levels are achievable. PWM control allows users to easily define their own fan and pump speed profiles.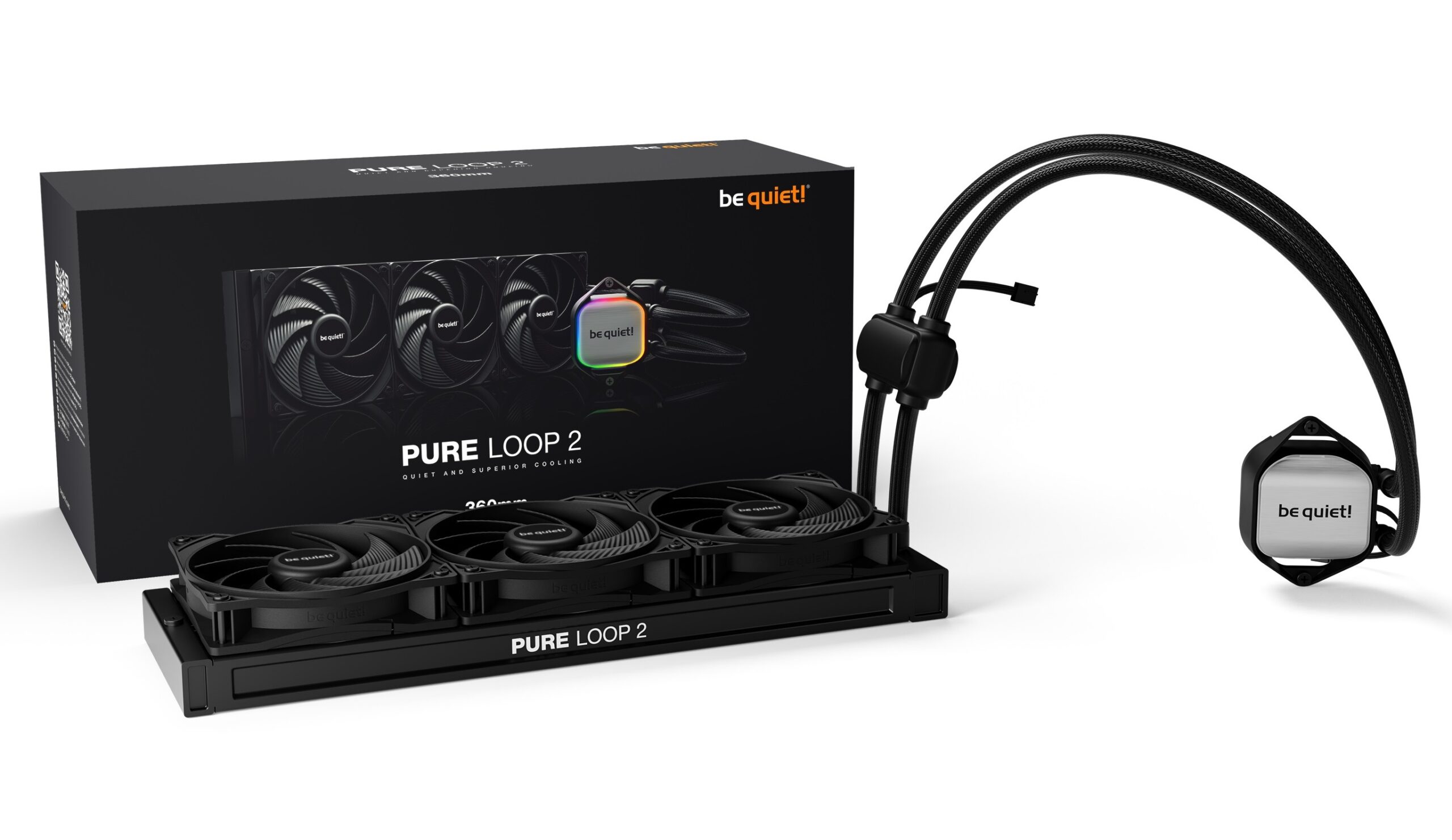 Refill Port – Easy Maintenance
For easy maintenance, be quiet has installed a fill port on their new Pure Loop 2 CPU cooler. A 100ml bottle of coolant has also been provided. This bottle should be good for at least 6 top-ups.
This add-on should help users to increase the longevity of their liquid coolers. be quiet has given these coolers a lengthy 3-year warranty. With good maintenance, this cooler should last much longer than that.
Eye-catching design, convenient installation, and refill port

Pure Loop 2 sets a high standard in appearance thanks to its all-black design of the fans, radiator, and tubes, which is accentuated by the brushed aluminum-style cooling block. The cooling block is elevated visually with subtle ARGB illumination. be quiet! has implemented an easy-to-access refill port on the radiator, so the cooling liquid can be topped up when needed, for maximum performance over a long lifespan. A 100ml bottle of cooling is included in the retail box and should last for at least six top-ups. The highly flexible sleeved tubes allow for a convenient installation, even in cases with restricted space. Thanks to a convenient mounting system, Pure Loop 2 supports all current mainstream desktop processors from Intel and AMD.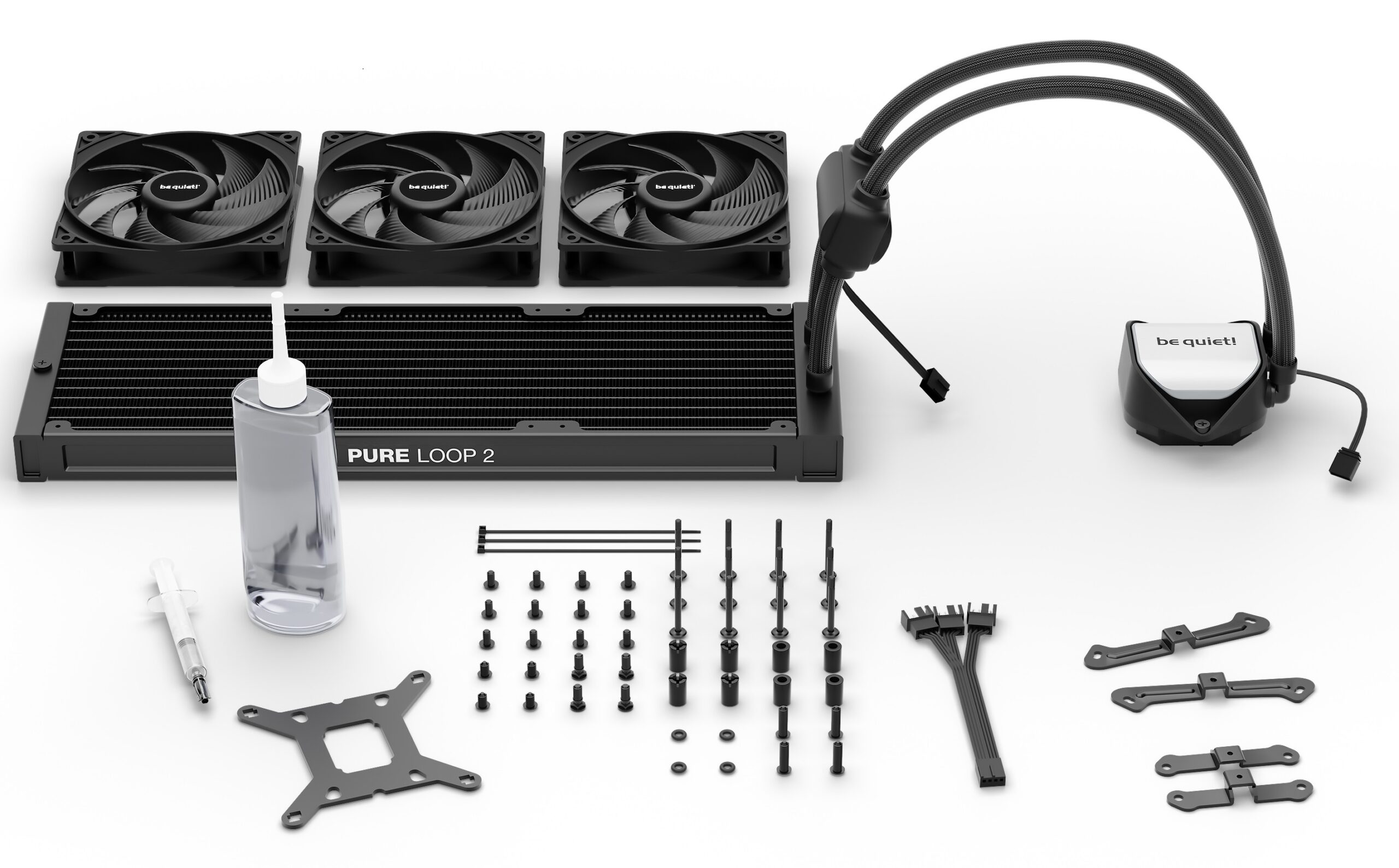 be quiet! Pure Loop 2 Availability and Pricing
be quiet's Pure Loop 2 will be available at retailers from October 10 with the following recommended retail prices. These are $99.90 / €89.90 / £84.99 (120mm), $114.90 / €104.90 / £99.99 (240mm), $124.90 / €114.90 / £109.99 (280mm), and $139.90 / €129.90 / £125.99 (360mm).
You can join the discussion on be quiet's new Pure Loop 2 CPU cooler on the OC3D Forums.