Cooler Master Launches V10 CPU Cooler

Cooler Master launches their newest CPU Cooler, the V10.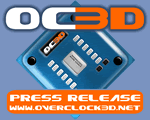 Cooler Master is taking cooling technology to the next level with the V10. This monster is capable of dealing with 200w of heat. It is a heavy duty machine that overpowers any competition in the market.
As well as its rugged design, this V10 Cooler includes some remarkable and powerful features. It contains 3 separate sets of aluminium fins (2 vertical & 1 horizontal), linked by 10 6mm heat pipes. The design of the V10 allows for fast heat transfer from the mirror-finished base to a large surface area for heat dissipation.
Equipped with a hybrid of Thermal Exchange Cooling (TEC), the V10 can take full control of the massive heat produced by top of the line performing CPUs such as Intel Core i7. The intelligent hybrid TEC technology from Cooler Master activates only when the CPU reaches extreme temperatures, enabling great cooling power without excessive energy consumption.

Weighing in at 1200g, it is compatible with AMD FX64, AMD 64X2, AMD Phenom, Intel Core2Duo, Intel Core2Quad and Core i7.
Visit the V10 page at Cooler Master
View the hands-on preview thread on our forums
Discuss it in our forums here