Maximum Space, Exceptional Airflow – be quiet! launches their Shadow Base 800 series of cases
Another huge case from be quiet!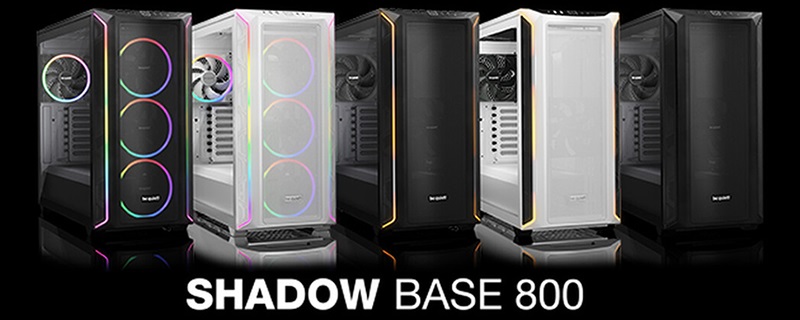 be quiet! expands their case lineup with their new Shadow Base 800 chassis
While a lot of PC case manufacturers primarily focus on their visual appeal, be quiet! is a company that focuses on the user experience, creating case designs that are easy to work with and deliver the features that users need. 
Today, be quiet has revealed their Shadow Base 800 series of cases, PC enclosures that are designed to support motherboards up to E-ATX in size, up to 420mm liquid cooling radiators, and large GPUs that are up to 430mm in length. On top of that, be quiet are offering this case in three tiers, allowing purchasers to define how much RGB support they want, be it through a subtle set of lighting strips, a full set of ARGB fans, or no RGB at all. 

When discussing their new case, be quiet focused on the fundamentals. They have provided users with plenty of space behind this case's motherboard tray, this case has rotatable PCIe slots to enable vertical GPU and add-on card mounting, and the case features a front I/O that supports USB 3.2 Gen 2 Type-C and two USB 3.2 Type-A ports. The case had all the basics covered, and be quiet are backing up their work with a lengthy three year warranty. 
    be quiet!, the German manufacturer for premium PC components, is proud to introduce the Shadow Base 800 series, a brand-new addition to its family of PC cases. Shadow Base 800 is designed to provide the ultimate gaming and computing experience by offering exceptional airflow and vast space for all PC building needs, easily accommodating 420mm radiators, E-ATX motherboards, or even multiple high-end graphics cards. State-of-the-art I/O features and tool-less HDD and SSD installation elevate this case even further. Shadow Base 800 comes in five different models to give users maximum freedom of choice over their ideal PC case when it comes to color and ARGB options.

Size matters!

Even though Shadow Base 800 provides a solid base for every type of user, this case series is specifically designed for gamers who want to build the PC of their dreams, without limitations. Its open mesh design ensures exceptionally high airflow, keeping components cool while playing the most demanding games. The spacious interior of Shadow Base 800 accommodates even the most extensive components, such as E-ATX motherboards, 420mm radiators, and high-end graphics cards like the Radeon 7900 XTX or GeForce RTX 4090. Tool-less HDD and SSD installation further simplifies the setup process, saving time and effort, while the cable bar ensures a neat and tidy appearance, enhancing both aesthetics and airflow for a seamless build. Further elevating the aesthetics are tempered glass side window as well as rotatable PCIe slots to enable vertical installation of GPUs, so enthusiast gamers can showcase their high-performance graphics card in all its glory.
The Shadow Base 800 is available in three forms. The standard Shadow Base 800 Black ships with three 140mm Pure Wings 3 fans and features no RGB add-ons. This model is only available in black. next up we have the Shadow Base 800 DX, which features ARGB lighting strips at the front of the case, ships with three Pure Wings 3 140mm fans, and is available in both black and white. 
Finally, we have the Shadow Base 800 FX, which ships with four Light Wings 140mm fans, an ARGB hub, light strips at the front of the chassis, and is available in both black and white. 
All models of this case feature the same internal layout, the same tempered glass side panel window, and the same three-year warranty.  
     The Shadow Base 800 series consists of five different models. For those who are a fan of clean, muted design, Shadow Base 800 Black offers a solid base for their high-performance builds. Shadow Base 800 DX Black and Shadow Base 800 DX White (with black highlights) add subtle ARGB illumination to the chassis, which can be controlled with its integrated ARGB controller or through an ARGB-compatible motherboard. In these three models, be quiet! has installed three Pure Wings 3 140mm PWM fans to offer not only superior cooling performance but also a quiet operation, eliminating distractions and allow users to focus on their work or gaming. The last two models are Shadow Base 800 FX Black and Shadow Base 800 FX White, which rely on an impressive total of four Light Wings 140mm PWM fans for high airflow, quiet operation, and extensive ARGB illumination. A dedicated ARGB/PWM hub for up to 8 devices is included for these two models, making the FX models the most feature-rich of the series. All models feature a state-of-the-art I/O-panel with USB 3.2 Gen. 2 Type C to provide lightning-fast data transfer for external drives.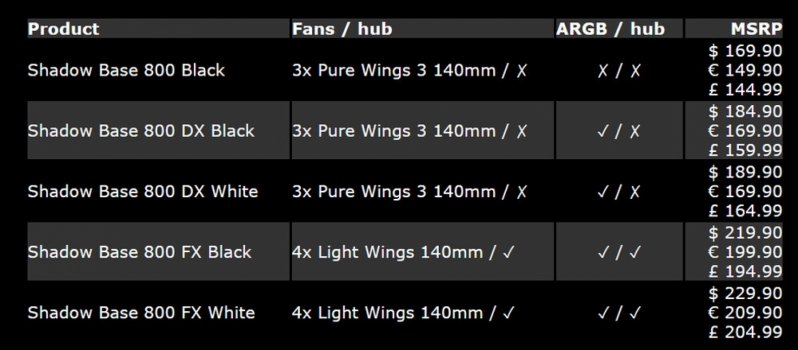 be quiet's Shadow Base 800 will be available for purchase on September 5th and will be backed up by a 3-year manufacturer's warranty. The table above showcases the case's pricing in the US, Europe, and the UK.
You can join the discussion on be quiet's new Shadow Base 800 series of PC cases on the OC3D Forums.